Rihanna recently performed the half-time show at the Superbowl on Sunday night, also known as the Rihanna concert that was interrupted by a football game. The show marked her return to the stage for the first time in seven years and it was a daunting experience.
She told Nadeska Alexis of Apple Music at the press conference prior to the show, "When I first got the call to do it again this year, I was like, "Psst, you sure?" I'm three months postpartum, like, should I be making major decisions like this now? Like I might regret this. But when you become a mom, there's something that just happens where you feel like you could take on the world, you could do anything. And the Super Bowl is one of the biggest stages in the world. So as scary as that was because I haven't been on stage in seven years, there's something exhilarating about the challenge of it all. And it's important for me to do this this year. It's important for representation, it's important for my son to see that."
She packed eight albums and countless features worth of music into those precious 13 minutes and gave us a half time show with no features, and for her effort she had a historic night on Apple Music. Sunday was Rihanna's biggest day in Apple Music history by streams worldwide. It was also her biggest day in Shazam history.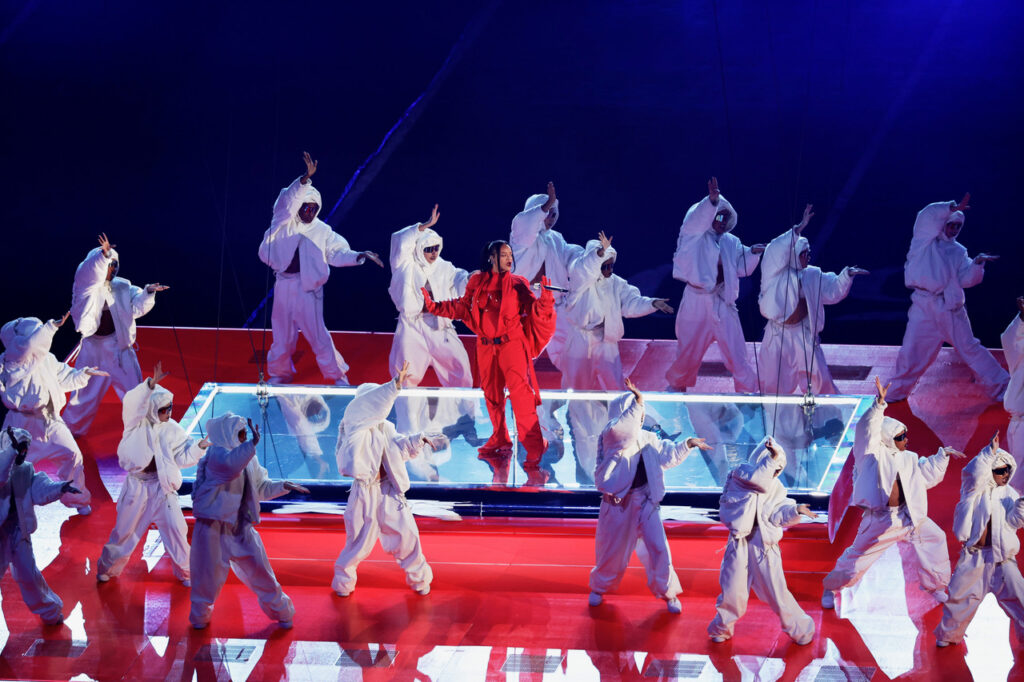 Immediately after her performance, Rihanna's concurrent listeners on Apple Music worldwide jumped a staggering 331%. She had notably more concurrent listeners than any of last year's performers. All told, the hour following her halftime show was Rihanna's biggest hour in Apple Music history by both concurrent listeners and streams. Also of note, her catalog promptly stormed the charts worldwide. Nearly 16 years after its release, "Umbrella" reached the songs chart in 105 countries — a new record for the song – and is also the #1 song that her fans love to sing the most with Apple Music Sing. "We Found Love" also reached the songs chart in a record 92 countries worldwide and "Work" re-entered the charts in more than 50 countries. Rihanna's songs charted in 149 countries on Sunday night.
"Okay, I really enjoyed recording Loud and "Diamonds." I was on the road for both of those albums when I created them. I was touring one album, making the next, and then I came back and toured that album and made the next, and then ANTI was the first time that I took my time making an album while not being on tour. And that frustrated my fans a bit, and here I am doing it again to them. But ANTI, for sure, top favorite album I've ever made," she said of her favourite albums in the press conference. ANTI charted in 161 countries, reaching the top 10 in over 20 countries including the U.S., Canada, and Mexico.
While the fans continue to badger Rihanna about new music, on where she's headed musically, she says, "Musically, I'm feeling open. I'm feeling open to exploring, discovering, creating, things that are new, things that are different, things that are off, weird, might not ever make sense to my fans, you know, the people that know the music that I put out. I just want to play. I want to have fun. I want to have fun with music."