"Amapiano to the world" is a phrase we've been hearing consistently over the past year or so. South Africa's greatest sonic export has come with a lot of opportunity for the artists championing the sound: it's a tale of musicians from the hood making the most of their gifts and rising – like the tide – to bring the wave to different shores.
For any venture to scale, however, it requires investment into the project – with money, time, and support. Bea Theron and Jägermeister have taken this mammoth task to heart and made considerable strides in artist support in SA. I'm keen to understand the thinking behind the move and share a meal with the brand's Experiential Marketing Manager on a sunny afternoon in Linden.
"Our approach is – first and foremost – emerging, grassroots artists that are on an exciting trajectory that we can build a relationship with from the ground up and then support them," she says of the brand's approach to working with artists.
"The second layer to that is basically opening up a pocket of funds. We don't want you to do [traditional influencer marketing], we don't want you to necessarily be part of this campaign or post this at this time etc. You have an X amount of money for the duration of the year 2022 where you can pull the trigger on any of your ideas on your drawing board. If it's an event, if it's a tour, if it's a clothing collaboration, if it's a music video (which is mostly the case), if it's a birthday party, if you want to enter yourself to the SAMAs and you need some funds for that, if you wanna create a content piece with Jägermeister next to you, you can do it. It's complete, authentic, organic. In German we would say freiraum, meaning 'freedom of expression'."
To date they've announced three South African ambassadors: Focalistic, Uncle Waffles, and our August 2022 cover artist DBN Gogo, but their artist portfolio extends across the length of the SA music landscape. They've worked with Fokopolisiekar, Francois van Coke, Van Pletzen, Robin Thirdfloor, Rouge, Muzi, and several other artists. I ask if that level of financial support is open only to the ambassadors. "That's for all artists. That's also for content creators, fashion designers, creatives of night life, tattoo artists. Funds would range from 20k upwards. Here is your funds for this year, let us know how you wanna spend it. You can say it's a collaboration, and it is, but we are not involved in the process of you creating it, we just pay for it."
She fondly notes a social media comment that called the brand the arts and culture department of the streets, and then continues talking me through their strategy. They were predominantly associated with rock and pop bands in years prior but have made a deliberate move to be as inclusive of different night life genres in the country as possible. "It's important to represent all demographics of this country," she says. "I don't think all brands are always able to do it, it's very much campaign focused and then they walk away. But we wanna walk a journey with all genres, genres that fit night life."
"This was my strategy when I walked in six years ago: give everyone a piece of this pie. Back then it wasn't a big pie, it was a very, very small pie. But give it. You know, if a promoter from Limpopo is asking to host a tavern party and he wants ten thousand rand, give it to the guy. He's not gonna put it into his pocket, he's gonna buy sound and he's gonna book artists and medics and production, and he's still gonna make a loss. Give it to them. If they ask to throw a party and to make a difference in culture and community and make music, give it to them."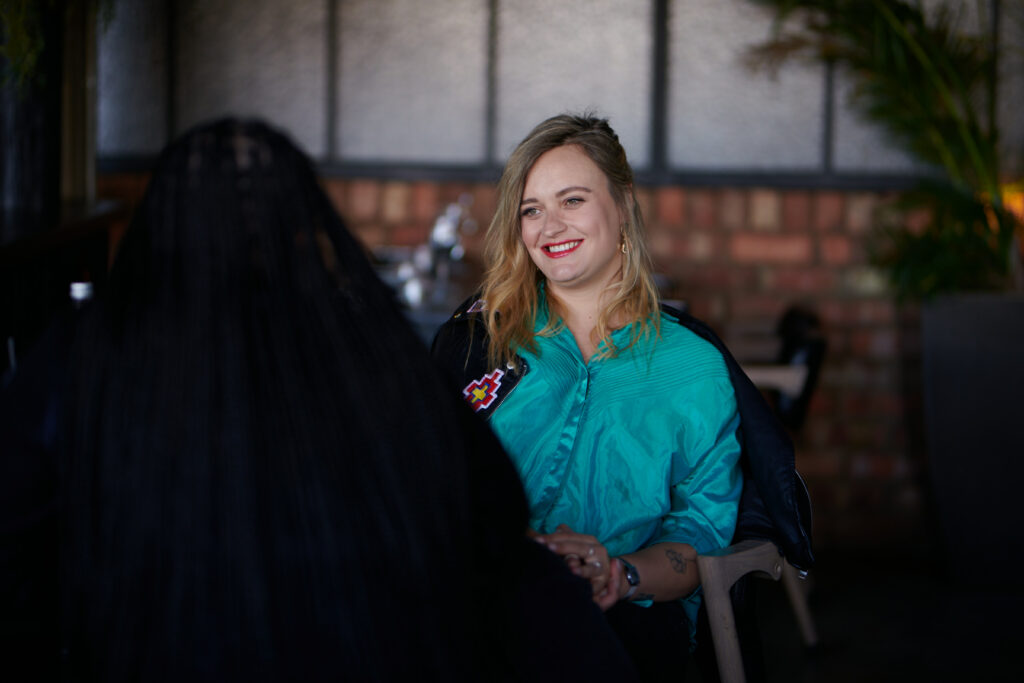 She emphasises that she sees a lot of brands trying to get into markets from the top down with the biggest names in a once-off campaign. "It's not from the heart. It's not from the beating heart, with the young creatives that need the support the most. And [ours is to] expand and build your family from the inside." They call it the Meister community.
"I still can't believe I'm a marketer," she says. "Since I can remember I wanted to be in front of the camera. I wanted to be Charlize Theron." She studied arts and drama in her Stellenbosch University days and got involved in student projects. She began working for Oppikoppi in ticket sales and grew into the sponsorship and activations department for the festival. Moving into the role in Jägermeister she says she was perfectly suited for the position. "I came from asking for ten thousand here and twenty thousand there and having to deliver for this brand on small budgets. And then suddenly you walk into this brand, and you have, in hindsight, what is a small budget and having to decide what to do with it."
Over the past month, the brand has taken their creatives to Germany and helped support their European endeavours. "The set-up phase has taken a while because you need a structure, you need a strategy, you need everyone's buy-in in the local market into the strategy, you need to sign the various budgets. But amapiano to the world powered by Jägermeister is imminent. Everywhere from the US to the UK to The Netherlands, to Dubai, and naturally Africa. Amapiano is going to the world anyway, they do not need Jägermeister." But they are invested in supporting the movement as much as they can.
Her energy and passion throughout the lunch is palpable. The journey of walking with artists and helping elevate their careers isn't a task she takes lightly but one that excites her.