Words by Ziyanda Ntloko
In just over a month from now MTV will present the 2018 Video Music Awards. The list of nominees for arguably music's biggest night after the Grammys has already been announced and include the likes of The Carters, Nicki Minaj, Drake, Childish Gambino and Cardi B. 
The VMA is awarded to honour excellence in the music video field and celebrates how artists and video directors can push creative boundaries in the visual field. The Vanguard Award was first created in 1984 and renamed in 1994 as the Michael Jackson Vanguard Award – the one artist who essentially created the storyline blueprint of the modern music video. Past winners include Madonna, Beastie Boys, Britney Spears, Beyonce, Rihanna, Hype Williams and Kanye West.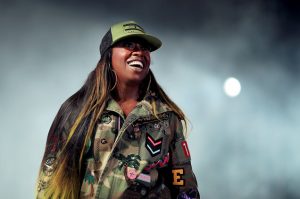 For all of MTV's most recent consideration of black artists for this award, it's hard to think how Missy Elliot's name has never come up. When it comes to the hip-hop video, Missy Elliott stands tall as a risk-taking and innovative artist whose experimental take has redefined. 
Despite a rampant internet rumour that claimed Missy would be this year's recipient, she has since taken to Twitter to debunk all talk (Jennier Lopez will be getting the award). So while MTV mulls over who to pick this year, here's my motivation for Missy to finally receive well over-due recognition for her culture shifting visuals:
The Rain (Supa Dupa Fly)
Her breakout music video, directed by the hip-hop Scorsese and frequent collaborator Hype Williams, the image of Missy through a fish-eye lens wearing an over-sized trash bag is iconic. The video is also lit with cameos from Timbaland, Lil'Kim, Da Brat and Diddy among others and received a nomination for Best Rap Video at 1997 VMAs.
Sock it 2 Me 
A spoof of the classic Nintendo game Mega Man and reminiscent of a time when rappers had a sense of humour and still had fun in their videos. Missy and Lil'Kim are stranded on a remote planet and being chased down by robots before Da Brat comes to the rescue. It's wacky and weird, a hallmark of Missy's videography. Also is it just me or does GMail owe her a check for inventing their logo?
I'm Really Hot
This hype anthem for all the haters has an equally sizzling music video. Missy and her squad challenge a rival Japanese dance crew to a battle. A celebration of the long gone but never forgotten art of krumping complete with ninjas in the background. 
She's A Bitch
Another Hype Williams directed masterpiece, this is the Michael Jackson Scream of rap videos. Set in an afro-futuristic realm against a clean black and white backdrop, this video remains ground-breaking for hip-hop. 
One Minute Man
What seems to be a trademark in Missy Elliott's videos is they can take otherwise regular settings like a warehouse or in this case a hotel and make them into colourful, manic back drops. In One Minute Man she's joined by Ludacris and Trina in a slightly demented hotel with decapitated heads and gold painted bellman hanging from the walls.
Hit Em Wit Da Hee
Taking place in a dark castle on a hill, this video moulds like a spooky homage to Michael Jackson's Smooth Criminal. There's also a genius sample of a Bjork track that can only be heard in the video. There's levitating, medieval costumes, zombies and violinists in a cemetery. It's truly a hip-hop Halloween.
Get Ur Freak On
Arguably her most recognizable song, the video is notable for being her first visual not directed by Hype Williams. But nothing is taken away from Missy's campy, obscure aesthetic proving that this is all her. With a jungle, camouflaged background, the video is packed with rapper cameos from Eve, Ja Rule, LL Cool J, Master P and others.
Lose Control ft. Ciara and Fatman Scoop
Directed by Dave Myers, who has helmed music videos for almost every major artist in the last 20 years this is one of Missy's most energetic and theatrical videos. The visual itself has won a slew of awards including the 2006 Grammy for Best Music Video which is given to performers and directors, as well as being the most played video on BET and MTV in 2005.
Gossip Folks
Featuring the coolest school ever with Ludacris as the principal, DMC as a bus driver and where everyone rocks the freshest Adidas tracksuits and break dances in the lunch room. I wonder how many counterfeit Adidas goods were sold from this video alone. Aesthetic, choreography – it's all here. Plus remember when kids could be in rap videos? 
Work It
When MTV still played videos, this was on constant loop.  On the surface it may seem like an ordinary video Missy never does anything regular. This is her at her most bewildering from being covered in a swarm of bees at the DJ Booth to her head being weirdly shopped onto someone else's body – it doesn't make any sense but that's the greatness in it. You'd be hard pressed to find a more GIF-able video.