Levi's® South Africa has partnered with local denim up-cycler, Xzavier Zulu for an upcoming exhibition. Long time fan of the brand and collector of Levi's®, Zulu has turned his love of denim and his ideals on up-cycling into his inaugural collection. 
EVERYTHING IS A SAMPLE:  clearly speaks to his knowledge of re-purposing denim and re-imagines utilitarian wear.
Working under his newly launched fashion label –ism* Zulu explains that the essence of the collection is an ode to his late father, a military man. The collection features a new take on the classic Levi's® icon like the trucker jacket, sees jeans repurposed into shorts, an apron and skirt and boasts oversized silhouettes exaggerated for a more streetwear aesthetic.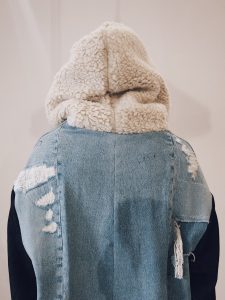 In addition, the collection features some accompanying accessories to complement the look, a bucket hat, newsboy cap and durag are some of the highlights.
"The Everything Is A Sample exhibition is not a commercial collection, it is a showcase that celebrates the enduring appeal of the original denim brand, as expressed through re-imagined garments." Says Candace Gilowey, Levi's® Head of Marketing for South Africa. " Sustainable business practices are part of the Levi's ®brand ethos and this collection tells this story in a fresh and inspiring way, essentially breathing new life into what might otherwise have been considered consumer waste."
The glimpse into the exhibition will be teased out in social media by @XzavierZulu and @levis_southafrica with the exhibition date to be announced.