Words by Joey Drumz
It'd be easy to understand why people unfamiliar with Travis Scott's career timeline would be curious about how the Houston-born rapper had garnered so much attention for the release of his 3rd studio album ASTROWORLD. But from as early as 2009, Trav has been slowly perfecting his now signature, dark-spacey sound through influence and direction from some of the best artists and producers in the game. 
Following a uniquely tailored deal between Epic Records, Grand Hustle and G.O.O.D Music, we've seen Scott break out of his comfort zone and pioneer a new sound in a Houston scene already synonymous with the "chopped and screwed" production techniques from the early 2000s. His platinum selling debut LP, RODEO, managed to take his free-spirited rager persona and mould it into a refined work of music that especially showed off his ability to curate a cast of unlikely collaborators and turn it into musical gold (notably on the Bieber and Young Thug-assisted "Maria, I'm Drunk").  The now cult album (that also features "Antidote", "3500" and "90210") served as foundation for the hype behind ASTROWORLD from as early as 2016 when he first made mention of it.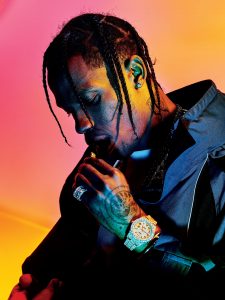 He has dropped 2 projects since then in the form of a solo album (Birds In The Trap Sing McKnight) and a collaborative tape with Quavo (Huncho Jack), with the former earning him his first Billboard 200 #1 debut and a second platinum-selling solo record.
Fast forward to 2018 and, owing to commercial success and a baby with Kylie Jenner, Travis Scott has become something of a pop culture phenomenon who, after multiple delays, finally treated his legion of ragers with the latest body of work.
Although it's his 3rd offering, Travis describes this album as the intended follow-up to Rodeo and further elaborates that BITTSM was simply a bridge between the two projects. This makes a lot of sense as both Rodeo & Astro owe the bulk of their inspiration to Houston through symbolism and content. Having promised a full album experience and not just a compilation of singles, Trav reiterated that his new album was an opportunity for fans to get to know his mindset better.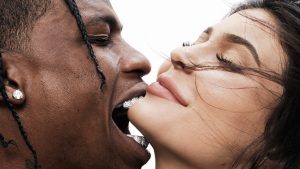 The album itself opens on a much higher tempo than previous releases and from the beginning you get a sense that the "musical theme-park" concept Travis has been teasing is in full motion right out the gate. Travis briefly reflects on what's been going on in his life while stuck in a psychedelic and purp-induced trip. From his successes on tour to reaching audiences on mainstream platforms like ELLEN and even light lyrical mention of his new born in the line "I was hot as hell up in the heat /then this Storm came in to save my life", Travis charges us up from the beginning rather than easing us into the ASTROWORLD experience.  The intro does, however, fall short of expectations at the transition and feels like two non-cohesive parts put together in the last minute. Rather unfortunate considering the standard most fans are used to on intros like Rodeo's "Pornography" and BITTSM's "The Ends". 
Travis keeps it moving by recruiting musical hermit Frank Ocean on "Carousel", where he touches on familiar themes of substance abuse, late nights and paranoia. However Travis offers little extra value on the song and Frank Ocean's vocal cameo saves a record otherwise short on meaningful content and imaginative production. Travis does, however, soon redeem himself on "Sicko Mode" as he enlists the services of Toronto native Drake on a song that feels like a lyrical give and go. In a style that now comes almost standard with any Travis Scott album, the song frequently catches you off guard with the multiple production and flow switch-ups. This plays well into rappers' hands and makes the song an early standout just 3 tracks in.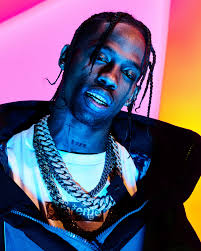 "RIP Screw" appropriately slows down the tempo of the album for a moment as he pairs with Swae Lee in this ode to Houston's legends and their culturally influential chopped and screwed sound and street lingo. However, little in the way of musical innovation can be retrieved from this song as Trav and Swae Lee deliver in almost routine fashion and miss out on the opportunity to give their complete interpretation of an iconic era in H-town music.
After a mixed start, the album produces one of its most well-curated songs with "Stop Trying To Be God".  Travis talks of staying grounded, keeping true to those you come up with and not developing a god-complex the more successful you get. A curious message that could be translated into Trav talking to himself or directing it at someone he feels needs to hear it. Beyond the message, the real genius is in the way the song itself has been put together. Hearing Kid Cudi hum over Philip Bailey's vocals and the sound of Stevie Wonder's harmonica to carry the song into a numbing James Blake solo has to make this one of Hip Hop's best collaborations in the last decade.
Continuing the momentum, we then see Trav collab with industry newcomer Juiceworld as well as his CACTUS JACK RECORDS signee SHECK WES on a juiced up song about his turbulent tour life and bad trips on the road with his crew. Much like Rodeo's "Antidote" the song doesn't seem to be intended as anything more than a club record but bouncy production and an infectious hook should make this anthem a fan-favourite.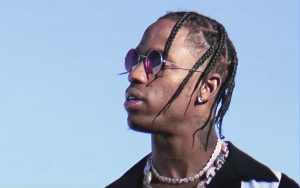 The album then carries over into a tame Impala, Pharrell and The Weeknd assisted "Skeletons" where Trav briefly laments over his first encounter with Kylie Jenner at Coachella. The song is well put together but, whether intentional or by accident, bears a bit too striking a resemblance to Kanye's "Bound 2" in terms of flow and content. It does, however, prove ideal as a prelude to the follow up song "Wake Up" which also features The Weeknd. There the pair expresses the more intimate feelings they have for their significant others and gives us a refreshing 2-part modern day love story from Trav and the Toronto crooner.
On "5% Tint", Trav again shouts out Houston but this time by referencing a famous Slim-Thug line "5% tint so you can't see up my window". For all its good intentions, the song doesn't really impress and sees Travis again deliver in familiar and unspectacular fashion. The 21-savage assisted "NC-17" is equally as timid and finds Trav again going into detail about his sexual exploits with Kylie Jenner. This repetitive use of content coupled with a lukewarm effort by Savage only serves to highlight another song that feels like a cut that shouldn't have made it onto the album.
After another inconsistent couplet of songs, we're then treated to one of the few records Travis really opens up on. The spacey "Astrothunder" is a reflection on the life he currently lives versus the life he needs to be living. A conflicted Trav executes well on a more subdued beat with the only downside being that song ends before we can truly experience what he's capable of.
 On "Yosemite" and "Can't Say", Scott again regresses lyrically with the biggest highlights being the production as well as guest appearances by Gunna and Don Toliver repectively. The last third of the album generally finishes in an awkward and inconsistent manner with "Who What", "Butterfly Effect" and "Houstonfornication" merely serving as more club fodder.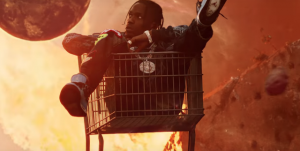 Travis does, however, conclude the album with the insightful "Coffee Bean".  Going completely out of his comfort zone, he manages to mesh trippy futuristic vocals over a boom bap tempo in a way never heard before on any of his last records. Beyond its technical prowess, "Coffee Bean" offers the kind of honesty missing throughout the album as he sheds more light on the inner workings and obstacles of his relationship with Kylie Jenner. This is another song you wish played out a little longer but one of the best songs on the album all the same.
In the end, ASTROWORLD half-delivers on its promise to be more honest than its predecessors but comes nowhere close to being a step up from Rodeo as a complete album. The glimpses of brilliance aren't enough TO make it memorable but hold the project together enough for Travis to get away with it.
You might be disappointed, but you'll soon get over it. I mean, who goes to a theme park to get on all the rides anyway.