Words by Mercia Tucker
If your interest in urban youth culture started to take shape between 1996 and 2009, chances are you were touched by the influence of Black Rage Productions. A media company formed by three Rhodes journalism graduates with a passion for urban culture, one third of the company's ownership, Maria McCloy, reflects on "propagating the best of Africa and showing the world African urban culture " and the need for creating that space in the 90s.
"We saw that in America there was Vibe, and The Source, and TV shows that reflected their culture and did really good writing – things like True Magazine, which became Trace. We were like 'Wow, that culture is really beautifully analysed and documented but nothing here is, and it's 1994. Kwaito's happening, we have freedom, there's fashion, poetry, arts, and music, but nowhere can you go to read this, or nowhere can you go to watch it.'"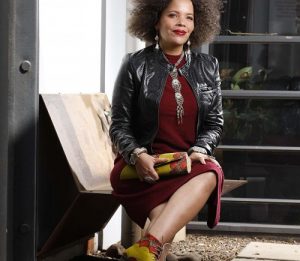 While Black Rage's TV production work includes Bassiq, Street Journal and Noted, the record label wing of the media company – Outrageous Records – was home to names like Proverb, Reason, Zubz, and H2O. Pioneers in their own right, they were recently honoured with an award at the South African Hip Hop Awards for the development of hip hop in SA, Maria says of the label at the time and their cultivation of the popularity of hip hop in SA, "It really was revolutionary. Right now it's something we take for granted because there's so many labels around, a whole Hip Hop awards, hip hop is mainstream, in fact hip hop culture dominates South African culture right now."
Her childhood influences fostered her appreciation for the arts and the need to view it through a pan African lens. "The pan African outlook is something – thankfully – that my parents gave me; my father's from England, my mum's from Lesotho and his work took him throughout the continent. So that influenced me, I think. Even though I was very [young] in Nigeria and Sudan, I do remember Mozambique. And of course growing up in Maseru and Maputo were very cosmopolitan so I made friends from all over the continent, and of course that influenced my outlook. So as much as I came to boarding school in South Africa in 1989, and then I went to Rhodes, the pan African thing has always been part of my upbringing. And of course that's why what I do looks the way it does."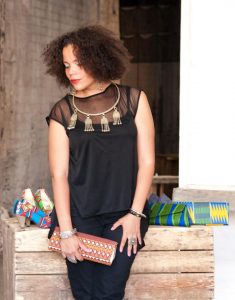 She adds, "We don't exist in isolation so I'm a girl living in Joburg but I still see it as part of a continent. The design I do is inspired by the continent, the journalism I did was inspired by the continent, it's Joburg that allowed me to make those things happen."
Wearing many hats in the creative sphere, she's also a shoe and accessory designer. "It's always been important that we have an amazing continent, we have amazing creativity, but we're a little bit ashamed of it because of what Apartheid and colonialism did to us. So the thinking behind my label is number one: let's keep our creativity and our artistry and our skills alive by using them; number two; lets wear our Africaness every day, not just on Heritage Day or at a wedding."
Excited by her collaboration with a large department store chain last year, she notes the prestige that came as a result of the collaboration and being featured in SA Fashion Week, but lingers on the long road we have ahead in supporting the fashion industry in SA. "It's a great thing. What should be happening is all South African stores should have local designers in them, it shouldn't be a special occasion."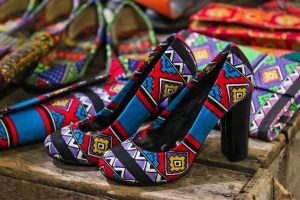 On why she chose to work with Afropunk and what the plaform means to her, she says "It's a significant brand in the world because most festivals in the world are white-run and white-dominated so this is a different dynamic in the global space." She adds, "I think this festival makes an effort to have a very female and very black-people oriented [ethos]."
From her involvement in Black Rage to her work as a publicist and designer, Maria has had decades of experience in telling the urban culture story from an African perspective. She carries this through every part of her and continues to inspire and document the freedom in fashion, art, and music that she set out to as a 19 year old leaving Rhodes to change the media landscape.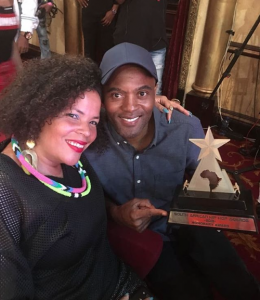 You can find Maria alongside a host of other artists in the creative fields closing off the year at Afropunk Johannesburg on the 30th and 31st December on Constitutional Hill. With a variety of packages sold, tickets can be bought here.