AFROPUNK, the world-renowned festival and movement, has announced the lineup for its critically acclaimed, two-day-long annual celebration, AFROPUNK Joburg, which will take place on December 30 and 31 at Constitution Hill in Johannesburg. AFROPUNK Joburg's 2019 edition continues to feature one of the most exciting and inclusive festival lineups in the world. Headlining the festival this year are, Grammy Award-winning singer, Solange and funk/R&B artist Miguel. Additionally, DMV rapper Goldlink will make his debut on the African continent, while his longtime collaborator Masego will bring his trap-house-jazz vibes. Boundary-pushing artist Rico Nasty is expected to get the crowd bouncing with her "sugar trap", while Durban-based GQOM duo, Distruction Boyz are set to bring the house down. Additional acts include Busiswa, Sho Madjozi, Zoë Modiga, Morena Leraba, Darkie Fiction, with many more artists to be announced. (Full lineup below).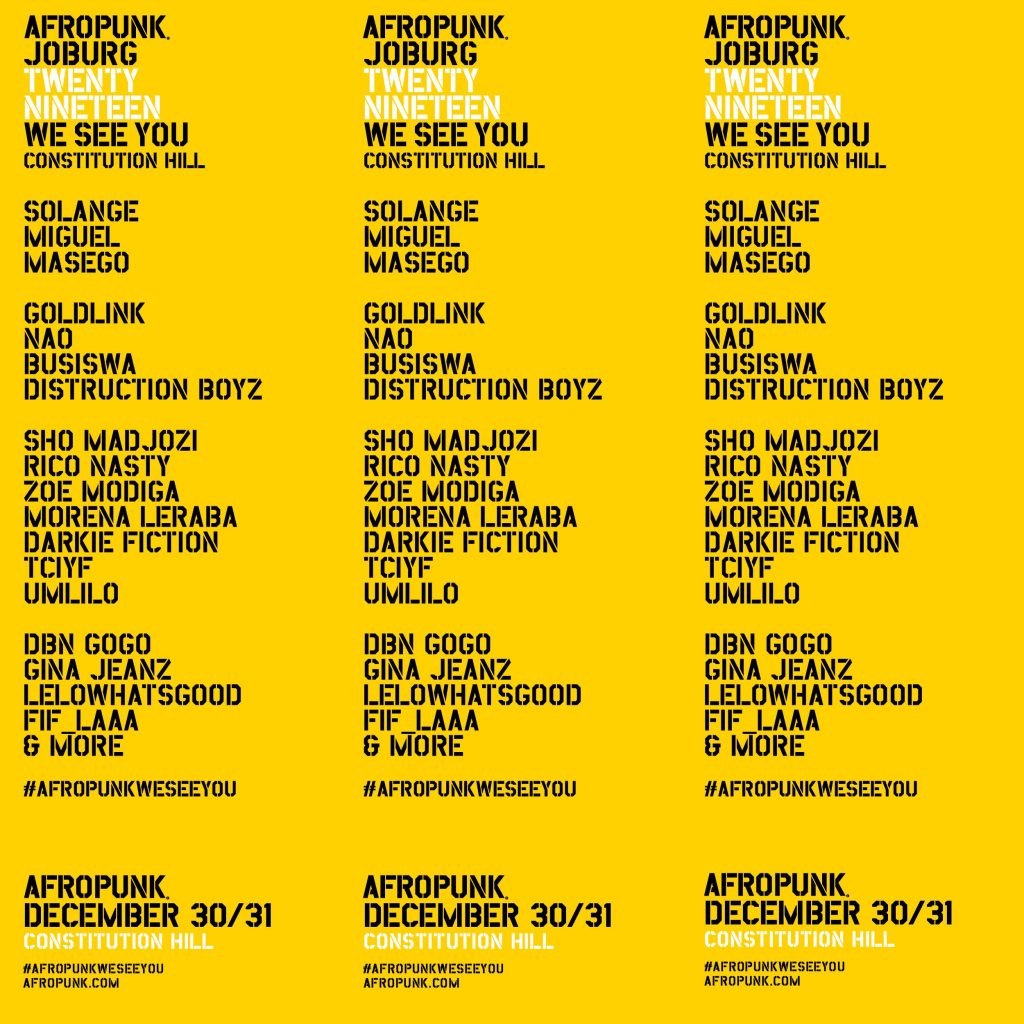 As has become custom, AFROPUNK has created an annual theme for 2019, the theme is WE SEE YOU, a message that brings together AFROPUNK ideology and the people who support it, under the banner of acknowledgment, and in resistance to those who strive to oppress.
The WE SEE YOU theme is described as:
There is power in acknowledgment, a recognition and acceptance that begins with seeing.
Not at a glance, but with a meaningful gaze, a focus that carries the strength required to build a shared global future and a brave new world. Our courage is already immortal.
Absorbing the soulfulness of your existence is an act that's as natural as breathing, yet one too often distorted by perverse colonial visions. Our presence is their terror.
Of course, your beauty, individuality and wonder was never truly hidden. The world has simply chosen to go willfully blind.
Knowledge and experience do not compensate for the need to perceive more clearly, engage more locally, listen more closely.
Seeing is believing. Seeing is understanding. Seeing is supporting.
We, the people, see you.
We see you.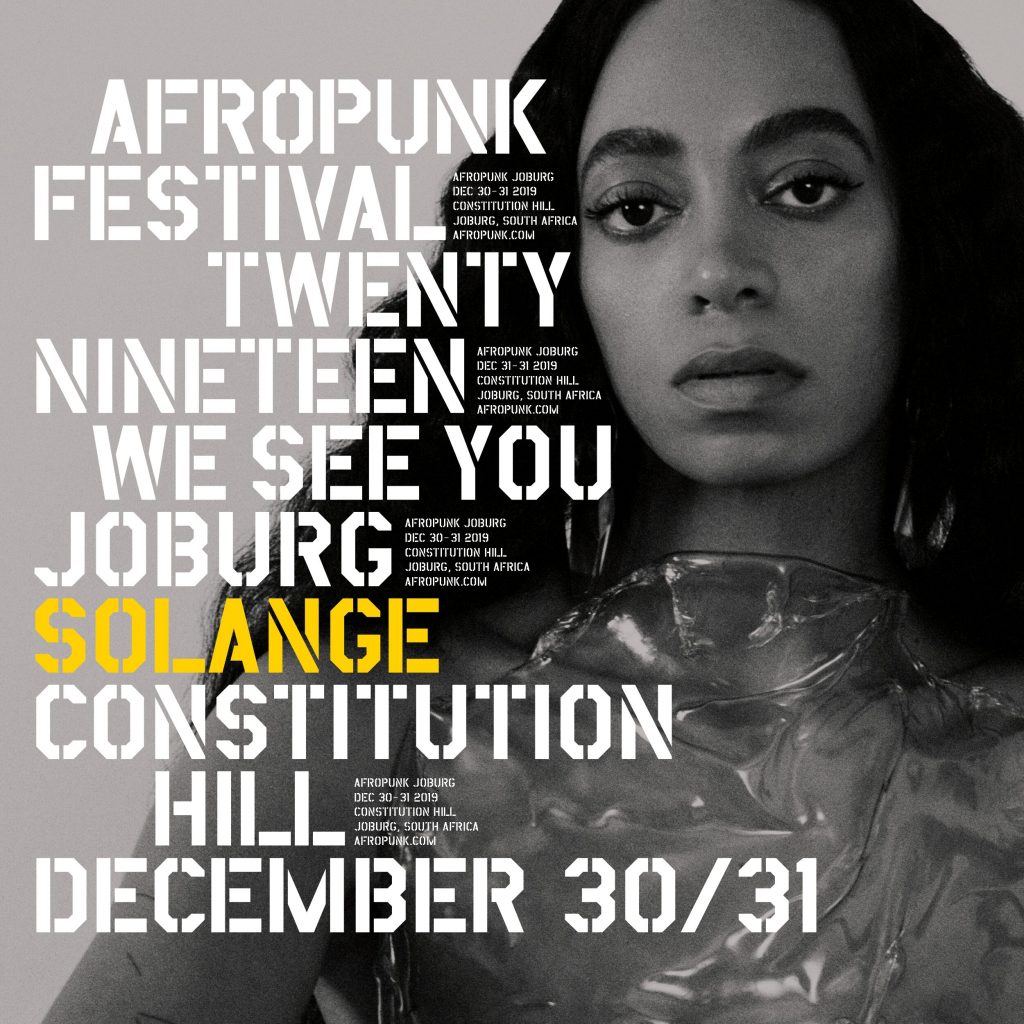 The festival has expanded around the world in five cities, Paris, Johannesburg, London and Atlanta, in the last 5 years with additional cities on the horizon. Beyond the constellation of large-scale live-music events and media reach, AFROPUNK is a world-wide community that is the engine of the global Black experience. AFROPUNK festivals are gathering places to experience art, food and craft-makers and vendors. AFROPUNK is where the global majority comes to see and be seen, to speak loudly and proudly, to resist and party — but most of all, to make the future.
Continuing with their commitment to the support of South African creatives, AFROPUNK, will debut Sho Madjozi to at their Atlanta festival this year, Muzi at AFROPUNK Paris as well as seven South African artist in Brooklyn including DJ Kenzhero.
Aside from major music talent from all over the globe, the festival encompasses Bites&Beats food experience, Activism Row and the SpinThrift Market, as well as the chance to earn tickets via the AFROPUNK Army Earn-a-Ticket programme. The build-up to the festival includes a Battle of the Bands, which seeks to unearth new local music talent and gives the winners an opportunity to play on the festival stage.