Words by Misa Narrates
We often forget the science to music, or rather the production thereof. For some students, the question of "What do you want to be when you grow up?" has to do with science and outer space. To the self-proclaimed Zulu Skywalker, Muzi, music is where he gets to explore concepts of space and time, connect to and represent his ancestors, and, find his people.
As an 11 year old boy, Muzi had already found his calling, making music. "I knew I loved hearing what I could make," he says describing his younger self. Since then, he's built a career as a musician, DJ, and producer. With a resume that includes some of South Africa's hottest performers in music, many may have unintentionally come across his work in commercial settings; such as advertisements for the likes of Apple, Nando's, and Until Until. For Muzi, commercial recognition or work does not impact his musical process. While he maintains gratitude for being as booked and busy as he is, it is integral to his value system that mainstream and commercial recognition do not change the nature of his art. "This is a calling for me, if my ancestors aren't happy, I can't do it. The music comes from the soul. Can't change something that sacred."
Throughout his interview, it was clear that music was both scientific and spiritual for him. The 27 year old DJ has a documented history of referring to AmaZulu as a group that touched the sky before NASA. In an interview with Helen Herimbi, he goes on to say, "This idea I have of black people being in space before NASA. It's in our language – Amazulu, people of the sky." In the music video for "Zulu Skywalker", he further pays homage to his niece through the creation of a cartoon character by whom she could be represented. The character is interested in space travel and technology, much like Muzi's niece. Not only was there an element of doing something "cool for the kids" to this music video, but Muzi also made a very pointed statement about women and girls in STEM industries, a statement about representation.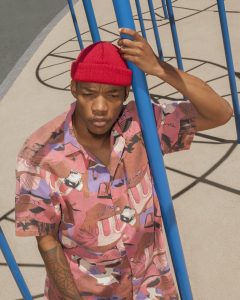 Ahead of his impending Afropunk performance, Muzi believes that spaces like Afropunk allow people of color, more specifically black people, the opportunity to celebrate who they are. Punk cultures are often depicted through imagery featuring white subjects, whereas Afropunk considered the Afro-communities part of the punk culture. Since its inception, the festival has put forward a narrative of being home to people who don't necessarily fit societal norms. Similarly, black girls into science and technology, instead of barbies and ballet, ideally have a place to be themselves in spaces like Afropunk.
"People are already representing themselves, it's about giving them a conducive environment for them to do exactly that," he says. Having lived and performed abroad, Muzi has enjoyed the pleasure of being a student of the world. With this in mind, however, he found that while there is much to learn for African musicians, "we already have the sauce." Africa and creativity are synonymous. Brands from all over look to this supposedly "dark" continent for the light to their new ideas. Making the connection between art and who the African artist is will assist in the progress of music industries around the continent, Muzi believes.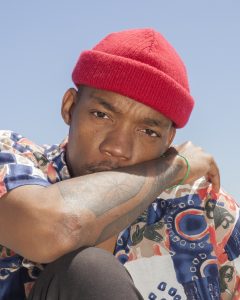 At the same time, the road to self-discovery is long, and there are other ways to advance music in South Africa. The growing 'new school' of talent in South Africa's music scene have made it a point to be visibly supportive and collaborative among each other. Muzi is no different, with collaborations with the likes of Una Rams, Yanga YaYa, and more. His partnerships don't end in the studio, however! He has performed live with Langa Mavuso and Zoe Modiga in the past. After his Rocking the Daisies debut, he tweeted a question someone posed to him, "So Muzi, do u dj or u perform live?" To which he replied, "I ZULU SKYWALK!!".
A dream collaboration would be Sjava for the DJ, but until that time, fans can enjoy his stage stylings. Having seen the talent on stage at Oppikoppi, Muzi has a stage presence that doesn't disappoint. Where many seasoned musicians struggle to occupy a stage, Muzi, who is generally expected to stay behind the decks, manages to move about the stage and entertain his audience in every way. "I love the conversation I have with the crowd. It's like I'm macking on everyone at the same time and by the end of my set, we're all family."
Granted, Muzi may have a prolific career in the music industry, both locally and internationally, yet finding and being with his fans is still a treat. He describes the people whom he entertains and makes music for his "tribe", harkening back to the spiritual and historical direction of his music. Regardless of who is in the crowd, everyone is in love after his set, and after having experienced a set of his, this is an honest account of the spirit in the air after Muzi has torn up a stage. He just happens to be Zulu, he describes, which obviously impacts the creative direction of his music, just like any other cultural background would, yet when it comes to his tribe, everyone is one in their love for good music.