Words by Mercia Tucker
 It's April 2016 and the VIP section of the Zone 6 venue in Soweto starts to fill up with the fashionably late. The precursory pouted pics posted, small talk starts to run thin amongst the invited guests in what seems like an almost dramatic wait for the North God Concert to proceed, even by tardy standards. There's a sudden flurry of activity at the back and while you're still contemplating the possibility of a fight having broken out, Da L.E.S emerges; his entourage, a slew of photographers, and a continuous flash of bulbs in tow; capturing one of the grandest entrances I've seen an artist make.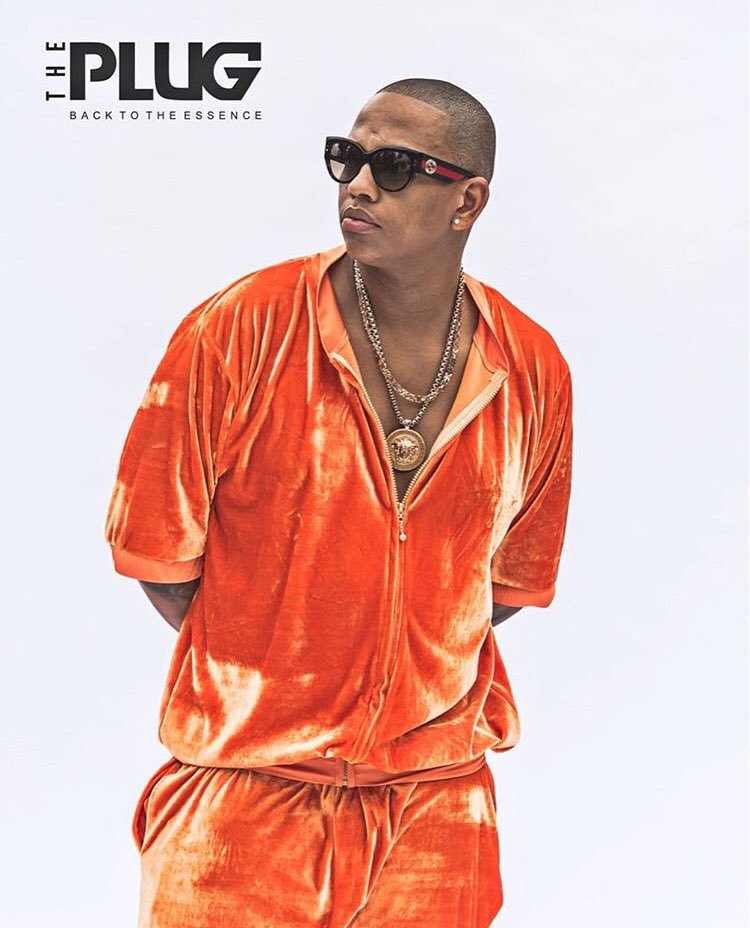 Leather jacket-clad and flanked by friends, his mien was jovial. What he'd lacked in punctuality, he made up for in conviviality and where the former tends to lean towards self-importance, his was eclipsed by the latter; a feel-good and fun-loving demeanour that he'd imbued into his music and made a fan out of me, and many others, with.
Da L.E.S has a larger than life personality. More than an inherent trait, it was honed by long and illustrious career in entertainment that has spanned ten years and seen him move from from being part of a group, Jozi, to a successful solo career. He's pioneered a crunk, and later, trap sound in SA and redefined hip hop artistry locally where boom-bap seemed to dominate. As a cultural influencer, his flair and joie de vivre is unmistakeable, evident in his various brand collaborations and reaching its zenith in his infamous All White Pool Party.
Leslie Jonathan Mampe, Jr. was born in Washington D.C. when his parents relocated because of his father's work commitments. He grew up in Texas, they repatriated when he was nine, and his family settled in the northern suburbs of Johannesburg.
He'd always been an extrovert. "I just wanted to skate and be popular. Be popular, skate, get fresh clothes, meet new girls…" he says when asked if his popularity made him seek out an industry that thrived on it. "I didn't really wanna get into this industry. How I got into this industry was through Bongani. And then I just ended up rapping and learning how to rap and develop the skills of rapping."
A characteristic that has served him well, his magnetic persona has seen him not only maintain a career in rap but has elevated him to a game-changer in terms of the musical direction he pursued and how celebrities are perceived in SA's entertainment landscape.
His studio the setting to our interview, the dimmed interior didn't cloak the outline of posters of jazz musicians like Billie Holiday and Dizzie Gillespie; or his incredible LP collection, handed down to him by his father. His personal influences on the sound he wanted to pursue in his career, however, were of a more modern standing.
"Before we released Muthaland Crunk I was back in America for about a year and a half, I was supposed to do school, college and stuff like that…" he says. "So I would get all the new influences and bring it back. I definitely just felt like with the talent, with the know-how, with having been there, it was just right. And that influence definitely influenced the decision making, what kinda style we should go for, what kinda things we should say, what kinda things I should say, so it definitely influenced that. It wasn't really easy, you know. A lot of people would say a lot of negative stuff, a lot of people would do a lot of negative things even while we're performing like a lotta guys would pull zap signs. A lot of negativity. But at least our fans, the ladies, they really held us down."
He's on his fourth solo album release, Diamond in Africa. "It's important for me to release music almost every year, going back from Mandela Money to North God to Diamond in Africa. It doesn't only just help the music industry but it helps myself, helps me grow. I love collaborating with people, exchanging ideas and exchanging energies with people so it's gotta happen."
North God had Emblazon doing most of the production but he's enlisted KM, Gemini Major, and KJ Conteh on Diamond in Africa. Where the collabo with AKA and Maggz has become an album staple that doesn't disappoint – even after the third go – he's embraced working with other artists to bring new energy into his sound. "The relationship between myself and Gemini definitely cemented through the process of making this album. He's such a talented person and his energy and my energy in studio are very similar. We like to make sure we keep the energy right, we don't like to feel forced at all." he said.
"And then Nadia. I've always thought that Nadia was extremely talented, and she still is, and I always wanted to work with her. And I could tell that musically she was also in a good place, doing different collaborations, going to different studios, working with different kinda people. I could tell that she's all about the music right now. Especially with Gemini and Yanga, our next project is really crazy and you'll be able to hear and feel the synergy between us."
More than his talent and good ear, Da L.E.S has been blessed with longevity in the music industry. He owes it to his personality, he says. "I'm very warm and welcoming to new ideas and new people. I think that music should be shared amongst each other, not just for the fans, but in the industry. Especially in rap. Rap can be so competitive that that guys wanna keep it to themselves and compete with one another and they end up competing with themselves."
His first release – with the group Jozi – having been in 2007, he plans to commemorate the 10 year milestone with something special. "That's also gonna get an album and something nice. We're doing a big concert in October and we're gonna film the concert. I still look at myself and my career as a 10 year old child, and I'd love for it get to, at least, over 21. It'd be amazing if I could get to 30. 30 years in the game, that'd be amazing, I'd still love to do that. Maybe the last 5 or 6 years, I may not be rapping but I'd still love to be in the game."
His social capital has seen him viewed as a local P.Diddy of sorts. Billionaire status aside, the lavish parties, feel-good music he makes, affluent lifestyle and fashion sense contribute to the comparison; but label head is a title that's recently been added. I ask about Fresh 2 Def Productions and the growth he sees it taking.
"It was always there, but it was just about tryna find the right model. I don't wanna try put something out there that's gonna fail. And it's not to say that I've got doubts or anything, I'm very confident that it won't fail but for me I always felt like I wanted to really just take my time and build the right model and create the right model for the artists that I work with to be comfortable in. So, the right model just for other rappers to be comfortable and them to also feel like they're not signed to another rapper. I want them to feel like the business is something serious."
Where artist-run labels in SA seem to have taken a bit of a downturn, I asked what made him want to take up that role. "For me I think a lot of people focus on the contractual obligations before the music and the synergy between the people. So I think the first step is to find a group of people that you guys all have a really good connection about your music and you all have a common goal and you guys can really work and support each other whether there's money or there isn't money. You guys still support each other whether there's a leader or there isn't a leader. There's still support coming from everyone."
"That's one, for me personally. And two, to be able to give them – each individual artist – the opportunity to set up their own set up, from a business perspective. To give them the opportunity to set up their own companies, and set up their own stuff. They need to be responsible for them and their companies. That's kinda the set up that we got going on. We're in partnership with Yanga, his company is Young Legend Music. We're in partnership with Gemini Major, his company is called Rudebouy Major. And that's it for now. We manage DJ D Double D and we're also managing a new artist named G Baby Da Silva who's also gonna come and kill it. I just think that's the kinda nice model that we like to work on because it doesn't make people feel like they're obligated to whatever F2D says. You've got your own company, this is your own. You run it, you wanna build it. We all have a goal, we all got common ground and we all support each other 100%. You've gotta take responsibility for your own actions. And I think that's where the lines get blurred with other artist-label relationships."
On Gemini Major and Yanga's involvement, I seek clarity that they aren't signed as artists to Fresh 2 Def Productions but are partnering with the company. "100%. But we move under Fresh 2 Def and we move as a family and we make music knowing that F2D is the home of all that. See, you get Maybach Music and you get Dreamchasers, you know what I'm saying? Young Legend Music may wanna have four other guys that they wanna push and that's them, that's what he wants to do. It's like Young Money and OVO, it's the same kinda model. I'm glad that that patience was always there for me to find that model and stick to that model."
"Young, talented, motivated. These guys are famous too so fame doesn't get to them. Everybody respects one another, we support each other, we give 1000% when it comes to doing what we wanna do. I think all of us have been in places we never wanted to be in before and we appreciate the new work ethic, the new sense of being your own boss. Providing the opportunity to be their own bosses has motivated them even more. I think that's very important and I think that's why everything happens so organically through the music, through business and through our performances. We're working on the next North God concert on the 11th March, Yanga is also gonna be throwing a show really soon, we've got Gemini who's gonna be doing something in Malawi, in his home country. And we're all gonna be there to support. I just think that the family is so nice, it's perfect, it's compact, and it's diverse. Yanga speaks to a different market, I speak to a different market, Gemini speaks to a different market and when we make music together we allow those markets to feel each other out."
After ten years, his cool demeanour and flamboyant persona is such a big part of his brand that it sometimes threatens to overshadow the work that went in to getting him to this point. "First of all, I wanted to be entertaining, I wanted to be the person that entertained you. And then it just so happened that through experience and through going through the ups and downs in the industry, you find a comfortable place and I'm very comfortable just doing my thing."
"I feel like a lot of people always forget the real reason behind being in the music industry, and that's the music. Without the music you don't really have anything. You don't have the endorsement, well you could still have them but you'll have them for the wrong reasons. I think if you get back to just focusing on the music everything else naturally flows. A lot of people like to strategise around building a brand before fuelling the brand with the talent. A lot of people wanna build these brands but never wanna get back to what the brand is actually about, and that for me is the music."
As a tastemaker, Da L.E.S is incomparable. His passions permeate and manifest themselves in the authenticity that his brand has come to represent. A connoisseur of cool, he sets the pace and has driven his career to new heights. After ten years in the industry, we can't wait to see what creative pursuit the next twenty bring.