Nike and Virgil have had one bumper year! We've seen dozens of collaborations from the sportswear giant and Virgil's Off-White brand over the past couple of months. The latest in their venture is a logo focused football inspired capsule which is dropping right in time for the World Cup.
Highsnobiety caught up with Virgil to discuss this collabo with Nike Football; here's an extract from the interview: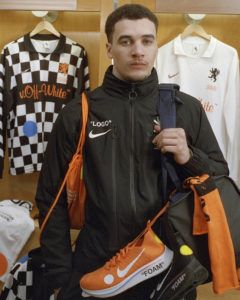 Your collaboration with Nike Football took a lot of people by surprise. How did it come about?
You know, I've been playing football since I was eight years old. It all comes from sport. I was one of those kids in high school that played every sport. I didn't look at sport as individual games — everything was just a skill to learn and get better at. Football is probably the sport that I played the most all the way up through to college.
Was that a personal choice?
Yeah. I wasn't handcuffed to playing soccer. It was the 1990s — I was DJing, I was skateboarding, I was playing basketball. This was the Jordan era, after all. But I was probably better at soccer than anything else.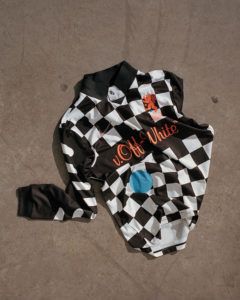 Paris Saint-Germain and Juventus jerseys having been pretty popular recently, but what do you think is lacking in football merch these days?
I don't know. Nothing is lacking. I think it's just in modern times there has been this return to mundane things that mean something. Jerseys mean something and they can be worn in a different way. It's like military. It's a theme that kind of works for actual military and then it's something that can be adopted in the street, so I think it's just a modern context that's changed [rather] than the jersey itself.
Footballers aren't generally seen as style icons in the same way rappers are, but that seems to be changing. Which footballers could you imagine being future style icons?
I don't know. I wouldn't single out anyone in particular. That's the beauty of fashion now — it's anyone's game. You can be famous, or you can be on Instagram with 10,000 followers and influence someone with 10 million followers with just one photo. I like that sports stars who have grown up with fashion being second nature are now influential in our world. It used to just be the rock stars. They were expressive on stage. Now a 17-year-old kid who is making tens of millions of pounds playing for a top team can also be an influence with his style choices and with his personality.
That's what this collection is. It's like a merger of me having a brand that is steeped in the street being applied to sport.