They kick started The Wave late last year with a new interpretation of Nike's Air Max 1 and it's been ebbing and flowing since. Patta's latest drops in the series are part of The Next Wave and are inspired by the proverb "Each One Teach One." They've described it as "a symbolic exercise in riding and rising above society's undertow" but the symbolism of the design has leaned into tangible lessons and action and the brand has put their money where their mouth in terms of community upliftment.
On August 12 and 13, Patta, Nike, and Mamakashaka hosted a two day exchange program for young creatives to develop their talents. Musicians, photographers, and fashion designers were paired with experts in their field to hone their abilities and sharpen their skills. Taking place at Shapa Soweto in the south of Joburg, the photography students were treated to the teachings of international photographer Shaniqwa Jarvis, the music students were paired with the award-winning production trio Ganja Beatz, and the fashion students heeded the mentorship of UNKNWN PROJCTS.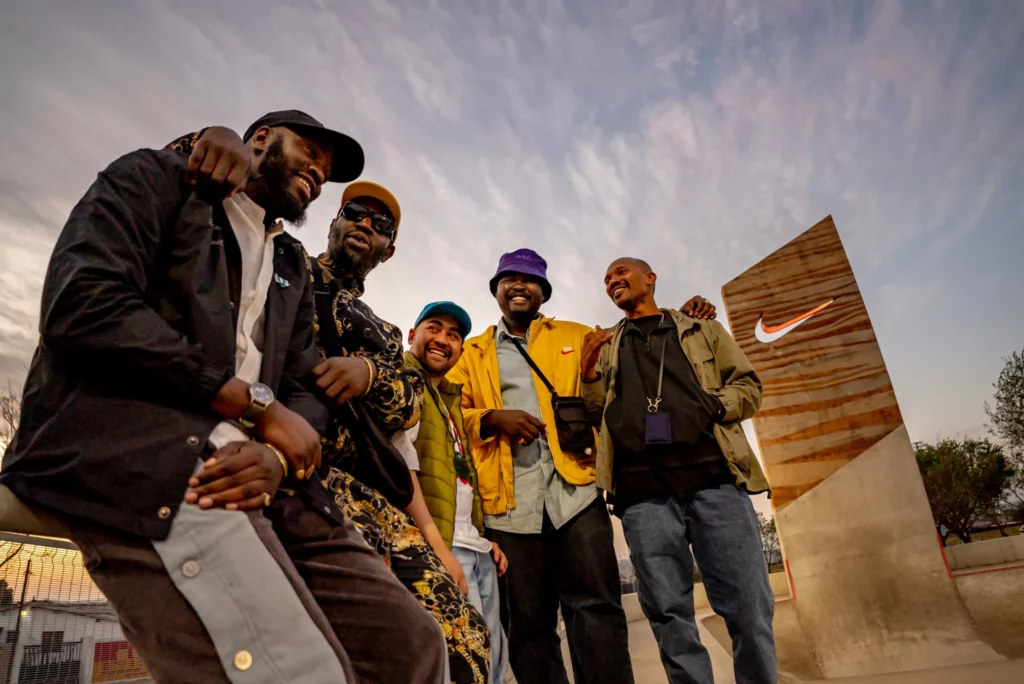 "For us, satisfaction comes from developing product as a means to connect with our community in a deeper way. Our business was built by a collective, both physically and intellectually, and we drive success by celebrating the fabric of our community and collaborating with them at every launch," says Gee Schmidt, co-founder of the Patta brand. It's in that spirit that they intentionally tied The Next Wave mentorship programme to the release of the new collection of Air Max 1s.
South Africa is at the heart of the new campaign. Not only did the brand bring the mentorship programme to our shores and enlist a number of SA creatives to drive it, they also had some of our finest depict the new collection in front of the camera. The first drop of The Next Wave collection was a "Dark Russet" colourway with a grey mesh upper and a fuschia inner. Kabelo Kungwane was captured in the pair by Shaniqwa for the campaign visuals.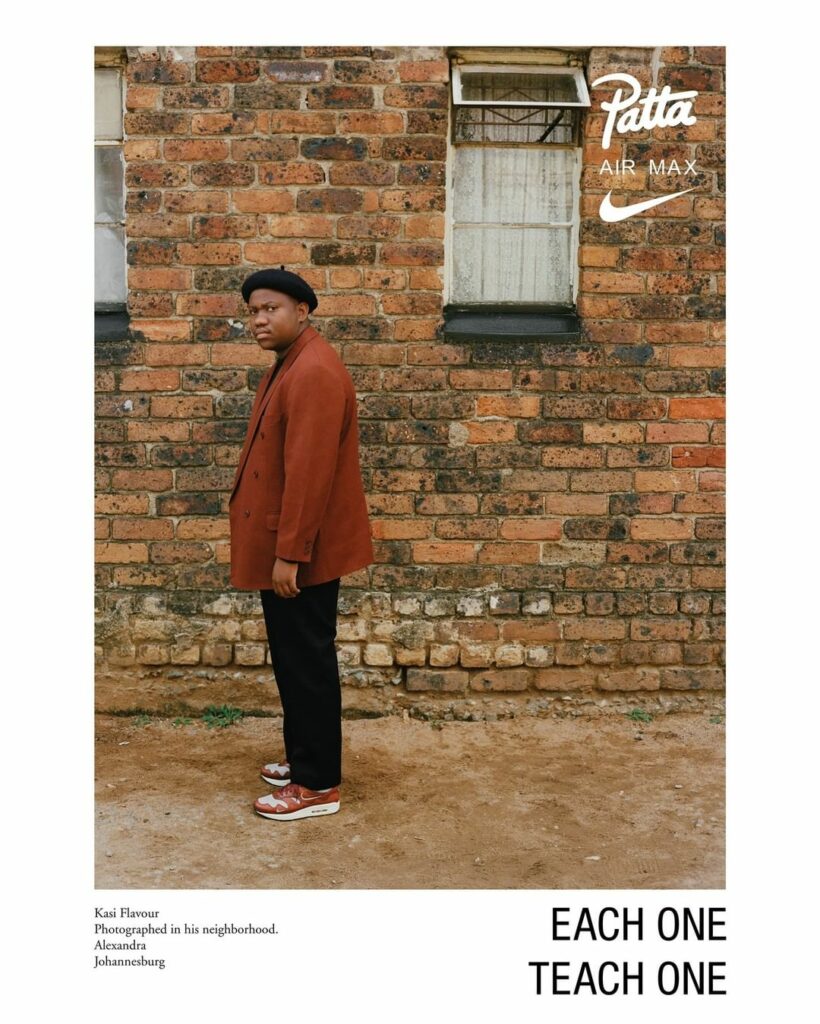 The son of late Kaizer Chiefs football player Isaac "Shakes" Kungwane, Kabelo has channeled his love of football and fashion into his label Kasi Flavour 10. Together with Wanda Lephoto, Andile Buka and Xzavier Zulu, he's also part of the creative collective The Sartists. Created with the aim of documenting and archiving the South African black identity and its experiences, the collective has shifted focus to their individual pursuits. Kabelo's pursuit has always had a narrow focus, fostering football lifestyle in SA through fashion. Growing up surrounded by football culture, Kabelo's wealth of knowledge in the discipline has allowed him to honour his father and his legacy through his work.
With the release of their Spring/Summer 21 collection, Patta noted, "Given the current climate we find ourselves in, we feel it is our duty to stand up and promote the messages we believe in as a brand. When designing our Spring Summer '21 Collection, we looked inwards, analysing what has remained true for us as a brand for the past 16 years, and pulled inspiration from our core values: Do-It-Yourself, each one teach one, go against the grain, speak your truth."
"Each One Teach One" has been the focal point of this campaign, and for it they worked with "creatives who have been empowered through generational exchanges of ideas, stories, and skills." This included NY based grill-maker Eddie Plein and illustrator Aya Brown – who were both photographed in Bed-Stuy in Brooklyn – but extended to a number of South African creatives as well. Kabelo was photographed in his childhood home in Gomora, Alexandra.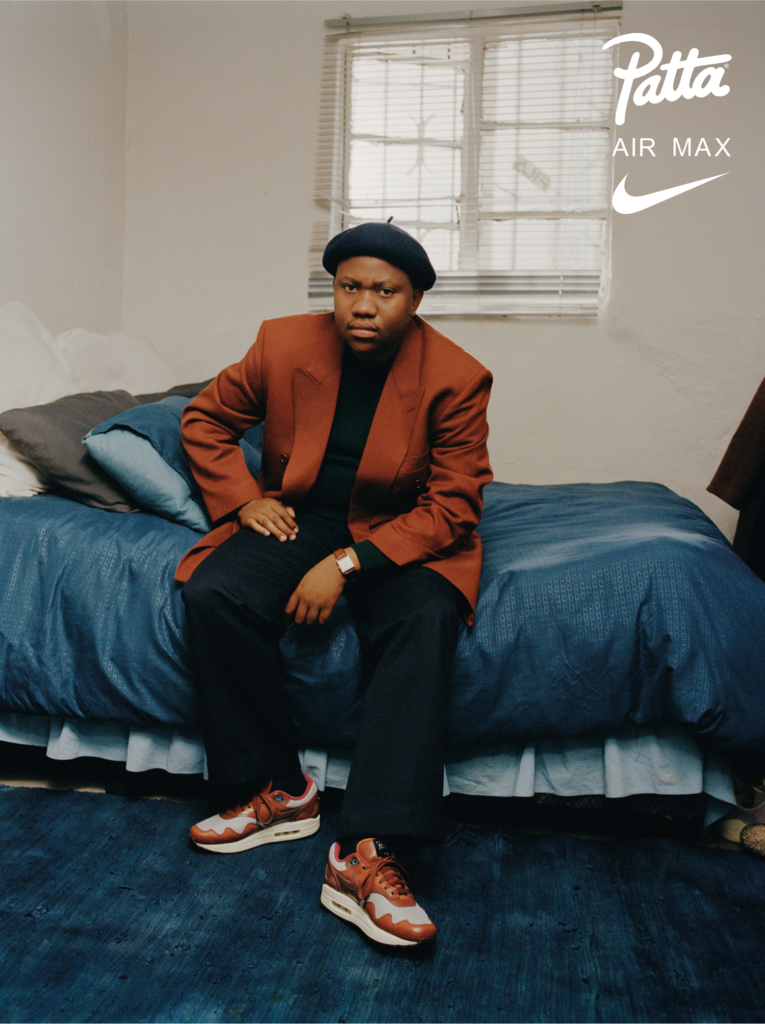 For the "Pure Platinum" iteration of the The Next Wave Air Max 1, Patta looked to Wireless G and DBN Gogo as the visual carriers of the message. Galebowe Mahlatsi is the co-founder of Thesis Lifestyle in Soweto, a store and streetwear brand that seeks to bring life to kasi culture. In growing a brand that is centred around individuality, the Thesis motto is "Define Yourself". He's also part of Ask Soweto, a consulting agency that focuses on granular insights of the township consumer, and understanding on the ground research of various township backgrounds.
His relationship with Patta goes back some years but the similarity of both brands' starting points is remarkable: two friends looking to represent their community, founding stores that resell streetwear, and growing into one centred around authenticity and self-definition. He's described it as "a story rooted in brotherhood, mentorship, and the general love of seeing people being uplifted." G was photographed in front of Thesis Lifestyle in Mofolo Village in Soweto.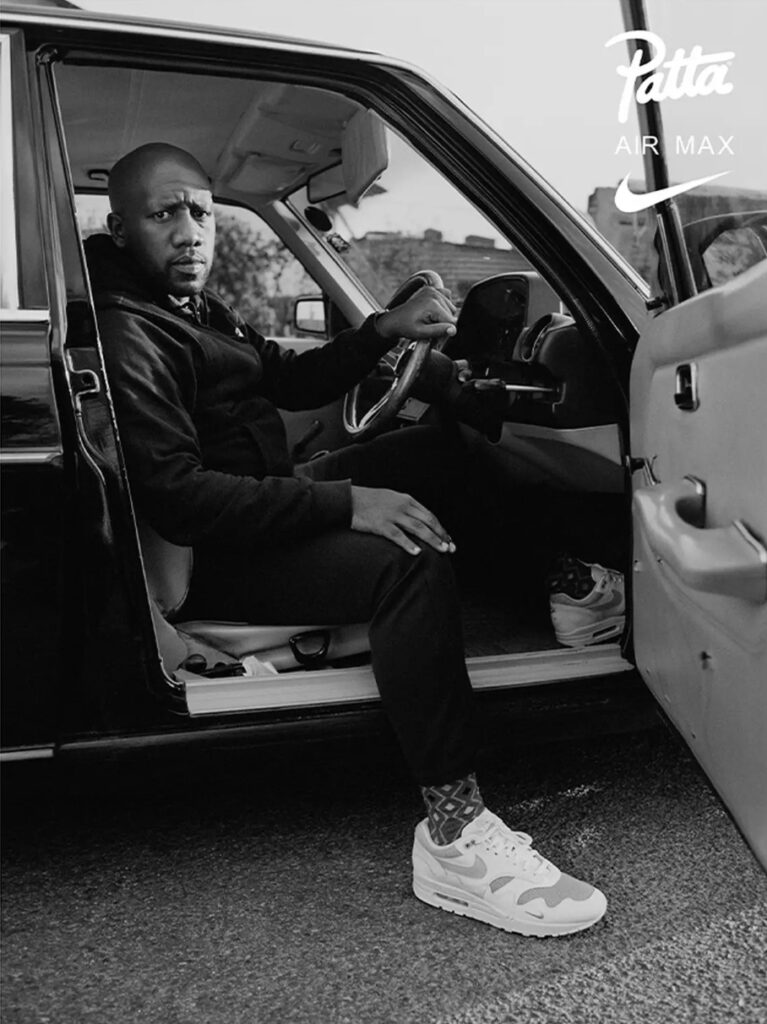 DBN Gogo was photographed Kwa Mai Mai in downtown Johannesburg. For our cover story with her, she said, "I'm very in tune with who I am, being Zulu. Both my parents are Zulu. I'm a hundred percent Zulu. Without my heritage, I don't have an identity." Also known as Ezinyageni, or 'the place of healers', the market has traditionally been known for its sale of traditional medicine. Over the past two years or so, it's also gained prominence as cool hangout spot, the no-frills kind that focuses on good food and great company.
Dr. Sipho Sithole, founder of Native Rhythms record label and Doctor of Philosophy and Anthropology, has said, "What makes Kwa Mai Mai distinct is its non-discriminatory and welcoming character in that it does not alienate the marginalised or the prosperous. It does not distinguish between the haves and the have nots. This is a place where culture, heritage and tradition, as championed by its inhabitants, converge and find its expression through the creative work and cultural expressions of would-be migrant workers."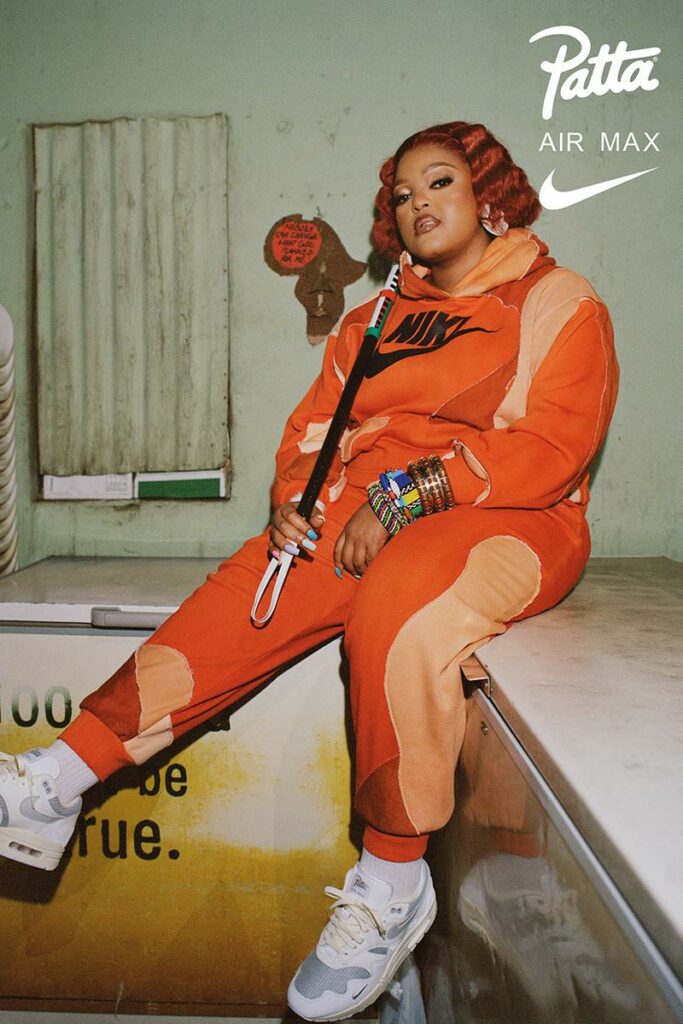 "To be sustainable as an artist, you need to adapt, to listen to new kids, but most importantly, you need to involve people in the movement" she says. Her brand has always been one of collaboration and community, and she's extended it by embracing another brand whose values are centred around those she holds dear.
"For Patta, uplifting its community is central to the brand's mission," they've said. With the rollout of "Each One Teach One" and the campaign around the release of their latest batch of Air Max 1s with Nike, that sentiment was evident every step of the way.