Music is a global language. It transcends race, religion and politics. It's a social scene that navigates between genres and has the power to move, inspire and bring people together from all over the world.
This season's concept shows music's true global reach. We meet the people who make up this international community — whether on stage or in the crowd, backstage or with the fans — to prove that no matter where you are, no matter what you listen to, we're all united by the beat.
Rouge is a female rapper born and raised in Pretoria. Rouge debuted her album, THE NEW ERA SESSIONS in September 2017 which ranked Number 1 on iTunes on the day of release; a first for a female rapper in South Africa. The record , which serves as Rouge's candid commentary about the various eras of hip hop, received an SA Hip Hop Award, SAMA and her accompanying short film, a SAFTA.
Her aim is to bring change in the hip-hop industry, especially the female market.
Rouge is dressed in product from the Levi's® Sportswear inspired range from the Spring/Summer 2018 Collection.
The new Levi's® Sportswear range is inspired by our archives and blends the best of the past with a modern edge—oversized silhouettes and logo-heavy graphics reign supreme. Nostalgic about the early '80s and '90s, our designers were inspired by hip-hop, skate and streetwear.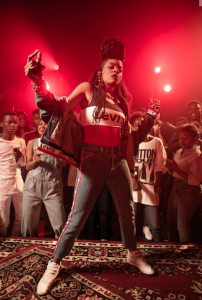 "It's about authenticity and nostalgia, connecting on a familiar and emotional level while infusing the energy and trends of 'now' which has a heavy streetwear and  sportswear 90's influence."—Karyn Hillman, Chief Product Officer at the Levi's® brand.
Meet the other artists here: www.liveinlevis.co.za