Words by Ziyanda Ntloko
Last year I attended the first ever AFROPUNK festival hosted on African soil in Johannesburg. The festival has been based in Brooklyn since 2005 and recently expanded to Paris and the newest instalment on our shores. For two magical days, we all dressed up in colourful and beaded outfits and jammed out despite a thunderstorm, mud on our shoes, a tragic shortage of gin and cancelled headliners (ahem, Solange). The scope of this event was largely unpredictable and it had a lasting effect on how I view festival culture within South Africa. A festival is a once-off or yearly celebration of anything from arts, music, wine, food or simply promoting a certain region.
But why do people go? They're not always cost effective and in essence you are choosing to immerse yourself in a crowd of people for a day or if you have the strength, an entire weekend. The answer lies in the experience. I believe in music in the way some people believe in fairy-tales and music in its' truest and magical form is found at festivals. Unlike purchasing a song, album or merchandise, the memory of seeing your favourite artist on stage or discovering a new and exciting act is something that will live with you forever.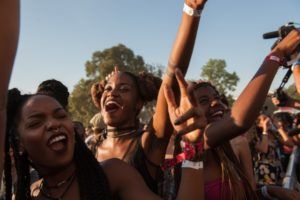 As much as festivals can be a deeply individual experience, the festival has long been a cultural artefact promoting social and political activism. Festivals bring a sense of community and the power of music is tenfold when you experience it with others. The experience of live music in a crowd of like-minded adventurists is liberating and luckily we live in a country with an abundance of arts and culture, allowing opportunities to celebrate and revel in this. South Africa currently has in excess of 600 festivals hosted year round in various provinces with about 20% making up the arts including music.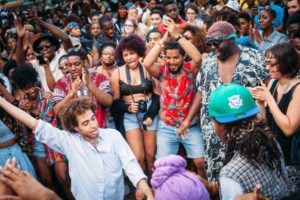 As diverse as our landscape and people are, the music festival scene does cater to a variety of genres in jazz, hip hop, trance, electronic, rock and house. A 2016 report by the Tourism Research in Economic Environs Society (TREES) found that festivals have a number of benefits to communities. The most significant is the growth of tourism and job creation which in turn promotes and increases the visibility of a town, region or destination. The Western Cape holds the monopoly on festival culture with almost half being based in and around the province.
Business Report Online notes that festivals not only create jobs and the development of the arts but also increase sponsorships and have a significant effect on the tourism market.  According to its findings, 2017 AFROPUNK employed 1,100 people for the 2 day event and around 200 small businesses actively benefited from the hundreds who attended. Was the success of this festival merely down to the brand of AFROPUNK as a global event or does it speak to the lack of diversity within SA's festival industry? I would venture that it is not all down to hype and that maybe the turn out shows the need for more representation in the festival market that caters to local and continental talent and also offers spaces that are culturally, socially conscious and yes, not abundantly white.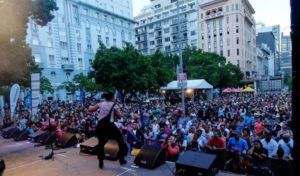 It's impossible to go through the long list of local festivals so I've narrowed down just five that I feel are notable and play a crucial role in expanding diversity in festival goers.
Basha Uhuru Freedom Festival: June 28 2018 – June 30 2018
This is Constitutional Hill's annual event and celebration of Youth Month highlighting South African youth culture and it offers a full programme of arts, music, film and fashion events. The musical line-up over 3 days will showcase Sho Madjozi, afro-house stars Black Motion, kwaito icons Skwatta Kamp and SAMA award winning jazz singer Zoe Modiga among others. Basha Uhuru is a great way of highlighting an important heritage month in South Africa while also promoting our music acts past and present.
Rocking the Daisies: 05 October 2018 – 07 October 2018
The first weekend of October is special in Cape Town. Summer arrives and one of the city's biggest outdoor music festival kicks off. It's 3 days of sun watching a bevy of local and international acts on multiple stages. Last year's line up boasted local acts Cassper Nyovest, Black Coffee, Riky Rick, YoungstaCPT, Sho Madjozi, Shane Eagle among others as well as international acts like Joey Bada$$, Snakehips and Flume. It will be hard to top but they've already announced Goldlink, Majid Jordan, Mura Masa and 6LACK. Local act announcements will soon follow and I'm sure they'll continue to give a spotlight to current and rising musicians. Being from Cape Town, it's refreshing to see how Daisies is growing each year and embracing diversity in its acts and attendance.
Oppikoppi – 09 August 2018 – 11 August 2018
One of South Africa's largest and most well know music festival is held in the Limpopo province every year. At first strictly a rock festival, over recent years Oppikopi has made a worthy effort of expanding genres and musical representation and as result increasing attendance of young people from different cultural backgrounds. Most recent line-ups have included AKA, Toya Delazy and DJ Zinhle. This year go check out electro-kwaito duo Stiff Pap, singer-songwriter Sio and rising collective The Sun Xa Experiment.
Ultra South Africa – TBA 2019
Currently in its' 3rd year, Ultra South Africa is the country's biggest music festival and takes place in Johannesburg and Cape Town. Ultra events are held around the world and the festival's brand helps bring huge dance acts to our shores. There's also been a showcasing of local acts such as PH, Fresh and Euphonik, Sketchy Bongo and DJ Maphorisa to name a few. South Africa is one of the biggest consumers and creators of dance music and particularly house music in the world. We are setting the bar here. I hope as Ultra continues to grow, there's a bigger emphasis on local DJs and artists.
Cape Town International Jazz Festival – TBA 2019
My first festival experience, The Jazz Fest is an annual 2 day event that takes place around March/April and has become a crucial cultural event on Cape Town's calender. It's split over 5 stages which cater to anything from strict Jazz aficionados to contemporary acts for a younger crowd. The Festival has always been great in balancing both international and home grown artists and gives equal billing and importance to our musicians. Attendance is inclusive and diverse as one of the trademarks of this event is the free outdoor concert held right in the middle of Cape Town CBD the night before festivities begin. This is the type of accessibility that we need to encourage to grow representation at these type of events.