Words by Mercia Tucker
Photography by Austin Malema
Styling by Didi Simelane
Sometimes, things look different in the light. Refraction of light can produce optical illusions such as a mirage or the twinkling of stars in the night time sky. Reflection of light will produce the image looking back at you in the mirror. The entertainment limelight is no different, sometimes even harsher. Cassper Nyovest has embraced this light, weathered its pitfalls of hypervisibility, and remained true to his sense of self and purpose in its reflection.
At 26, Refiloe Phoolo has had a prodigious rise to the top and become the biggest hip hop artist in South Africa with three platinum-selling albums, a sold out show at The Dome, another world-class experience at Orlando Stadium (a feat no other rapper in South Africa has achieved), and has a record label under his name. He's a musician, businessman, and visionary. Born in Mafikeng, he's always had ambitions of going beyond the city limits and making it nationwide.
"When we first started making music there was that pressure of 'who's next?' Basically they had someone new every two, three years… So we did have that pressure back home of tryna prove ourselves, but once I got to Johannesburg my mind changed from tryna compete to be the king at home to be wanting to run Johannesburg, then I wanted South Africa, now I want Africa."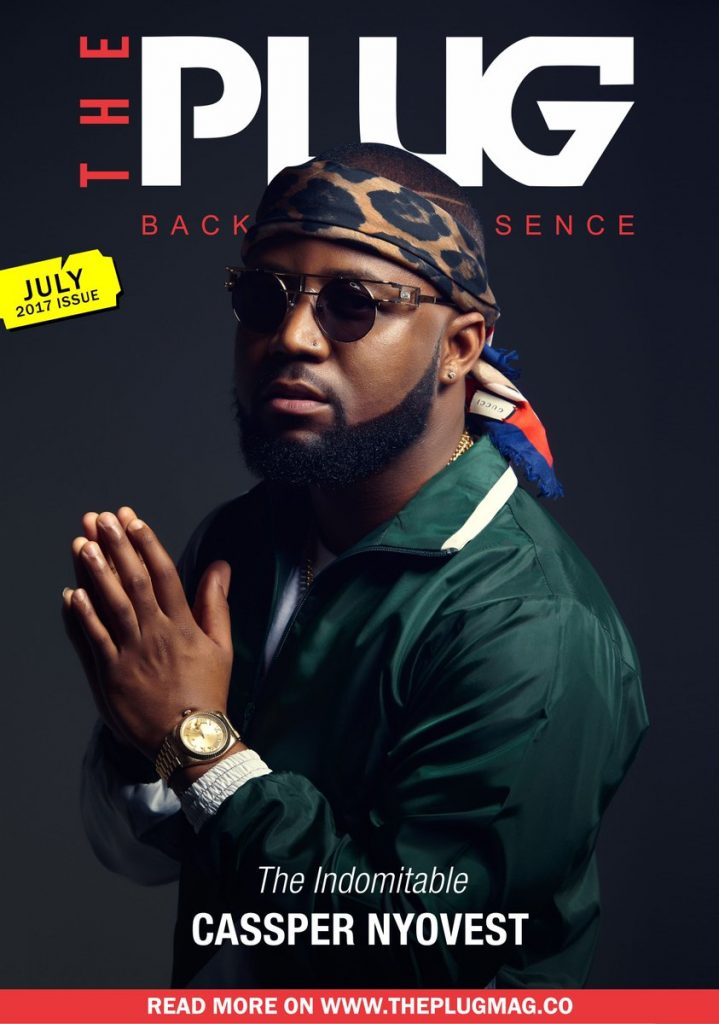 The city fostered an appreciation for the arts "We had a lot of arts facilities in Maftown. You could literally have extra murals after school, go to Mmabana, some of them were really, really cheap so you could learn music and stuff. I guess that's why. It was a cool thing to go there; the foundations, arts and culture. It was actually cool to participate in the arts."
His personal affinity for hip hop culture came from "a lot of things, one of them being my best friend Jude. He was from Australia, he came back with a swag that we didn't understand and it was because of hip hop; the way he dressed, and all the girls wanted Jude so we wanted to copy Jude in primary school. And secondly my brother also liked hip hop so he used to play hip hop in the house and I wanted to be like my brother as well so those were two of my biggest influences. And HHP was also from my hood, a few houses away. I'd see him pass in front of my house just walking and I'd tell my mom that I wanna be that guy one day and be famous."
"It was a dream come true when I met him, before we even worked or anything. Just meeting him," he says of HHP. "He's a legend where I'm from, even in South Africa, but in Mafikeng he's like… I don't like using the word 'a god' but he's like… a legend man, a very well respected man who put on a lot of people so meeting him gave me hope."
Apart from Mo Molemi and Thasman, both of whom took him under their wing and lived with him for a while, he doesn't have any particular affiliations with artists from Mafikeng, apart from HHP. "I don't work with people I don't know. We have to actually know each other, have some sort of story about where we met, you know? I don't just work with you just because you're from Maftown." He continues, "I just choose not to work with people based on stuff like that because I feel like every song is a kid and that making a song is like making a child and you have to raise this child together. So if I don't see me and you being friends forever, I don't wanna work with you because that would mean I'm gonna be a single parent at one point and I don't wanna be a single parent. So that's how I see music. That's why I'll never make a song with my biggest competition, no matter who he is, because I know that me and that guy will never get along forever.  A lot of people would do it for the sake of money; like if I did a song with who is considered my biggest competition it'd probably be the biggest hip hop song of all time in this country. But I don't care about that, I love music and I respect it, that's why I don't work with too many people."
Dropping out of school seemed a natural progression to his artistic pursuits. "I decided to do this thing full time then I dropped out of school. It just didn't make sense to me anymore. All I thought about was making music so I was wasting my parents' money and I was wasting my own time. I had found something I wanted to do for the rest of my life and it kept me sane so that's why I dropped out. I had to explain to my parents that I wasn't dropping out to sit on a corner and smoke weed, I was actually dropping out to chase my dream and just change my path. Instead of finishing school I had found something else that made sense to me and I'm glad that they gave me half of a chance and eventually started believing in my dream and eleven years later, it's amazing."
The dream bore fruit. "My mom just came to my new house and she was crying. It makes it all worth it because they went through so much pain. Imagine a sixteen year old in Johannesburg? You don't know where they're sleeping, every single night as a mother you don't know where they are, where they're sleeping, what they're doing. You're reading stories in the newspaper about people getting killed, [doing] drugs every day, and you have a rascal in Joburg doing something called hip hop. To have things come full circle and see my parents see me succeed and help them is a beautiful thing."
Moving to Johannesburg was far from painless and straightforward. He had moved back to Mafikeng twice in exasperation and sheer lack of support and resources to further his career. When he did start to gain traction, however, the dream had its fair share of challenges to overcome. "Getting the music out and having people take you seriously is the hardest thing to do in Joburg because you have gatekeepers and you have payola. So you have gatekeepers who think 'If I don't think it's cool, nobody should think it's cool." Then you have the record labels who pay radio stations and compilers to play their music and not play other people. Then you have cliques, people who put on their friends. So that was the hardest thing for me, just to get on purely based on the music I was making."
He decided to go independent and started his own record label as a measure of control over the direction of his career in all facets. "Man, I just built my confidence. As I was building my confidence, I had a plan. And all the record labels didn't wanna sign me because they had a different plan. So me going indie was like 'let me just execute my plan the way I see it' and little did I know that my plan was supposed to be executed that way, 'cause it worked out. And a few million rands later…"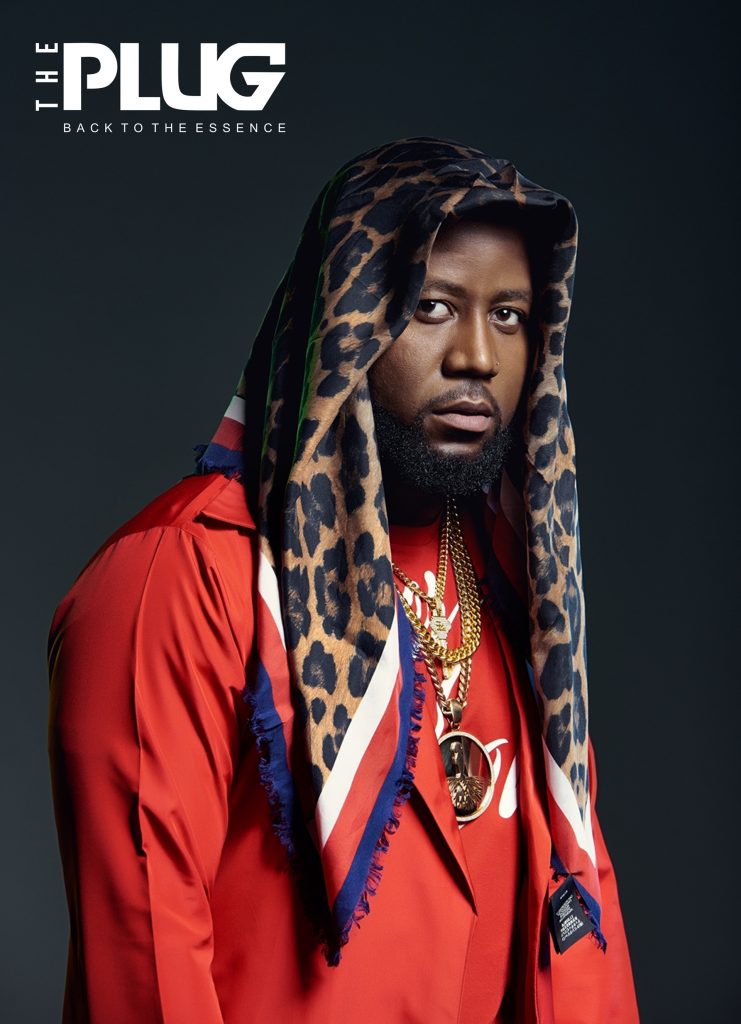 On wanting to be signed by an artist-run label before the decision to go independent, he says "Shit changed man. I look at everybody now and I'm thinking 'I used to think you were a genius!' I used to think so great of a lot of people and I used to think they would have done so much for me and I realized that a lot of artists are actually struggling, including myself. So if I'm struggling so much – and I'm one of the most successful – I can only imagine guys who are top 20 in terms of the hierarchy of who is doing well; if every day is a fight for number one, I can only imagine number 20, 21… And those are the people that I used to look up to. I realized that I would have been in a mess. When was the last time an artist signed an artist and made them blow up in South Africa? It doesn't happen."
Have his idols turned to rivals, I ask. "Nah, all my idols are still my idols. There are some people that I put on a pedestal, but they were never my idols, that disappointed me. But my idols, like HHP, he's still my idol." On what seemed to be a misunderstanding between them last year, he said "There wasn't a misunderstanding between me and him, he just misunderstood me. So he was angry, I wasn't angry. I let him have his time saying whatever he thought about whatever. And I called him saying 'what's up, where you at?' I went to his house; I never ever spoke about whatever he said."
Asking if they've set the proverbial record straight, he says "I don't pay attention to none of that. I've been through so much that I understand sometimes. When niggas are whylin' out, I get it. I'm looking at people like 'I understand you're frustrated, you're probably going through some things and you're taking it out on me but I know that it's not actually about me.' And if I love you enough I look past that 'cause I understand. 'Cause I've been there, I've been frustrated. I used to hate every single rapper who was successful. I hated JR…"
Hate? "Hate! I had seven diss tracks for JR. Seven bro. Every line was about JR. and I didn't even have a problem with him, he had never done anything to me, he was just the biggest guy. I had a diss line to Da Les; I had beef with every rapper who was in the game and nobody knew me. So I've been there. I've been that frustrated cat who feels like I'm the most talented but I ain't getting the guap. So when I hear all these rappers shooting at me, I get it man. I'd be mad too if a guy that I didn't rate drove two Bentleys, had four Rolex's, I'd be mad bro! He's 26, and he's not signed to a record label, and he's so happy, he's always smiling, and his fans piss me off because they always buy his music as well, so it's not like it's that one album, it's all of the albums. I'd be mad bruh! And then some people, it's not even mad at your success; some people go through real things."
On what loyalty means to him, he says "It means a lot to me. On the album I say 'you switched sides we're gon' kill you with no hesitation' and I mean that. When somebody crosses me all I want them to do is suffer cos I'd never cross anybody in the game. I love all my brothers, Major League, Riky, Peppa, all my brothers that I work with, I love them and I'd never do that to them. So when someone does something that shows me that they're not loyal… I love Nadia, I love Tshego… When someone switches sides, how we've seen other guys do, I'm just like 'I see you' I'm gonna work harder. I'd never take anything from anybody, I'm not into playing dirty, I play by the rules but I make sure that you don't win, at least against me."
Of his circle of friends, he says "These are my brothers, we came from nothing. It was only two years ago Major League was driving an Opel Kadette, two years ago! And because of our loyalty, we were able to build each other. Now they have the biggest party of the year [that] people look forward to, Major League Gardens. Riky's got a whole crazy movement of kids who are wearing Gucci, you don't know how they got the Gucci in the hood but they're wearing the Gucci. There are a lot of style icons but I've never seen a rap artist in South Africa do it like that. It's crazy when I see it. Now he's even taken it all over the world! He was with ASAP Rocky, he's like his friend now. I'm sure when we started Riky could only dream of talking about fashion with guys like that. I've done a lot of amazing things myself and it's all through us being loyal to each other, no matter how much we fight we always come back and we're loyal to the dream, we're loyal to the brotherhood and we just keep building each other up."
"I remember asking for money from Riky, sometimes he'd be so hot, it's crazy for me and he'd borrow me like 20,000. Nobody knows, nobody will ever hear that story, nobody heard it till now. We'd borrow each other money like 'yo, hold this' When you shine, everybody thinks you're shining but they don't know cos we're loyal to each other so when people switch sides on me it's like, man… You don't just get into our circle 'cause it's a family, we know each other's secrets, we protect each other. It's not like a Joburg friendship where you can't tell your friends when it's bad and stuff 'cause it's gonna end up in the papers so it's a real brotherhood."
Part of that brotherhood is his long-time manager and friend, Lerato 'T-Lee' Moiloa. A cornerstone of the Cassper Nyovest empire, I ask if T-Lee is the Pippen to Nyovest's Jordan. "I just think that T-Lee is another Jordan, he's the other half of Jordan… I can't say T-Lee is Pippen cos Pippen is GOAT also, but he's not Jordan. With T-Lee, I'd say T-Lee is like Zidane to Christiano Ronaldo right now. He's like the coach but he's had his time, he's also a great. If you said Ronaldo is greater than Zidane, it's a fight. It's just two different generations but they're both really great."
"People don't know how much T-Lee and the whole team invested into my career and how much input they have. I'm like a creative genius, I sit there and I come up with these ideas like 'maybe we could do this, maybe we could do this' and then I have these guys go out and execute. You don't understand how much trouble that guy has taken me out of. One time I had such a crazy beef people were calling me telling me they wanna take me out and T-lee called them – imagine the shortest guy in the group – called them and he settled it. It was real. Niggas were calling me telling me 'on sight baby! On sight!"
He's built himself into an entertainment powerhouse but he's still the CEO of a record label with other artists under his direction. Guiding their careers while maintaining his own will take some mettle and I ask if he has the ability to take theirs to the heights that his career has seen. "At the end of the day, Cassper Nyovest is still a great story, it's like Jordan. Yeah there'll be a Lebron one day, there'll be Steph Curry, there was an Iverson, there was Kobe – some say Kobe was the greatest of all time – but at the end of the day Jordan is Jordan. Like Cassper is gonna be Cassper forever so we have to approach every career differently and tailor it to what's going on in their career and push them in that way. You can't take the same risks with every artist, it might not work. We're just taking every step cautiously and we're just taking it one step at a time and it's working. I don't try and pressurize myself with my own career and hope to do the same with them. I just wanna help them get to where they were supposed to go."
Artist run labels in SA haven't had the best track record. I want to know if he's fearful of the future seeing that track record. "I'm not scared because I understand that stupid people will be stupid people. There's nothing you can do, you can't… I remember when Gemini left the label I said to him 'Yo, you realize that this is a wrong move?' and he was like 'nah bro', it was hectic. And it wasn't even a fight, I was like 'yo, don't do it' and it wasn't coming from like 'I'm gonna fight you', it was 'I care about you and I see that you're actually walking into a wall and you should listen. I might not have what these guys are promising you but I know that you're gonna hit a wall' and it just happened. They broke up and I met him and I'm like 'I told you' and there was nothing I could have said to Gemini that was gonna make him change his mind. But my point is, he left this label for whatever reason and he left the label that was supposed to be better for whatever reason. So people like that are gonna leave forever, it doesn't matter where they are, so you can't [hold a] grudge, you just have to let people be. I'll never hate Gemini, he'll always be my little brother but he taught me that I actually have to let people live and let them make their own mistakes, I can't invest myself. I literally wanted to go there with him and say 'What do you want to do to this guy cos I can see you are clearly going to destroy his career' but I was like it's not my life, it's not my choice to make. When I didn't wanna sign to whoever and I decided to change my route, no-one stopped me and it worked out for me, I was like maybe it'll work out for him. And unfortunately it didn't and he's still a talented act. So I'm not scared of anybody leaving, everybody leaves labels."
How does it affect him when they do leave? "I think it's just difficult when you actually just love someone. Gemini was a little brother, he's from Malawi, I'm from Malawi; he really lived in Malawi, my family's from Malawi. So we had all these little stories and my mom liked him because he was from Malawi. Like it was all of those things and when you make it purely business, it doesn't affect me with the business 'cause I'm just gonna be able to win. But personally its wack cos you invest your emotions in someone and you start liking them and now the person is not there anymore. So that's the only thing that makes it difficult to move on from artists. But business? Every time someone leaves me I become stronger."
No new signings then? "I'm still burning cos of the last artist that left the label so I don't wanna take [on] any other trouble. Tshego and Nadia are growing nicely, we're gonna grow them and they've shown their loyalty and I appreciate it because we have our own flaws too as a label. Every label has flaws; you can't leave a label because they're not perfect."
Just over a month ago, he released his third studio album, Thuto. "This was my most important album because this was the album that my enemies thought was gonna take me down. People weren't really fucking with my second album because we didn't get airplay or anything, we were not able to explain the album correctly and I left it. It was painful to move on, I told T-Lee… We almost took songs off that album and put it on this album and we were like 'nah, let go, it's gone, they didn't get it, it's cool. Let's move on to the next project.' And I had to make sure with this one. In Setswana we say 'wa e stronkela.' That's when you're playing marbles and your marble is not really in a direction where it can go in but you force it, wa e stronkela, you're forcing it. That's what I had to do with this album, I had to make sure that it's going inside. That's how I made this album. That's how much attention I paid to this album, I didn't want any mistakes. It came out beautifully. Honest, personal, calm, balanced."
It's definitely his most soul-baring with the first half of it showing his more vulnerable side. "I think the more honest you are in the music the more people feel you. It could be the darkest thing ever and you might think it's too much to be put on a song but you don't know how common it actually is just 'cause people don't speak about that shit. When people talk, they listen to what they're saying, they don't say what they really wanna say. So when you put it in a song like that, it hits home. To say 'ay man, I remember when my mom went through some depression' so everybody can relate cos they have those stories. I just decided; fuck man, this album might not sell because people don't like me no more but let me make the most personal, the most amazing, and the most heartfelt album while they're still looking at me."
"I hit it on the nail and I was glad I did that because had it flopped at least I would have bared my soul on a record and it wouldn't have been like 'Man I shouldn't have listened to you' because failing with other people's ideas is more painful than failing with your ideas because you're still content with the fact that you wanted to do that. So I was ready to fail with my own idea."
Taking charge of the lions' share of production himself he says the album took its current form after the departure of Gemini Major from the label. With Gemini's mostly trap beats leaving with him, "when he left it was a blessing in disguise 'cause I didn't have those beats anymore so I literally had to grab onto my strengths and make the most out of it, and having Alie who's a musical genius, I knew I could evoke emotion because of him. So I just worked on that, and we worked around that and we built a beautiful album so everything does happen for a reason."
"That album made itself; that was not my plan. It ended up like that because of how the music was starting to sound. I followed the vibe. I just kept Touch the Sky because I felt like the sampling on it and the way we produced it was really amazing and I couldn't let my emotions of me and Gemini not being as cool as we were affect the music."
The inclusion of one of the most prolific MCs of all time (and frontman of The Roots) on the album was a pleasant surprise. "One of his best friends, his name is Joseph, he met us out here and we were in LA and he was like he could connect us with Black Thought. We went to see Black Thought in New York, we went to one of his shows, and after that we went to the studio and I told him all about myself and I told him I worked with Talib Kweli and I showed him the Fill Up The Dome DVD and he was like 'Man, ok. Let's see.' And then he played me a few songs that we could jump on that he just had and one of the songs was with Eminem. He played me a song with Royce da 5'9" and I'm thinking 'Man I'm not ready for this shit man, you niggas are rapping way too much on these songs, I don't know what that word means' so I was just like I'm not ready man, my vocab ain't ready for this shit. So I played him a trap beat and he was like 'Is this what you wanna do? Are you for real?' I'm like 'Yeah, it's right in the middle of both of our worlds.' Man, within twenty minutes or so that guy had two verses, within an hour forty minutes he'd recorded both verses and he had me choose one. That guy's a genius, one of the greatest of all time. He became one of my top 5 that night.
His favourite song on the album changes all the time but on most days it's I Wasn't Ready for You. "You know DJ Speedsta got back with his girl because of that song? After he heard that song he called his girl like 'Yo, I'm sorry. I fucked up.' And they got back together. This album is real emotions, and besides the record sales I love the stories that come with 'Yo, when I heard that song I…' because that's forever. Who actually makes music that provokes emotion like that? Where it's like 'I need to call my dad, I haven't spoken to my Dad in four years.' Who makes music like that? That's why I'm so proud of it."
His debut was named after his little sister because she gave him the R100 for taxi fare to come to the city of gold and realize his dreams. His sophomore was named after himself, and his latest was named after his older sister. In keeping up with the tradition family members' names, I asked if the next chapter in his discography will take on the title of Khotso, that of his deceased elder brother. "Khotso will actually be my last album so I can't make it now. My brother passed on so I see it somehow like the last chapter and he's the only other kid so the series of my siblings will end with him. He was the oldest as well. So I won't make that album now, I'll make that album when I feel like I'm a billionaire, I've done everything and this is my last project. Even if it sells two copies I don't care, I'm gonna say everything I've ever wanted to say that I would have gotten in trouble for." A fitting tribute in the twilight of his career, the name means 'peace'.
A polarizing character in many ways in the South African musical landscape, hold Cassper Nyovest to the light and the optical illusion might be difficult to detect. Hold Refiloe Phoolo, however, to the light and you see love; love of God, love of family, and love of self.