Thebe Magugu has launched the campaign for his AW21 "ANTHRO 21" collection. The campaign features nine women in the images, who he's described as "my friends, who inspire me with the work they do across photography, curation, music and fashion."
The campaign features a number of objects that he's associated with his childhood, Of the use of the objects in the campaign, he says, "I hope you can look at these images and see parts of your past, and a vision for your future."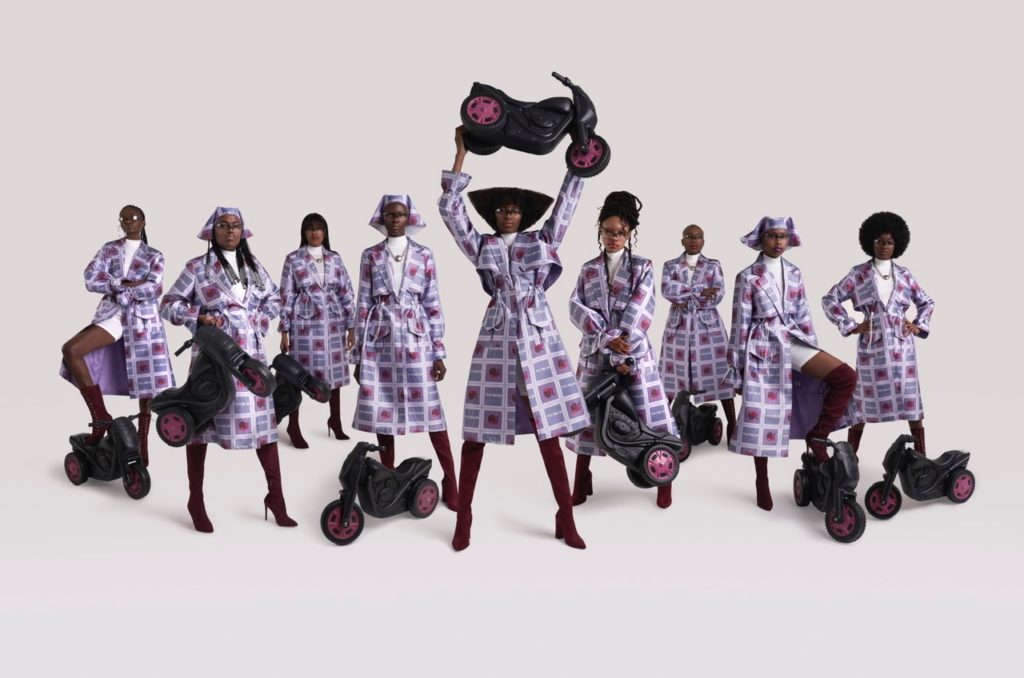 "From the wheels of a toy bike that will eventually 'scrape' instead of 'turn' (from excessive use), to the satellite dishes which were the source of so many of our various awakenings, I hope you can look at these images and see parts of your past, and a vision for your future."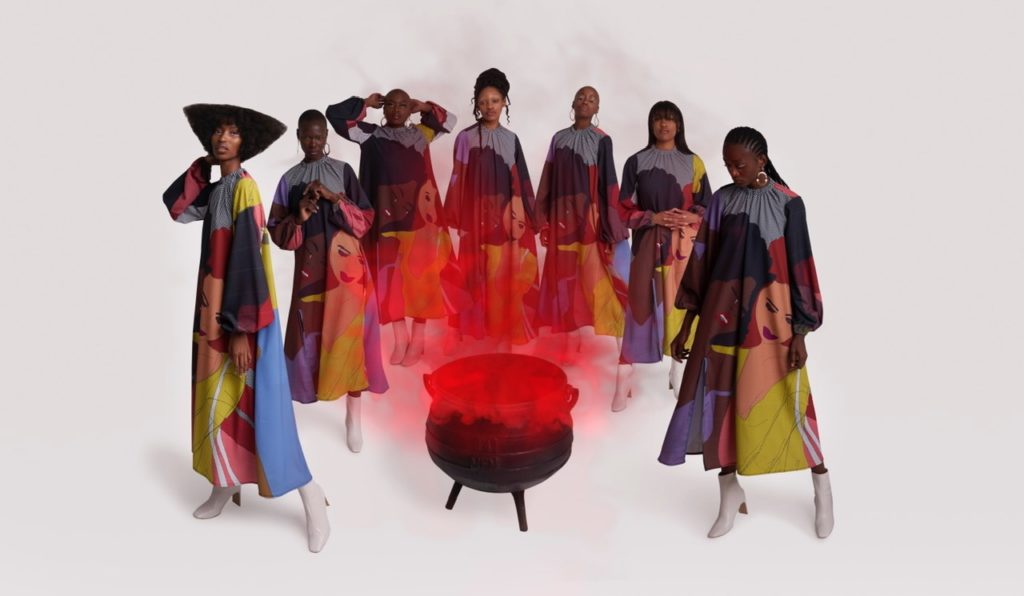 "In the 2nd image from our campaign, my muses dance around a poitjie pot spewing siren-red smoke. It reminds me of the ritual my family has to perform every few years titled "Mpho Ya Badimo ['Gift of the Gods' in English] – where we celebrate our ancestors and remind them that we are thankful for their protection. The year we skipped the ceremony turned out to be quite a diabolical year so at this point, its almost an obligation."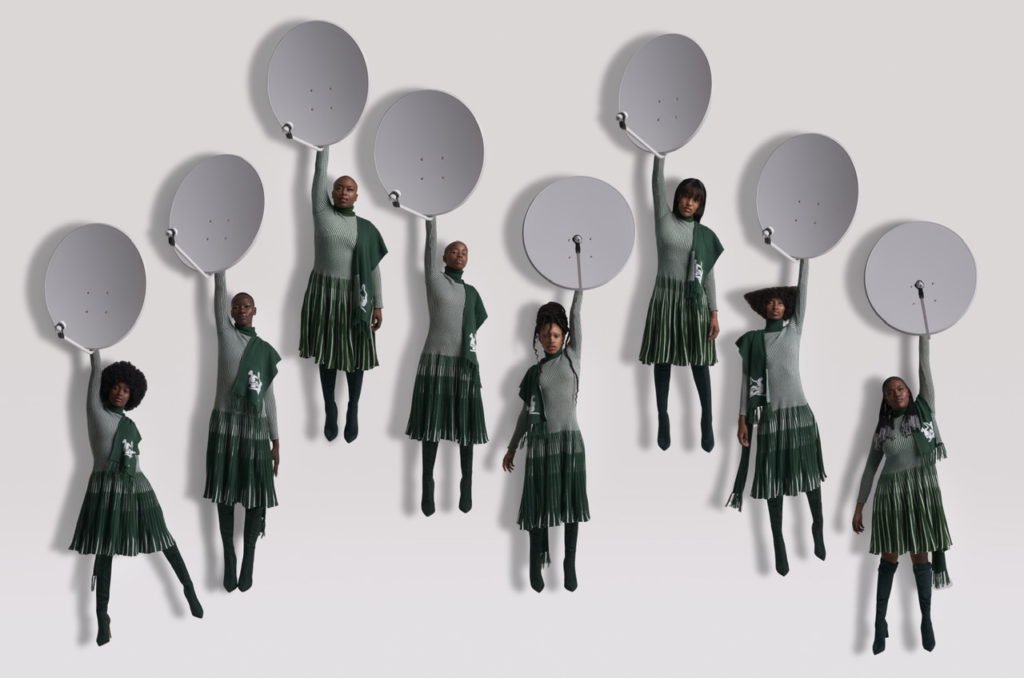 "
In the 3rd image from my campaign featuring fond objects from my childhood, my muses hang from a satellite dishes wearing the Green & White Knitted Dress + Scarf from AW21's "ANTHRO 1 " collection.
I was quite young when my mom bought the family DSTV [local satellite service] and the first thing that showed when the service was switched on was Marc Jacob's FW 2003 collection for Louis Vuitton (I think it was duchess satin dresses in jewel tones). I was around 7 years old and my family and I – utterly engrossed with this bizarre world – would make it a tradition to at least watch one hour of FTV everyday before the Bold & The Beautiful came on (still cant believe Marlena survived a 30-story plummet). Anyway, Its fascinating to think that a passing image of something has the possibility of steering the rest of your life."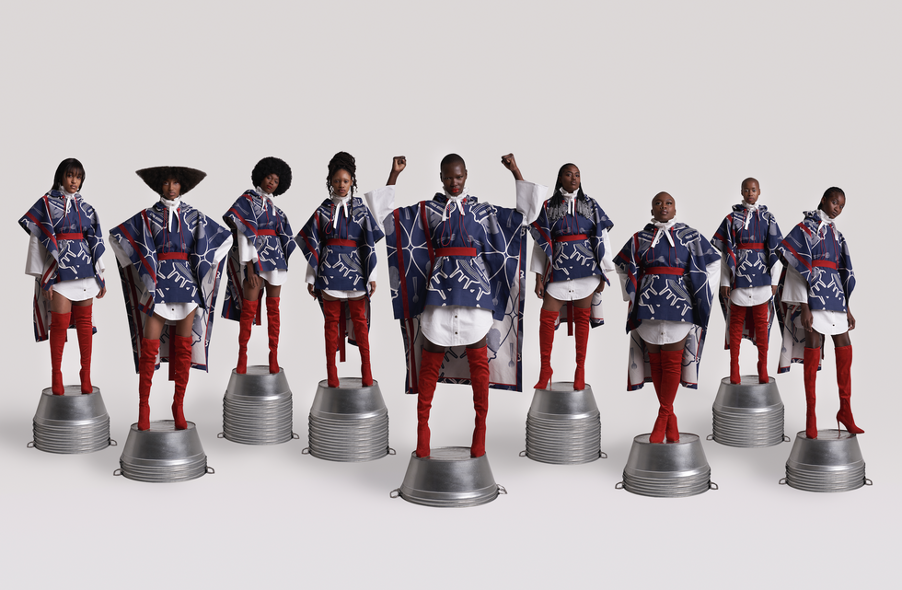 The campaign was shot by Travys Owen, with Thebetsile Magugu handling the creative direction. The styling was done by Amy Zama, hair by Khomotšo Moloto, and the makeup by Annice Roux Gerber and Orli Meiri.