Interview by Tiffany Lekuku
Entrepreneurship is not for the faint at heart. Many go bankrupt and lose their minds as they try to pursue their passions in the world of business. However, the truly tenacious make it out to other side. Tshepo the Jeanmaker is one budding entrepreneur that is not only set to survive but is primed to build a successful fashion and denim brand.
We sat down with the 27 year-old founder of the growing denim brand to get his vision and understand the circumstances that birthed his self-titled label.
What inspired you to start Tshepo the Jeanmaker? 
I've always wanted to create something that's gonna last a long time – something with meaning. I love stories. Story-telling has been a part of my life for a long time now.
I see denim as a canvas; I paint stories that inspire.
Our next story is the Black Pimpernel.
How does your brand differ from your competitors? 
We're trying to build an iconic brand. Currently we working on our dyes for our jeans that will further make the brand more distinct.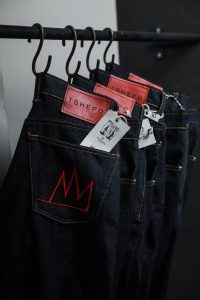 What inspired you to start your denim line? Is it exclusively denim items? 
Tshepo The JeanMaker is  a brand inspired by the people and for the people.
The beauty about jeans is that it is a universal language. Everybody owns a pair.
I saw jeans as the right platform for me to tell my story.
There was a twitter debate a few weeks ago surrounding your denim line and the jeans being branded with your name 'Tshepo' – How have you dealt with some of the criticism and what is your take on the whole matter? 
I've been dealing with this since the first day I started the brand. Unfortunately this time around it made national news.  I believe that the brand is for people who believe in themselves and if you believe in me you believe in yourself.
So I think there's a lot of people with a low self-esteem that they try to make other people feel less confident in their skin. Tshepo is a beautiful name with a beautiful meaning. It means hope and our brand spreads the message of hope.
It hasn't only been negative feedback, in fact, you are gaining a lot of support and love from the public. How has the support been so far? 
The support has grown over the past couple of weeks, from brands to individuals.
Amongst the noise beautiful things came out.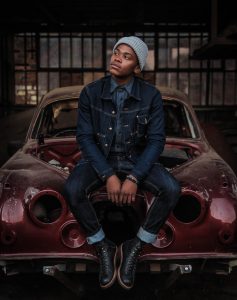 How do you plan to build a sustainable brand within the retail space, given the difficult climate of the retail world currently where many brands have been forced to close their doors?
When the foundation is strong you can stand even the toughest storms. We're building a brand. It takes time laying the right foundation and staying loyal to your core.
Tell us more about the man behind the brand. Who is Tshepo and what led you to the path that you find yourself on now? 
Tshepo is a 27 year-old entrepreneur from the far east of Johannesburg, a township with a small population of 300k people. A dusty, dingy dangerous place. I say it with pride. It is the place that made me. I was raised by strong women and my granddad. My mom [is] a domestic worker and my gran [is] a pastor.
I've always wanted to be a story teller. I studied film-making at AFDA and dropped out to study fashion. Unfortunately I didn't finish my studies due to financial difficulties. Out of anger, frustration and depression it all led me to entrepreneurship and that's how Tshepo the JeanMaker was born.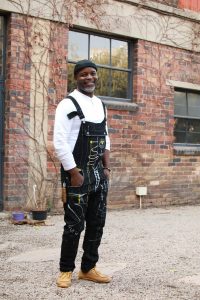 What 's your long term plan with your brand? 
We are building a brand and a beautiful brand takes time. I wish to take over the world with a pair of jeans.
Where can one come and shop your products? 
WE are based at Victoria Yards,16 Viljoen Str, Lorenzville, Johannesburg.
Apart from your line, what other partnerships and collaborations are you busy with right now that we should be on the look out for? 
Well apart from our jeans there's a few collabs we're working on that we can't announce yet.  It's called the Black Pimpernel.
Shop the brand at tshepothejeanmaker.co.za