Words by Nick Kaoma
What makes a pair of sneakers good? Is it the design? Is it the materials that are used? Is it the quality of the sole? And is it really possible to have a perfect sneaker? These are all the questions I've been asking myself over the past two weeks as I have been test driving Under Armour's slick new HOVR SLK kicks.
I've been, what people generally refer to as a sneaker head, for decades and in those years I've rocked everything under the sun from the kicks produced by the Oregon giant founded by Phil Knight to the German sportswear brands and even their Asian counterparts. After playing basketball for years in school and varsity I developed an intuitive understanding and appreciation for good sneakers. 
Contrary to popular belief a good pair of kicks is not just about how it looks – the exterior. The design is important but I've won dozens of pairs that looked like they were designed by Zeus himself but yet they felt awkwardly uncomfortable. A good pair of kicks should be able to wrap themselves around your feet,  provide comfort and add balance. They should also a work in a traditional sport setting and in day to day environments.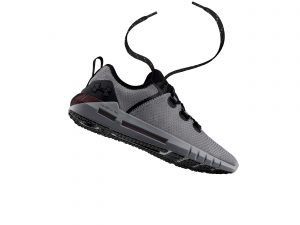 Would you believe me if I told you that I found the perfect pair of sneakers? I'm generally not prone to superlatives but I can say without a doubt that the Under Armour HOVR SLK is the most comfortable pair of sneakers I've ever worn. Hands down. Like many modern day sneakers, the SLK strikes the perfect balance between sport and style. I'm equally comfortable rocking these babies at tennis every Saturday as I am on a night out on the town. They work in both settings.
So let's get technical for a minute so that you can understand everything about these special shoes. The SLK features a lightweight mesh upper which provides breathability. It has a firm external heel counter that provides additional support and keeps the back of the foot locked in. This is key especially if you play sports on a regular basis. The Air mesh tongue on the kicks which is constructed for enhanced ventilation allows your feet to breathe. Like many of its UA predecessors the SLK also has a die-cut socking which provides additional cushioning. Your feet feel comfortably enveloped by the shoes. The result is that when you get home after a long day your first instinct is not to remove them.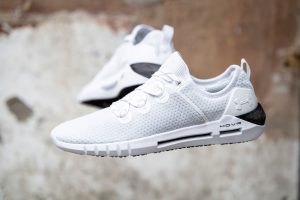 The UA HOVR technology is what sets these kicks apart from everything else in the market. It provides 'zero gravity feel' to maintain energy return that helps eliminate impact step after step. When you're rocking these babies your feet literally won't feel the burden that comes with pounding the pavement all day long. 
Another impressive thing about the kicks is the high abrasion rubber outsole with knobbed texture that ensures durability which means you'll have this pair in your collection for a long time.Seriously, when you get a pair of these UA SLK's chances are you're going to abuse them. You've been warned.
On that note, let me head out and go get another pair in a different colour ….