Diesel marked their return to the runway and showcased their highly anticipated SS24 collection. The show took place at Scalo Farini in the middle of a free 8-hour rave with NTS for over 7000 guests.
Done to represent Diesel's spirit, that represents impact, experimentation, pleasure, and play: the Spring/Summer 2024 is a collection for partying as a way of being. "Diesel loves to party, so we invited over 7000 people to our free rave, and then everybody to our free weekend film festival. The collection is the spirit of Diesel, democratic and experimental in every piece. I believe in living life to the fullest, that every day should be a party," said Glenn Martens, creative director of Diesel.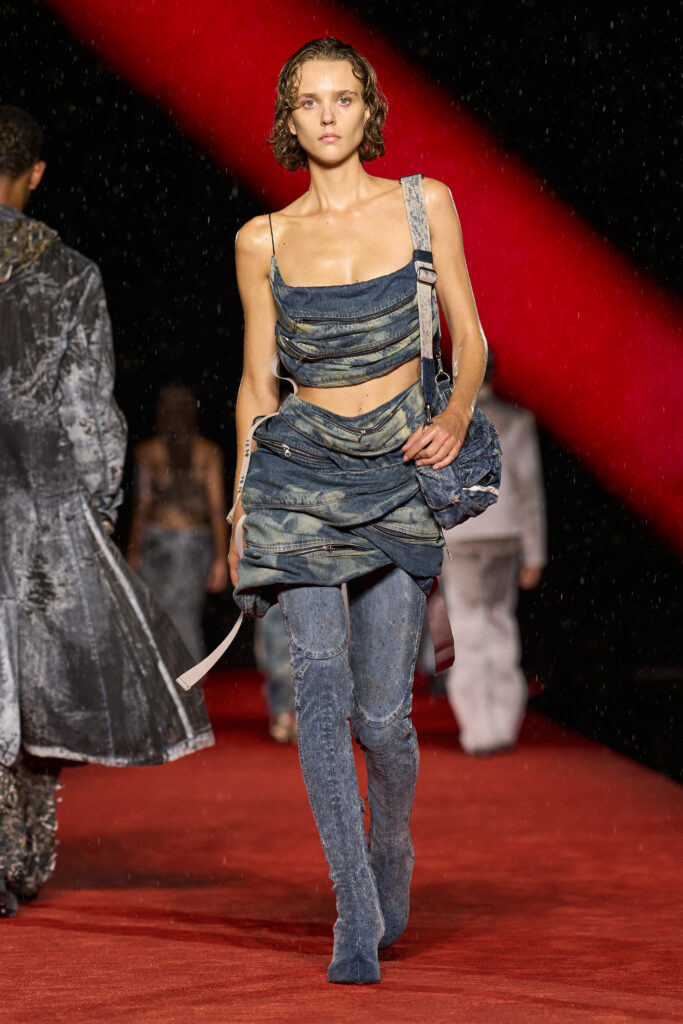 Once the night ended, the giant 26-metre by 16-metre backdrop screen was converted into a movie screen showing free films curated by Diesel, to be enjoyed by everyone all weekend. To celebrate the free movie festival, film poster prints from Diesel action films, sci-fi, and even girl band movies will be printed clean on T-shirts, laser-cut printed leather tops, skirts, and dresses, resembling glued billboards fading from the rain and sun. Artisanal zip-up jackets are made from scrunching real-life posters to make a silhouette like a fur.
Details about the collection include garments with the distressed effect, with distressing that's often unique for every garment, also heightened with printing from the inside. Utility is pushed to the max, with zip-up denim tops, pants, and skirts that can be worn separately or zippered together to make boilersuits.
Strappy heels have film poster prints, slip-on heels have curved toes, thigh-high boots and slip-on heels are in moulded denim, giving the impression of bootlaces, and play bags are printed with Diesel movie posters.
You can go to diesel.co.za to watch the full Diesel SS24 runway show.