Words by Caron Williams
Photography by Max Mogale
From Def Jam, Death Row, Bad Boy to Roc Nation, each iconic era of hip hop has been accompanied by equally iconic record labels that have helped shape the genre. Whilst prolific musical outputs and the impact of their respective artists on hip hop helped shape their legacies, it's their ethos which captivated the hip hop industry and catapulted it to a new sphere encompassing business, politics and brotherhood. With a name reminiscent of Death Row's brutal hip hop legacy, a young South African record label is emerging as a rising force to be reckoned with, Cutthroat Entertainment.
Boasting a jarring label name and a team comprised of tenacious, passionate and unapologetic 20-somethings, Cutthroat Entertainment epitomizes relentlessly executing goals and realizing a powerful vision. They're characterized by a silent confidence, one which subtly reflects an intrinsic understanding of their potential and growing power, and the knowledge that they're young icons in the making within the South African music and entertainment circuit.
"Cutthroat Entertainment is a record label, as well as an entertainment and media company. We have plans to branch out into media on a service based level," explains Co-Managing Director, Phetho Matlala. The birth of Cutthroat is rooted in how much the genre and culture has influenced its founders, from the way they speak, the way they think and the way they dress. "We wanted to give back because hip hop has given us so much. We aren't rappers, we're not talented, we don't have that thing, so we came up with Cutthroat," explains Co-Managing Director, Nape Phasha.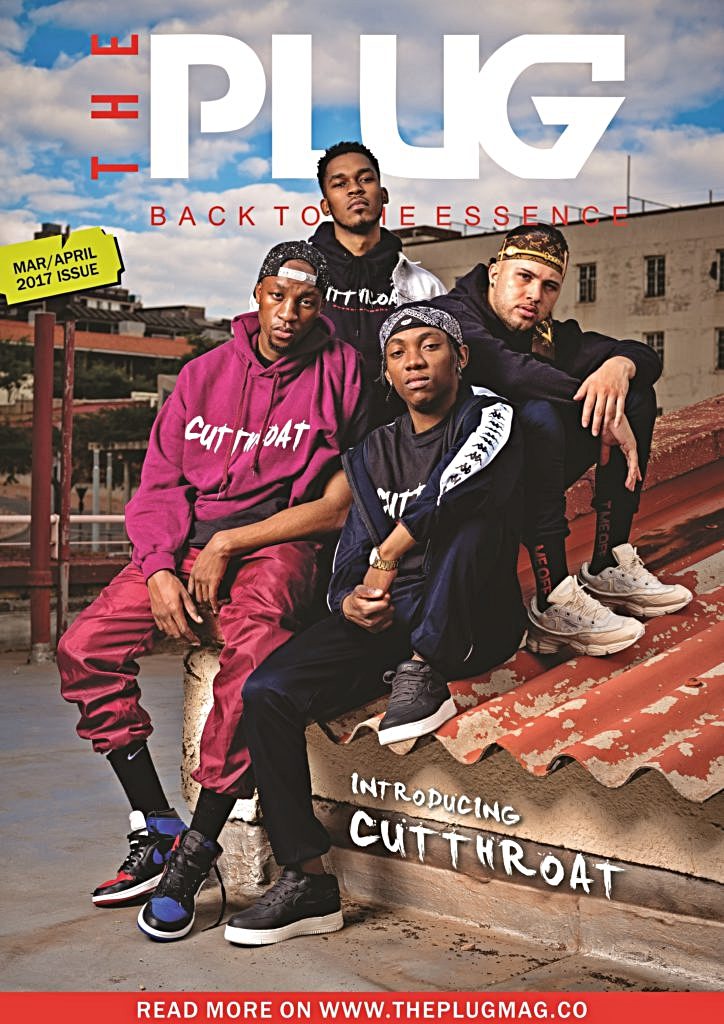 Whilst the record label leg of Cutthroat Entertainment is active, the team is working on a full service recording and audio visual studio which is based in an art gallery where they'll be sharing a space with the high end streetwear store, La Familia. The label officially launched on the 2nd of December 2016 and their name emerged prior to that at the J. Cole concert last year as the lyrics to AKA's hit single Dreamwork reverberated through The Dome.
Whilst the name carries gritty and perilous connotations, the Cutthroat team is inspired by the resolute and inspiring nature of it. "Cutthroat is supposed to spark something in you. When you hear the word Cutthroat feel fueled by it, it's a synonym for ambitious and motivated. We're not trying to scare people away, we're saying wake up and be cutthroat in whatever you do," Nape emphasizes.
Cutthroat Entertainment's stable includes one of the most electrifying rising stars in the country, Frank Casino. The stable further includes PH, as both an artist and as a producer, and an unearthed talent, Rose. With a diverse pool of acts, DJ Vato Kayde has also formed part of Cutthroat's stellar line up. Frank Casino has brought a thrilling new energy to the game with his infectious hooks, mesmerizing flow and his dope aesthetic (he is literally making Kappa cool again). His smash hit, Whole Thing, is a rising anthem and reiterates Cutthroat's unapologetic ethos about coming for everything. Frank has received a co-sign from Riky Rick which has solidified his place on the come-up and has resulted in him becoming one of the most booked youngsters in the game.
Vato Kayde is a rising DJ who has become a regular at trendy Joburg clubs such as Kong. His mastery for mixing Trap with West Coast and East Coast classics in his sets provides an immersive hip hop experience for his audience and is set to see him become one of the biggest hip hop DJs in the country in the next 3 years.
Vato Kayde's devotion to the culture transcends music; he is also the co-owner of La Familia, which is frequented by the likes of AKA, Da L.E.S and Black Coffee.
So how does a boutique label such as Cutthroat determine who they will invest in? "There are so many people who can make music but for us it has to make sense in terms of the brand as a whole. We also look for someone who is a full artist in terms of looks, charisma, being able to rap or write a song and one that can succeed commercially, and resonate with someone's emotions," says Naverone Albers, Head of A&R. With fierce ambition being one of the defining characteristics of the label, breaking into the international market is what the team aspires towards. "Our main goal is overseas or to take over the world. Many people say that, but we think of it very realistically, we're already working on it."
Locally, the game has been abuzz with polarizing opinions on the nature of record labels. We've witnessed Kid X, Nomuzi and Maggz depart from Cashtime Life; AKA's public fallout with Vth Season and Benza and the subsequent departure of Yanga; the rise of Family Tree Records and the departure of Gemini Major; the emergence of Mabala Noise as a moneyed super power and the controversial departure of Riky Rick; as well as the equally controversial departure of A-Reece and Fifi Cooper from Ambitiouz Entertainment.
In the midst of much upheaval, Cutthroat remains undeterred. "We didn't think about who else is doing it because for us it was completely new, there was no blueprint to follow, we didn't think about who we're competing with," says Phetho. "Respect to everyone else, but we didn't see anyone doing what we had conceptualized for us to do," elaborates Nape. Cutthroat's ethos as a label is entrenched in their fierce independence and a ferocious hunger for success. With their youthful outlook and an inherent understanding of what makes the new breed of hip hop fans tick, their approach disregards the status quo and sees them defining a path of their own.
With their profound love for hip hop and the culture as a whole, Cutthroat draws a great deal of inspiration from P Diddy and Jay Z. "Hip hop has given us so many idols and so many people to look up to. We saw Death Row come and go; we saw Bad Boy come and it's still here and Roc Nation. I'm a fan of everyone, even Suge Knight. But as much as Diddy and Hov's blueprints are solid, we still want our own," says Nape.
With a palpable admiration for some of the most defining record label figures in hip hop, they've perfected the balance of channeling different icons when the situation calls for it. As Lola Kabingesi (Social Media) eloquently says, "it's a cocktail of all the greats." The Cutthroat crew is also one of the most stylish in the game. With a plug to some of the most coveted streetwear brands in the world in the form of Vato Kayde, they rock the rarest kicks and the cleanest fits. Their aesthetic is definitely setting them up apart and will be the reason they make it in not only in music, but in lifestyle and clothing as well, if or when they decide to branch further in that field.
Cutthroat has entered the game guns blazing and whilst there has been a great deal of love and support directed their way, the game itself can be cutthroat. "There's been a lot of love at face value, but there have been people saying 'Who do these guys think they are?'" says Phetho. Nape explains that "We actually don't care; people are going to talk whether we're doing good or bad." Whilst speculation regarding Cutthroat entertainment continues to mount, their focus remains on their goals. "Our memo from the beginning was to be disruptive because everything is stagnant right now," says Lola.
With mounting visibility and public curiosity surrounding the label, I ask if they feel any sense of pressure. "We all know what we're doing is very bold. We came in hard and that was intentional. We were like we're here now and we're not going to ease into it or wait for anything. We decided that our time is now," Nape clarifies. "We want to be taken seriously. We don't want to be seen as a young label coming up; we just want to be a label. We feel like we have the opportunity to lead." Cutthroat's long term goals are based on their desire to realise the label's tremendous vision. "We want to take over the world – South Africa first, Africa next and then we want to be amongst the big international indie labels."
As murmurs continue to linger in the industry about Cutthroat Entertainment, what's clear is that these passionate and fearless youngins revel in their autonomy and are as committed to mercilessly achieving their goals as their name suggests. They have made a tangible impact in only a few months and are living up to their desire to disrupt the game. With old heads dominating the ownership of hip hop record labels in South Africa, a model which currently appears to be coming apart at the seams, the potential of a fledgling label inclined to dismantle the established order is a thrilling notion.
There's a clear belief that success is inevitable for Cutthroat Entertainment, "We've seen ourselves make it. We know where we're headed, everything now is a formality," says Nape confidently, "We'll stop at nothing."