As a coming of age, Bonginkosi 'Kid X' Mahlangu's debut album couldn't be a more fitting tribute to his journey as an artist. Running the gauntlet of themes from his relationship with God, to navigating the glare of Jozi's city lights, romantic endeavours, and the hurdles he's had to overcome in his career, he says "It took me 29 years to make it."
With the album having 26 tracks, the reason behind that decision is "I feel like my debut was meant to drop when I was 26, which was when I dropped the mixtape." His vulnerabilities and struggles highlighted on side A of the album, he moves to side B showing his growth and evolution, not only as an artist but as a person.
"It's been twelve long years since I was due from running after a soccer ball to follow a dream that grew from nothing"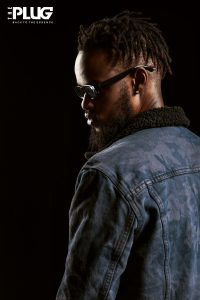 Before he started rapping, Kid X was a soccer player. "My first encounter with hip hop was 8 Mile and that's where the journey started." Inspired by Eminem and intrigued by the genre, he started writing in a notebook by listing words that rhyme on the right hand side of the margin, wrote bars on the left hand side, and picked one of the rhyming words from the list to end the lyric with. Asked about what seems like his natural affinity for the art form, he says "Zero natural talent, all hard work. I don't wanna lie to anyone out there and make them feel like I started off with an advantage, [that] I could freestyle from the get-go. I couldn't."
While his technical ability was lacking, he still had an innate ability to tell stories through his raps with a level of execution that belied an underlying aptitude. "I was big on literature. I was really a fan of English; I enjoyed writing essays, I enjoyed creative writing and so forth. I've always been fascinated by language, on a wide scope. I think that gave me an upper hand. I might not have known that it would have led me to rapping but I guess it ended up working to my advantage."
"In case I write a book, somebody bring me a ball pen" 
"Funny enough, while I was working on the album I was reading more than I was working. Because, for me, it was really about just developing myself. So while working on the album, I spent the least time making music. The focal point was working on me and developing myself and reading self-help books and reading books about whatever skills that I felt I needed to acquire."
His favourite book being The Signature of All Things by Elizabeth Gilbert, he says "That book is amazing. It's the biggest book I've read. It opened my mind up in terms of writing styles, in terms of how stories can be told and I think it contributed to how I threaded the album."
Physically writing down lyrics was a skill that strengthened his artistry recently as well. "When I did my mixtape, there's a specific writing style that I approached it with. All the lyrics on my mixtape were never scripted, they were lyrics that I wrote in my head. Post that, end of 2015, I found myself at a point whereby my head was about to explode. I couldn't flush the stuff I was done using. Then I just decided, let me go back to writing on paper. That's when I started working on the album again. The experience of writing my lyrics on paper again made me feel like a new rapper, made me feel like the first day I picked up a pen to write."
On taking three years between his last project and the album, he says "When you get to a point where you're writing your stuff in your head, you're writing in the middle of anything, in the middle of any situation; you can pretty much zone out and get into your head and write what you need to. Whereas now it became a conscious thing of 'I'm picking up a piece of paper, grabbing a pen, and I'm consciously about to write something.' That switch sorta took its toll on me, I literally felt like I was starting from ground zero again and I had to learn how to rap. I think that's also what contributed to it taking three years to put together."
The three year gap between his mixtape and the release of his album included leaving Cashtime Life and joining Raplyf as a part-owner.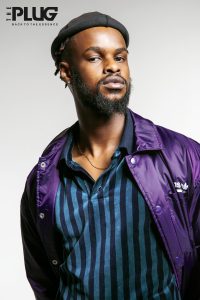 "Look how far I travelled from the gravel to award shows where I went and scooped two on the night, when your label don't know what to do with your hype that could fizzle out. In time I had to pick a different route."
What specifically led to him leaving Cashtime? "I think everything really broke down at the point where I'd work on an entire project and present it to the label and they didn't see or hear what I was hearing. That made me realise that we don't have the same end goal in mind, we're not hearing things alike. Maybe who they think I am is not who I really am. For me the main thing was just being true to myself and making sure I don't come out dressed in a specific way that's inconsistent with who I really am. Because post working with Cashtime, I'd have a hard time maintaining that. I think that's where it broke down for me, that was the biggest challenge knowing that 'What they're seeing is totally different from what I'm seeing, so how can we actually move and build from here on."
Asked what lessons he learned at Cashtime and applied to Raplyf, he said "All the mistakes that I felt like I witnessed, or I felt like were sort of done, I think we are more aware approaching everything that we are doing at Raplyf. I don't wanna single out anything specific because then that's another article where Kid X is bashing Cashtime, but I feel like my time at Cashtime was definitely to prepare me for this, everything that I'm doing now. Whether it be what I learnt in terms of just making music specifically for a South African audience, or just on stage, or just in terms of how to approach business, or how to carry yourself as a brand, I feel like all of it came together perfectly for this moment where now I've got a project and I need to present myself to South Africa, Africa, the world, so I need to really apply everything that I've learnt."
"Taught to be the greatest ever that did it with way less effort. In a game of snakes and ladders you bit and you're playing for seconds. You studied my throw of the dice as a way and method. I'm back on my throne, found the crown still exactly where I left it."
Having started his career under K.O's tutelage, and with the lessons learned in the music industry, I asked why he decided to take on the responsibility of being a label-owner as well. "That was the only natural step. For me, one of the reasons that contributed to me leaving Cashtime was because I had my own idea of the type of music I wanna make because I know who I am. I know the stories I wanna tell, I know the type of soundtrack that comes with that. The only thing that made sense was being the same person to sell that."
Being the director of your own film. "You know what I mean? And I felt like I'm almost thirty. What am I doing enslaving myself by getting into the same position that I was in at Cashtime when I knew the frustrations that came with that, and there was a very high likelihood that I would've ended up in the same type of corner that I found myself in. It only made sense, just for the sake of growth, for the sake of wanting to spread my wings and empower myself and learn more about the business, it made sense to take that step."
"They think they hang on bars, ain't no fucking with the hand of God, you should know by now I'm Maradona"
Feeling like Raplyf is growing into a league of extraordinary emcees a la Motif Records in the past decade, I wonder how intimidating that would be for young talent looking to sign to them in future. "It has to be intimidating because that's the pressure you're gonna need to push yourself to levels where… It has to be intimidating; if it wasn't intimidating, if it was a comfortable situation and you literally walked into the room and you didn't feel anything, there'd be no fire inside you to do better."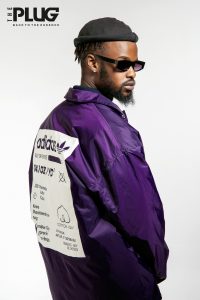 Having set a high bar in terms of inspiration with Eminem being the artist that led him to his journey in hip hop, he says "I've always felt like to be the best you need to idolise the best." He adds "I feel like, being able to be a top tier rapper needs you to be very objective. I think that's the single trait that is very detrimental in terms of being a rapper  – ok now it looks like I'm describing myself, and why am I even the person to say this – but from my observation, that's just what I've learnt. You need to be able to listen to an Eminem verse, a fire Eminem verse, and then hit stop and listen to what you just wrote and really be honest about the gap between the two. So for me, that's always just been my mind-set."
The roll-out of his album included a very deliberate focus around culture and heritage. Asked if there was a rekindling of the appreciation for his own culture throughout this process, he says "Firstly, hip hop is a culture on its own. So once you're drenched in that, every other culture that you're associated with sorta has to play second fiddle. It got to a point where I had to find a perfect way to merge the two and marry the two because those were the two most important cultures that represented who I am. It definitely rekindled a lot. So much so that during the time that I spent KwaNdebele, I actually realised I should be out here more."
"I felt like I could serve as someone who [the youth KwaNdebele] could relate to and be able to engage with on a peer level and sort of be able to draw inspiration out of and realise that this guy is one of us and we could literally achieve whatever we wanna achieve 'cause he literally dreamt whatever he's living now, and he's living it."
"Spoke to God about it all, the beauty of the struggle and the beast you end up being if you endure"
The artwork of Thank Da King depicts a futuristic setting of a young boy in KwaNdebele surrounded by his culture and (literally) drawing inspiration from a bust of an elderly Bonginkosi Mahlangu. As a metaphor for Kid X's longevity in the music industry, one of the biggest inspirations from his career is that of authenticity and telling your own story. For that, we thank the king.
Photography: Philly Mohlala
Styling: DNA Styling Agency
Fashion Assistant:  Lerato Matlhatsi 
Creative Direction: Nick Kaoma
Make-Up: Mbali Nyikazi
Cover Design: Justin Kaoma
Fashion Credits:
Jacket & Jeans: Levi's x Justin Timberlake capsule 
Sneakers: Puma Thunders 
Shirt: Givenchy 
Coach jacket & sweat pants: adidas 
Levi's line 8