Words by Zee Ntloko
It's been 10 years since Nicki Minaj's rapid accession into the upper echelons of rap. Over a decade she has carved out an almost impenetrable territory dominating with a vice-like grip on the charts. Contrary to popular belief, this was not a result of a lack of competition. We've had Iggy Azealia, Azealia Banks and the latest incumbent Cardi B rattle the royal feathers and yet Nicki's dominance and stats remain unmatched. With the release of her fourth studio album, Queen, her career stands at a  precipice. Now more than ever the ground work is being laid for her ultimate legacy. The build-up of Queen has not been smooth sailing with underperforming singles in Bed and Rich Sex failing to reach the high performance standards that she herself has set over the years.  Outside of the music, the roll-out has also been marred by other controversies including a media driven Cold War between her and Cardi, social media clapbacks to critics as well as the questionable decision to collaborate and tour with 6ix9ine. Despite all this there remained the possibility of this being her best work to date and anticipation was rightfully high as to whether she could deliver on the promise.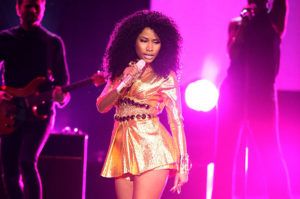 The opening track Ganja Burns leads in with a sparse, melancholic guitar that builds into an ascending emotional and haunting hook. The lyrics become the basis of what I'm sure Nicki hoped Queen to ultimately be about: an honest and rude reminder of Nicki's talent and skill as well as a reflection of her own success. Even with her status in rap royalty constantly being debated, Minaj groups herself with some of the greats and reminds her rivals that "you can't wear a Nicki wig and be Nicki" and despite critics, she's still at the top ("Unlike a lot of these hoes whether wack or lit / At least I can say I wrote every rap I spit / Put my blood, sweat and tears in perfecting my craft / Still every team's number one pick in the draft"). From this introduction alone we know she is out to prove something. The album then segues into the Eminem assisted Majesty. I do not fault Nicki and Eminem for attempting to recreate the magic found on earlier collaboration Roman's Revenge however maybe the magic lay in Roman's presence, which would have been welcomed on this track. It feels more like an Eminem song that Nicki is added to and not a true collaboration.
Next is the the true jewel of Queen's crown, Barbie Dreams. A tongue-in-cheek homage to Notorious BIG's Just Playing (Dreams) that finds Nicki at her best as she hilariously skewers a good portion of the mainstream rap game. This is notably Nicki's second attempt at Dreams with the first being on her earlier pre-fame mixtape Playtime Is Over. It's obviously not a diss track but the scathing takes on Drake, DJ Khaled and Meek Mill walk the line of brutal honesty and humour. Although the first half of this track is what has gotten the most attention, it's the second half that sees Nicki slip into her famed Roman alter ego that is a braggadocious, dizzying reminder of her skill.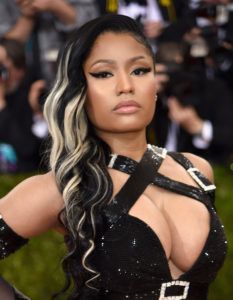 The cockiness continues on Half White as Nicki makes it clear that if anyone is choosing her successor, it will be her ("Cause they know I'm the queen, I still didn't pick an heiress"). She has clarified that the song was written early last year and a version did leak around the time of her Shether response, No Frauds. Despite that there are a few lines that have already been cited as subs to Cardi B which is near impossible and doesn't fit the timeline of the New Yorker's rise. It's mere coincidence but so far this cut has been taken as a veiled shot. The Jay-Z approved LLC accompanies Hard White as another bar-heavy addition finds her swatting away rivals as she confidently boasts that there "will never be another one after me because the skill level is still just a half of me". 
Nicki also taps into her emotional side with several offerings on the album: Run and Hide, Thought I Knew You featuring The Weeknd and Come See About Me. Her personal life is constantly fodder for social media and blogs with her very public breakup with Meek Mill and ongoing feud with Safaree. She's touched on past relationships before on The Pinkprint but it's nice that on an album that is rap focused, she can still add the nuance of her singing the love blues.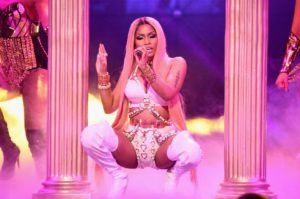 The Mike Will Made It produced Good Form reworks the infectious beat of Shake That Monkey by Too Short into an undeniable twerk anthem. This is arguably the most commeticial most commercial track on the album and is an almost perfect audition for a viral Instagram challenge much like In My Feelings for Drake. Nicki's play on the phrasing of "good form" and "good for him" in the chorus is clever and catchy and highlights the kind of word play she excels at. 
Sir featuring Future gets a worthy mention and perhaps motivates the rumoured mixtape between these two as they share a natural chemistry. The album winds down with an immediate standout from the tracklist, a feature from fellow Trinidadian-New Yorker Foxy Brown. Nicki's lack of collaboration with other female rappers during her career, whether intentional or not, has become an over-bearing critique. On Coco Chanel her and Foxy trade bars as they deliver a rambunctious, Carribean dancehall banger that feels like the most significant and authentic element of this album and leads into the closer Inspirations Outro using the same beat as Nicki switches flows to shout out her NYC crew.
With 19 tracks, Queen may seem a daunting task but maybe the long-winded album is a Young Money thing in much the same way the trimmed release seems to be a G.O.O.D Music occupation. Whether this is Nicki's best album is up for debate as The Pinkprint still feels like her most honed offering over all. But Queen certainly does deliver in proving why Nicki should be in a conversation with her peers, particularly her male counterparts. There simply isn't a female presence in rap with her skill level. The view from her throne may have changed drastically within the last year but the crown is still safely on her head regardless of many threats of rebellion. And this what Queen ultimately boils down to. Nicki Minaj is still here and she's not going anywhere.