This year has been one of the hardest to hit the entertainment industry in a while. Due to the national lockdown, some parts of the entertainment industry have been at a complete standstill. Many artists had to go without any income from performances and many hosted their own virtual shows as a result. Some were locked in studio and some went further by learning new skills like recording themselves and editing their own videos.
A few artists, however, seemed unbothered by this new reality. Focalistic is one such artist. The rapper has been working harder than ever during this period.
He came into the year running after an impressive 2019, which saw him collaborating and providing standout guest verses on many tracks. Not even a global pandemic could slow down his momentum.
On March 6, a day after the first reported case of Covid-19 in South Africa, the rapper released the visuals to his Cassper Nyovest-assisted 2019 single "Never Know" – where he melodically sings "why does she love me I will never know" on the chorus. I don't think we ever knew what was in store for us – from the rapid spread of the virus to the rise of Focalistic.
Four days after the national lockdown was in effect, the rapper released "Bothata Keng", to gear up to the release of his EP which followed on April 10. The EP is titled "Quarantined Tarantino" – a play on Quentin Tarantino's name and quarantine (lockdown). It sees him find middle ground between hip-hop, kwaito/bacardi and amapiano – a genre he has been riding since 2019. He dropped back-to-back 'quarantine-style' visuals for, "Full Sette" and "Christian Dior", which are taken from the extended play. A video of him breaking down the lyrics to Bothata Keng can also be found on his youtube page.
While we were digesting the project, he dropped yet another EP on April 25th (15 days after the first EP), Blecke, which included the tracks "Billion", "Blecke" and "Ke Star", the latter featuring and produced by amapiano producers, Jazzidisciples (the duo has since disbanded) and Vigro Deep, respectively.
The 24-year old musician started his label 18 Area Holdings and entered into a "partnership" with independent label and agency, Vth Season – responsible for the careers of AKA and Ami Faku. The aforementioned EPs were released under that partnership.
On May 5, it was announced that the "Ke Star" rapper had accumulated over 2 million streams across all digital streaming platforms (DSPs). Which is commendable as he only came into the game in 2016/7 through a few songs that were released on Soundcloud.
In between these two EP drops, Focalistic still had time to drop occasional freestyles for his fans – even dropping freestyles to his own songs, almost as if the beat lapsed while he still had bars for it when the songs were recorded initially. His most impressive freestyle is the one he did for the lockdown edition of Sway's '5 Fingers Of Death' where he flows on top of gqom and amapiano instrumentals. "I'm the only dope rapper killing these beats / I went platinum on retweets/freestyle drops, you stop release…" he raps. It seems like there's no type of beat that he can't glide over. He has since adopted the moniker 'King Sacrimma' because of his versatile ways.
Pitori Maradonna – an ode to his hometown and legendary soccer legend, Diego Maradona – as he is affectionately known by his fans, appears 3 times on Kabza De Small I Am The Piano King: Sweet & Dust album.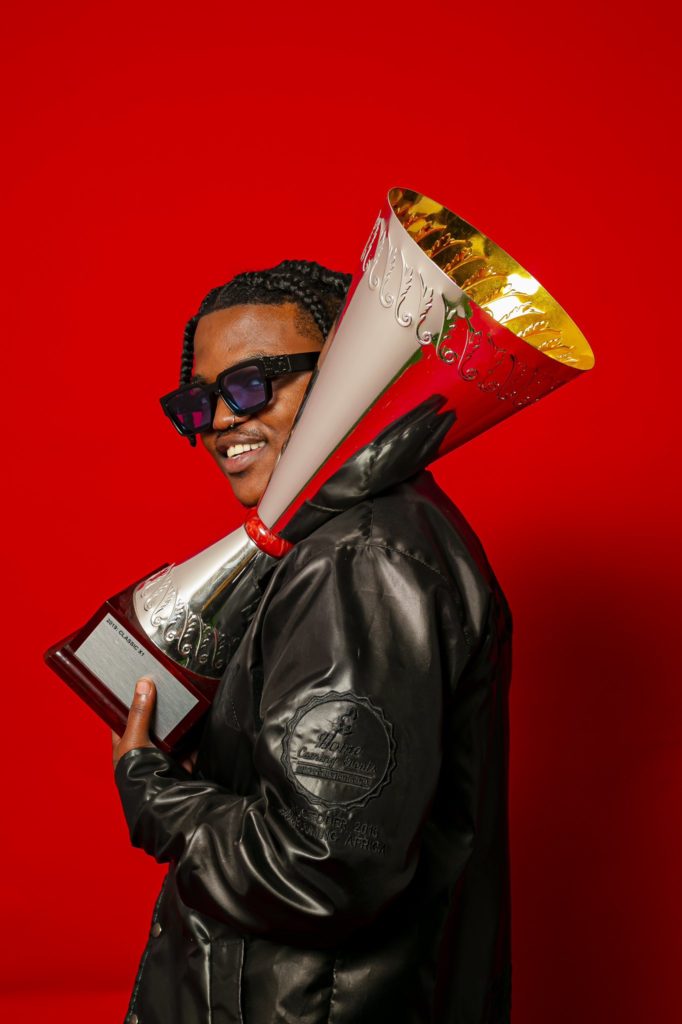 His catchphrase "Ase Trap Tse ke Pina Tsa KoKasi" (directly translated to 'it's not trap, it's songs from the hood') can be heard on "Masupa", "Dust" and "Rabu Chupa" on the Kabza album. Previously, he collaborated with The Scorpion Kings (Kabza De Small & DJ Maphorisa) on "Energy" and "Sandton".
In a recent podcast with Riky Rick, the "Blecke" rapper explains how he came up with the catchphrase, after recording a song (he was struggling to classify in terms of genre) at Junior Taurus's house – producer who gained popularity in 2015 through his collab album with Lady Zamar. He would go on to use it on most songs since then, and eventually use it as the title to his collab EP with the twin-duo Major League DJz, which included the hits "Ndik'uze" (whose video premiered on 14 Jan and has surpassed a million views on youtube btw) and "Shoota Moghel".
The catchphrase, much like his lyrics, is infectious, based on being true to self and transcending beyond language barriers – the phrase is in SePitori (a Tswana-colloquial language unique to Pretoria). The city has a long history of pioneers and tastemakers who have contributed immensely to the South African music industry and pop culture, as a whole.
Heavyweight artist Cassper Nyovest even borrowed the phrase for his opening line on The Scorpion Kings' track "Phoyisa" – with the rapper delivering a verse that one could be convinced was taken off Foca's book of rhymes or that he, at least, inspired. The song was the most anticipated song in SA in 2019, which came about as a result of a viral video (with has more than a million views on twitter) that was turned into a song which dropped on the 31st of December. Hours after the release of the official song, Focalistic freestyled to the "Phoyisa" beat and that freestyle would later become "Energy". He sometimes uses this freestyle approach to tease and preview unreleased music.
One of the many on-screen moments he has had this year is appearing on the first episode of the new show on Slikour On Life, called "Spaces", which was shot mostly at his place. The show was shot during level 4 of the national lockdown (TV production companies and other major industries were 'opened') and the episode premiered on July 15. In that episode we also learnt that he records himself and does not write down any of his raps – he records each bar while sitting down.
On August 18, Focalistic announced that his single "Ke Star" went Gold (excess of 10 000 units sold) – three months after its initial release – independently and during a global pandemic. He also partnered with an energy drink to start the #KeStarChallange. While most artists do challenges on their own or force them down our throats as part of their inorganic and flimsy marketing ploys or 'forced activations', Ke Star had already gone gold at that stage and people who partook in the challenge stood a chance of appearing on the song's official video.
His use of social media has also contributed to his increased visibility – a necessity during times like these. He interacts with his supporter base 'Squad sa Maradona' and his name (and lyrics) frequently appears on the trends list on Twitter. He was spotted by the Major League DJs through a viral freestyle he posted on social media which led to them working together.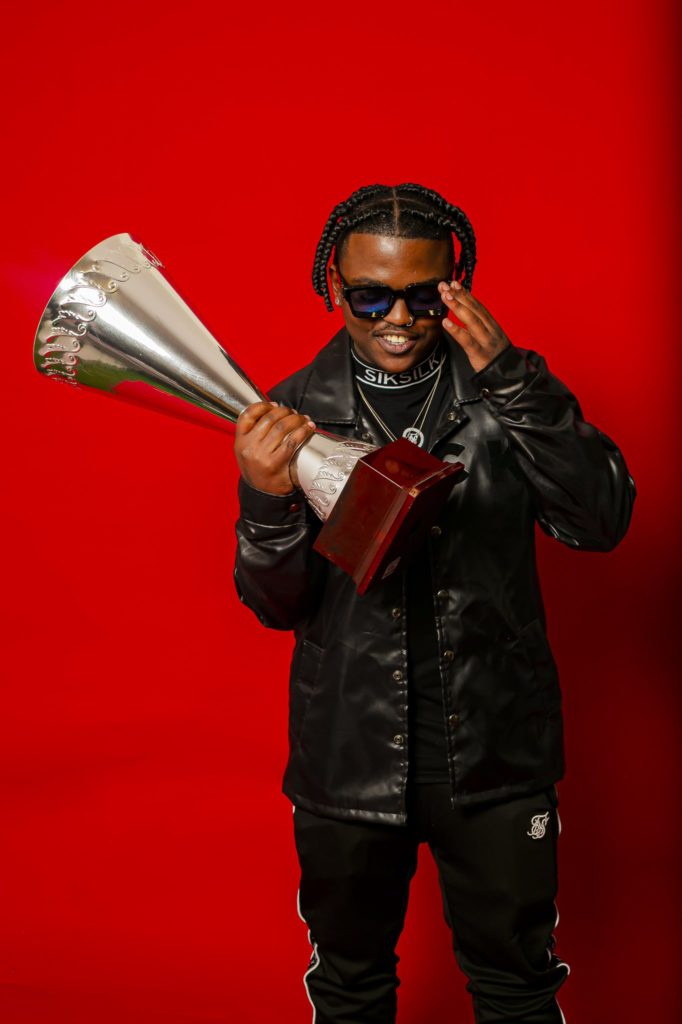 King Sacrimma's genius can be attributed to how he always references and interpolates old school South African phrases and lyrics – something 'Squad sa Maradonna' appreciates.
On "Ke Star" he references "gqim(qqhum) shelele" – a phrase made popular by legendary sports presenter and journalist Robert Marawa, and "Midnight Mkhelele" – referencing former soccer player and now coach, Helman Mkhelele, who is also known as 'Midnight Express' – perhaps implying that he and the legendary player are cut from the same cloth – similar to how he compares himself to playmaker Diego Maradona.
Another soccer reference on the song can be heard on the "Tsiki Tsiki Yo" chant. "Tsiki Tsiki Yo" is a nickname that was given to legendary soccer player Thabo Mooki after the Mdu Masilela 1994 hit song "Tsiki Tsiki".
Focalistic used to be a soccer player – in fact, he says at one point he had to choose between soccer and music. His record label "18 Area Music/Holdings" is a reference to the penalty box in a soccer pitch – in South Africa, however, it is simply known as the 18 Area. Listen to TKZEE's Shibobo.
Nostalgia is something that is purposely embedded in his relatable lyrics – at least for those who can pick up the references. And I would like to believe that the referencing is done to pay homage to the greats of yesteryears. Not new to South African popular music and not unique to Foca – an example of the way in which this referencing became popular was in 2014 after the success of K.O's "CaraCara." It referenced Trompies' "Bengimngaka" in its hook and catapulted the "Skhanda" sound that ruled SA hip-hop during that era, spearheaded by the Cashtime Life camp. For Focalistic, it's in how subtle and organic he makes it sound while merging the referenced lyrics with his own.
His critics, however, view this as being lazy and as a cop-out to not being creative. He sometimes also gets criticism for not sticking to one genre – something that doesn't bother him as he doesn't want to be boxed in.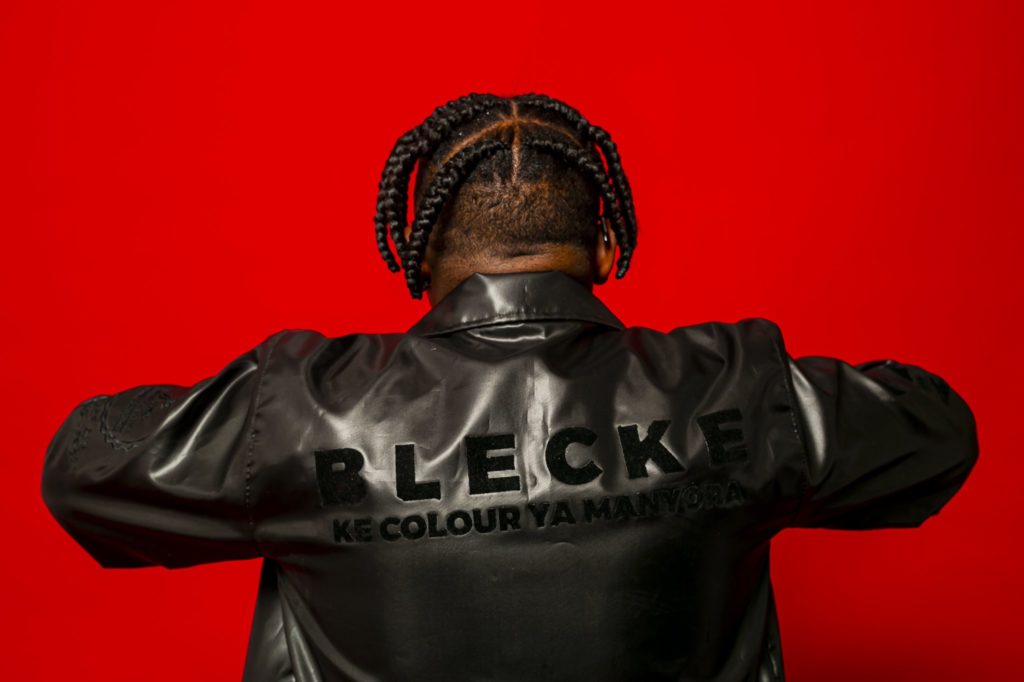 In the aforementioned podcast, when Riky brought up how this year(winter) was supposed to be his 'time' if there was no Covid-19, a confident Focalistic disagrees and basically says he is still going to run and that this has just been the beginning  – "imagine when they open [the country]".
A day after the president announced level 2 of the lockdown, he released "Ke Busy" featuring frequent collaborators, Kabza De Small and DJ Maphorisa. He has been busy indeed, with songs running the charts. 'Level 2' came with the opening of restaurants and venues – limited to 50 people and the "Ke Busy" rapper has already had a performance outside the Gauteng province – where he is based.
Pitori Maradonna also recently jumped on the Dj Neptune's "Nobody" Amapiano remix alongside Mr Eazi and Joeboy, making it his first continental feature – with many more expected as amapiano gets embraced in the rest of the continent.
He appears twice on Semi Tee's album via "Mercedes" and "Reverse", and on Vigro Deep's "Blue Monday" – a standout track on the album, amongst many other features, including features on Mr JazziQ (ex 1-half of JazziDisciples), Kamo Mphela, Jobe London and Killer Kau projects – which were all released this year.
In an interview he did with RedBull, when asked if he is worried about the volume of his output resulting in oversaturation, he proclaims "I don't worry about saturating the market because good music will always last. People know what's hot and what's not so I'm not afraid of that. I just drop for my people because they always want it. Sometimes I might take a long break but that's me just cooking a different sound. I'm never really worried about saturating the market. I know what I'm giving is always different."
Apart from his music moves, the multi-faceted musician recently announced that he is an official brand ambassador of clothing brand Sik Slik and has also collaborated with Home Coming Events for a Blecke limited edition custom-made jacket.
"September ke summer / if baka bula ko droppa album" he raps on a freestyle he did to the "Ke Star" instrumental, alluding to dropping an album at the end of lockdown ('when the country is open'). Clearly, he still has a lot of music in the bag and is ready to drop an album anytime.
Foca has released of the highly anticipated Ke Star music video, and on Wednesday, two days before the video drop, the president announced that the country will be moving to level 1 of the lockdown. The music video premiered on MTV Base South, East and West on September 18 and on Apple Music and Youtube on the same day – reaching 100 000 views on the platform a day after it's release. Under the new lockdown regulations, venues and clubs are now permitted to have 250 people in attendance if indoors and 500 people if outdoors. The curfew has also been extended to midnight, and international travels are allowed – meaning more artists could begin performing at gigs again – in fact, most artists dropped their booking details after the president's speech.
With three months left to wrap up the year – one can wonder what tricks the Pitori Maradonna still has up his sleeve especially with his Grammy award ambition. His work ethic and moves should be a case-study to fellow rappers and musicians, at large. It's not every day that we get to witness such a run – 'during trying times'.