Words by Misa Narrates
Pics by Shellingson Msomi
Now that the Oppikoppi 2018 dust has settled, it is safe to reminisce on the debauchery, fun, and good time that we experienced in Northam Limpopo. What started as a music festival to celebrate and enjoy rock n' roll music in 1994 has transformed into a far more inclusive musical experience for all. After 24 years in existence, Oppikoppi has drawn thousands to Limpopo for good music, bundu bashing, and the kind of fun you can't have in metropolitan cities.
This year, the lineup was exclusively local, and festival goers couldn't have been more entertained. Day 1 started quietly on Thursday, August 9; as early as 9 AM. However, most people were still setting up their camps. The key to Oppikoppi begins with finding the perfect  camping site. While some opted to sleep in their cars, most people came with tents. Walking through the campsites brought an interesting array of tent sizes, colors, and setups. As early as 10 AM cooler boxes were open and you could smell the braai meat in the air. There could have been no better welcome to Oppikoppi 2018 than that!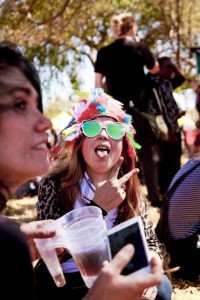 Once the novelty of leaving the city, setting up camp, and having liquor for breakfast without judgement had worn off, festival goers would make their way to the grounds. Let's say this was around 11 AM and a few acts had begun their sets already. With the grounds covered in hay to prevent excessive dust, we walked about the venue to find everything. Food stalls varied, including 'hood snacks like kotas, Asian treats like Thai noodles, Italian staples like pizza, and more. There were also fashion related items to purchase, not to forget, the various bars to buy drinks. For media personnel, myself included, the day consisted of getting ready to capture moments throughout the festival. Planning, strategizing, and locating fellow journos, content creators, photographers, etc. was part of the set up for Oppikoppi.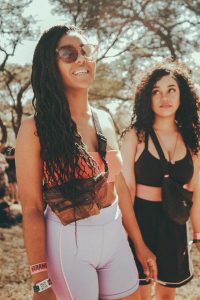 A surprising element of the festival were the poetry sessions hosted at the DJ Bob's Jazz Bar and Top Bar. Jazz Bar, in particular, was decorated in black hues with minimal furniture setup. While it may have been a reach on my part, I couldn't help but think back to the scene in The Great Gatsby when Gatsby had taken Nick Carraway to lunch at an underground 'restaurant'. Equipped with a smoother sound, the Jazz Bar also included poetry sessions, which only added to its 'cool'. Top Bar on the other hand, was such a hike from the main stages, that it took a special kind of festival goer to brave the uphill battle it took to enjoy the festivities.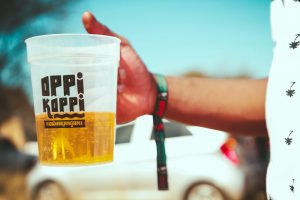 Day 2 of Oppikoppi, Friday, August 10, saw more excitement. With acts like Sho Madjozi, GoodLuck, Darkie Fiction, and Mx Blouse to look forward to, the day progressed with good vibes. The two most interesting stages would have to be the Red Bull and Bruilof stages. The only difficulty of music festivals is scheduling, especially when two acts that you hope to see are scheduled during the same hour on opposite sides of the venue. For people interested in seeing Sho Madjozi and Mx Blouse, a mad dash had to be made from Bruilof stage to the Red Bull stage. Granted, moving between two venues is nothing new for party goers. However, making the move from any stage to Red Bull was jokingly referred to as a "Groot Trek" because festival goers underwent either a very long uphill walk or braved the rock climb to get to the venue.
If you were at Kendrick Lamar's Coca-Cola Dome performance in 2014, you would recall that he praised SA for the good smelling "dank" wafting about Golden Circle. Oppikoppi was no different, you could smell marijuana everywhere. In addition to the herbal kind, other narcotics at Oppikoppi included shrooms, MDMA, cocaine, and more. Casual drug intake may have come as a shock initially, but by Day 2 realizing that a large number of people were inebriated from "the other stuff" was commonplace.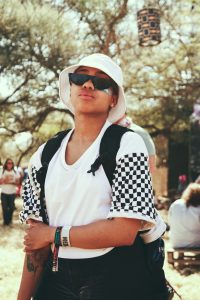 Unfortunately, the evening of Day 2 was seemingly arctic. For Oppikoppi virgins, this may not have been terrible, but if you had never slept in a tent before, the weather felt punitive. Some people went as far as partying until the sun began to peak above the horizon before going to sleep as to avoid the cold temperatures of the night. Suffice to say, many were huddled up close on Friday night.
Moving swiftly along, Day 3, Saturday, August 11, was likely the best day of Oppikoppi! This could have everything to do with us knowing that our fun was coming to a close and needed to be enjoyed, or the fact that the lineup was fire. Until Until and Homecoming Events partnered up for the Bruilof stage, which was arguably the most entertaining festival area on the day. From DJ Capital doing the Shiggy Challenge on stage, to Una Rams' quick change, then 2LeeStark shutting things down after Ano crowd surfed, it's hard to say who had the best set.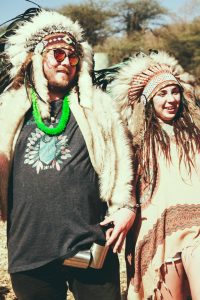 However, outside of the actual performances, the area most celebrated had to be the Meister Haus by Jagermeister SA. Upon entry, one would swear they had stepped into a blend of Great Dane, Kitcheners, and Cantare. In a balcony style area, whoever could get their phone closest to the aux cable was deemed DJ for the moment. Guests moved between moshing to trap music and stepping to Fela In Versace; a moment.
The beauty of Oppikoppi is how equal everybody is once they step out of their respective camping sites/stage areas. Artists and festival goers partied together, whether they knew it or not. For instance, in Meister Haus, 2LeeStark, Dream Team, and their entourage of friends had the space in shambles. Unbeknownst to many, Una Rams and his friends even made a tour about the section. Fans got to share shots with Sho Madjozi after her set before she left the following morning. Familiar faces like that of Fareida Metsileng, MTV Base presenter, Quinton Jones, Producer/Director at Urban Brew – also Minnie Dlamini's husband, and more could also be spotted around the festival.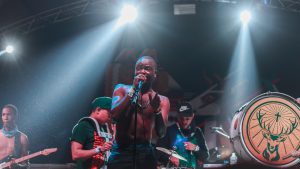 Unlike nightclubs, the dust of "Oppi fokken Koppi" plays no favorites. With this in mind, folks partied into the wee hours of the morn, and if my cough is anything to go by, we all returned to our respective cities with a slight cold. Overall, Oppikoppi has only improved since its inception. The lineup was inclusive, and not just in relation to race. Seeing members of the LGBTQIAP+ community occupy prized performance times, in addition to womxn, and people of color at such a culturally significant festival was a joy.
If Oppikoppi were a person, they would be the one kid in class that is friends with everyone. Like the old adage goes, what happens at Oppikoppi stays at Oppikoppi…unless you make new friends; hopefully those are forever.