The love story isn't a novel idea in the hip hop storytelling pantheon. Project Pat's "Choose U" was one such tale of 'hood love'; a woman choosing to move on from her relationship with her baby daddy, and supporting her new beau with her child support cheques. Pimp C was in prison when he heard the track and was so inspired by it that, as soon as he was released, he hopped on to the same beat for a similarly themed love story. The object of his affection? Pimpin'.
UGK's International Players Anthem (I Choose You) was born. Were the track a metaphor for rappers' relationships with their careers, a lot would look like Pimp C's line "Fuckin' up the game, bitch, it gets no love." Rouge's reverence for hip hop, however, stands out in a sea of metaphorical pimping just as Andre 3000's verse does at the beginning of the track, testament to his brilliance.
"So, I typed a text to a girl I used to see/ Saying that I chose this cutie pie with whom I wanna be"
Deko Barbara-Jessica Wedi, the fiery-haired, Pretoria-based rapper, as we've come to know her, was born in South Africa to Congolese parents who had moved here in 1991 when her father was presented with a career opportunity that he couldn't pass up. A nurturer and philanthropist at heart, as a doctor he worked his way up in the hospital's structures till, at the peak of his career, he quit because he wanted to go back to Congo and build hospitals in the war-torn country.
The youngest of five, she comes from a very academic family. "When I came and I said I wanted to be a rapper, it was very foreign. To Congolese people, it's foreign." On her family fostering an appreciation for the arts, she says "It took time to convince them because I only found my love at 19 and that was the point where, usually, we go to varsity. But I couldn't see myself just getting into university, wasting money, and not necessarily knowing exactly what was my calling. I only found it when I was 19 years old and I had to show through my work ethic, I had to show my parents that 'she's serious about this so we'll give it a try and see how it goes from there.'  But it also never stopped me from wanting to go to university. So I took my gap year to figure out what I wanted to do, I found my love for music, but I at the same time I found my love for film and theatre and I went to TUKS and I studied and got my degree."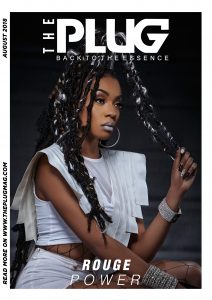 "No looking back/ Spaceships don't come equipped with rear view mirrors/ They dip as quick as they can, the atmosphere is now ripped"
Asked if a formal degree in the arts gave her the discipline that she needed to pursue a career in hip hop, she replies "Definitely. I think that's one thing that it gave me an upper hand in. Purely on the performance aspect because this is something that I studied; how to be a better performer." With the South African music industry heavily reliant on performance revenue in an artist's income generation, she feels that it's an aspect of artistry that needs to be honed.
The strongest manifestation, for me, of her technical training is particularly evident in her singing voice. Her skill moving between both rapping and singing on her album stands out as she's equally adept at both. "I had to have singing classes every single week. I had to have performance classes every single week. So it's just funny how all of it came together and how at the same time I found my love for rapping."
"So the light from the sun would not burn me on my bum"
Success in artistry often owes itself to a combination of both talent and hard work; I asked her what combination in percentages hers would be. "Maybe 60 percent hard work, 40 percent talent. Purely because of the fact that I'm an independent artist and I'm a woman in this game. It required me to work 10 times harder than my male counterparts just to get the bare minimum. And, for me, that's why I felt like it was kind of hard for anybody to deny anything that I've gotten so far purely because the work ethic was there." Impassioned, she adds. "Nobody could say that it's because she signed and there's all this money behind her pushing the 'first lady' and [that] there's a guy pushing her. They saw the work, they saw the bills coming in and then just to add on top of that, she's just as talented."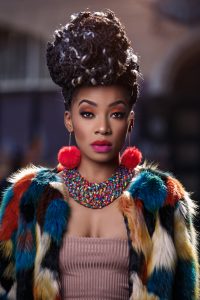 Asked if she has scepticism of the music industry because of the workings of record labels, she says "It's true. I won't lie. Especially – once again this is all pre releasing the New Era Sessions – that was purely because I was burned; I was signed to a label before and I chilled for two years. I didn't see the studio. I didn't see any of that." Signed at 21, she explains how they made no effort in developing her as an artist. After two years, her sister – a lawyer in the music industry – helped her get out of her contract with the label.
Using the pronouns 'I' and 'we' interchangeably to include her sister, who is her lawyer; her brother-in-law, who is her manager; and her brother, who assists with her PR, she says of Team Rouge "I was signed to a PR company and that didn't work out and I was going to join another label and that didn't work out. But we just got to a point where we realized [that] I think the universe is trying to tell us something, I think we are relying way too much on these labels and PR and all of this stuff to make us pop. Bring it back to what you actually want people to know you for right now, and that is your music. Right now that should be enough to get you to a certain point, then you can decide what you're going to do afterwards. It was at that point when we had that realization, I was like 'I'm not going to sign to anyone, I'm just going to let the music do the speaking.'"
"When I shoot the moon, high jump the broom"
She decided to take the leap into independence and made her first album. "All the studio time, the music videos, the amounts of debt we went into purely because of trying to put this together. Just getting the Rouge brand, just to kick-start it, it was a process. But we knew once we get it and then we finally get that flow of it, we're good."
A concept album, she explains how longevity in her career helped her make the decision of going in that direction. "I want to be as legendary [as Lauryn Hill] and you can't be as legendary if you're playing it safe and you're just doing what everybody else is doing. You just blend in, and I'm not one to blend in. Hence me saying [that] I will not just sign to a male, because I'm not a First Lady, I'm a president, whether he likes it or not. And if a guy doesn't get that, then I cannot be signed. Guaranteed, I know it's going to take longer and the finances are not going to be as great as the next person, but I'll get there. But people need to know that this is not just about now, I'm thinking about the future. I'm trying to make sure that I'm here in the next 30 years, [that] I'm the next Jay Z where you're just like, 'how has she stayed in this game so long?' and this is the only way to do it. And that's why I felt my first project, which I was already nervous about because people didn't know who I was, but I needed to make sure that it was something that people needed to digest and really understand and put in a proper listening session to understand what Rouge was trying to do."
"Now hurry, hurry, go on to the altar"
She's since won Best Female Artist at the South African Hip Hop Awards in December 2017, Best Micro Budget Film award for the New Era Sessions Film at the South African Film and Television Awards 2018.
Asking about her venture into the visual arts with a short film based on her album, she said "I needed to do something that has never been done in this industry purely because it's like, 'okay Rouge you're still coming up in this game, people still don't really know you. You'd also only be doing exactly what everybody else is doing [by releasing the album alone]. It's never been you, you don't like to blend, you're not a fan of blending. It sounds complicated but you like to stand out, and you want to always make sure that you are seen as the best at what you do. What is the next level that you can take it to, that you actually know about and nobody can test you or question you?' And for me it was film. I studied it. I love it. I love theatre. I love storytelling. I love acting. I did all of that."
She also won the Music Video of the Year award at the 2018 SAMAs but it was her televised performance that meant more to her. "It made me so happy at one point it was no longer about the award, it was about the fact that SA saw that Rouge is here and she's here for a reason and I was like, now I can go back to work because nobody could tell me that I did not have what it takes. As a writer, as a performer, as an artist; no one could tell me anything because I felt like I had finally ticked all these boxes right in front of your eyes and I did it live."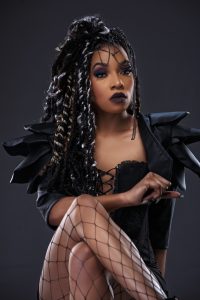 "Keep your heart Three Stacks, keep your heart"
In the hip hop lexicon, female rappers are generally in a class of discussion on their own. Asked if she wants to be considered specifically as a female rapper or just as a rapper who is rated on par with every other male rapper, she says "I definitely do. At the same time, at the beginning [of her career] I definitely got to the point where I thought I can kill anyone, don't look at my gender. There was even this, I was almost trying to put on this butch-y, tomboy front. And I just got to a point where I realized that, no, that's completely defeating the purpose of making people take woman as a woman seriously."
"I got to the point where I realized I'm not trying to make these young girls necessarily change themselves to be more masculine in order to be taken seriously as a woman. It's almost like a contradiction to the story that I'm trying to tell. I feel like being a woman is the most amazing thing and the fact that we can get to that point where we are all really killing a very male dominated industry purely on our feminine side is awesome. And I had to come to terms with that and understand that that is how I will be able to basically annihilate my male counterparts; by the fact of me really owning and harnessing my feminine aspect, bringing a feminine touch to the side [of music] that they're saying there cannot be any feminine touch to it."
"Man, these girls is smart, Three Stacks, these girls is smart"
On her brand positioning, she says "You can't disrespect Rouge cause she stuck her ground. She didn't change herself. She never changed. She didn't have to look a certain way. She didn't have to talk about certain things. She remained really loyal to and true to who she was. That is going to be my brand and I feel like that is what my brand is doing. Even with the brands that I'm aligning myself with, that is something that they all picked up on and that's what they wanted and I think I'm on the right track with that."
In so far as her image goes, and of letting go of her red curls, she says "I loved it and it was a part of me and it always represented who I was; bold, bright, just this firecracker."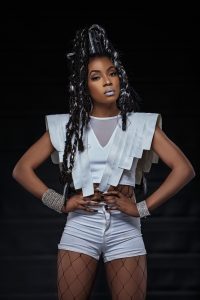 She recalls to me when – after her launch event sold out and a roster of big names performed for the crowd, they still wanted to see her perform – she decided to let her signature look go. "They saw everybody, they're still here. You cannot think that this is necessarily because they want to look at you; that they want to stare at you. It's purely because now they want to hear what you actually have to say. And that's when I realized my hair doesn't matter. This look only matters for certain amounts of time, but then when it's time to buy my projects and listen to my music, they're not staring at me, they're listening to me. And that's when I was like a scary as it was because this has been my identity for such a long time, and realizing that it's not, it's just hair. That's literally all it is. You can switch it up when you want; they're still going to love you."
"Play your part… play your part"
Where Bun B and Pimp C delivered their characteristically braggadocio offerings on International Players Anthem (I Choose You), 3 Stacks lifted it to higher ground. Where their verses focused on the transactional aspects of their relationships, his centred on the emotional. Andre said of his verse "The sample in the record said, 'I choose you.' I don't know why I went to marriage as a topic, but I guess that's the ultimate version of 'choosin'." In the SA hip hop pantheon, many artists' relationships with their careers are transactional. In the marriage of Rouge to her craft, there could be no better description than that of a choice to love. Born of her love for hip hop is the excellence that we've come to know her for.
Photographer: @jashughatt
Design: Mzo Gcwabe
Styling: Instaglam Express Team
Branding: Instinctif Partners
Make-up: @MakoleMadeBeauty