DJ Doowap has just performed at Afropunk in Brooklyn this past weekend. It's hot on the heels of her performance at RoseFest on the 9th August, where she dropped an original track as part of her set. "Dude! At RoseFest I just dropped my own track, and I started performing it. I picked up the mic and I started rapping, singing, doing my track. It was the most nerve-wracking thing because before this DJing, I just always wanted to be a performer, but DJing was how it started."
While her face lit up in relaying the exhilaration of that experience, she recounted her entry to the music industry. Having studied sound engineering in London in the early 2000s, she returned to Joburg and did a post-production course at the Academy of Sound Engineering here. She took up DJing to make money on the side while studying and her very first performance was at Roxy's in Melville; where somebody from Yfm heard her set, was impressed enough to have her feature on a show, and the rest is proverbial history.
"So DJing just escalated, but I think the thing at my core was that I wanted to be a music producer and a performer, make my own songs, you know? And I only just did that now. 'Cause I won't lie, before I was making so many excuses 'Oh Doowap, why aren't you dropping original tracks?' 'Oh no, I'm not ready', like 50,000 excuses. But basically, I was really, really scared. And I finally faced my fear. I was like, at Shekinah's festival, there's no better platform than… it's a completely safe space, everyone is supposed to like face their fears and push themselves for that show so I was like if I'm ever gonna do it, it's [gonna be at] this one."
The excitement in her voice still palpable, I ask if the various musical influences in her style of DJing – a reflection of her stay in the UK and the underground scene there – will translate in her own music. "The single I'm releasing is future-kwaito, but the majority of the music that I'm making is what you're saying; a mix of both sides. Whereas the single I'm dropping [now] is strictly South African, but the rest of the stuff is… there's verses where I'm rapping in French, then there's like an 80's beat, it's definitely not heard of. Quite a few songs are in French and Zulu."
French? "I went to a French school my whole life. My parents are weird; they don't speak French, but they sent us to the French school, my sister and I. So we both speak French." A language that's come in great use throughout her travels worldwide, she had her reservations when first faced with the idea of studying it.
Originally at another private school, her parents wanted an ethnically diverse surrounding for their children while schooling, and that necessitated the move. "They took me to the French school just to check it out. Firstly they don't wear school uniform and I was like 'Wow!' I think that helped with my individual style. Also, it was super mixed, it was everything. There were Chinese, there were Japanese, there were super dark Senegalese, we were all just together. And that was something that I actually – just from being there and visiting that school once – I was like wow I'm totally missing that from Crawford. So I told my parents straight away that I wanna move there."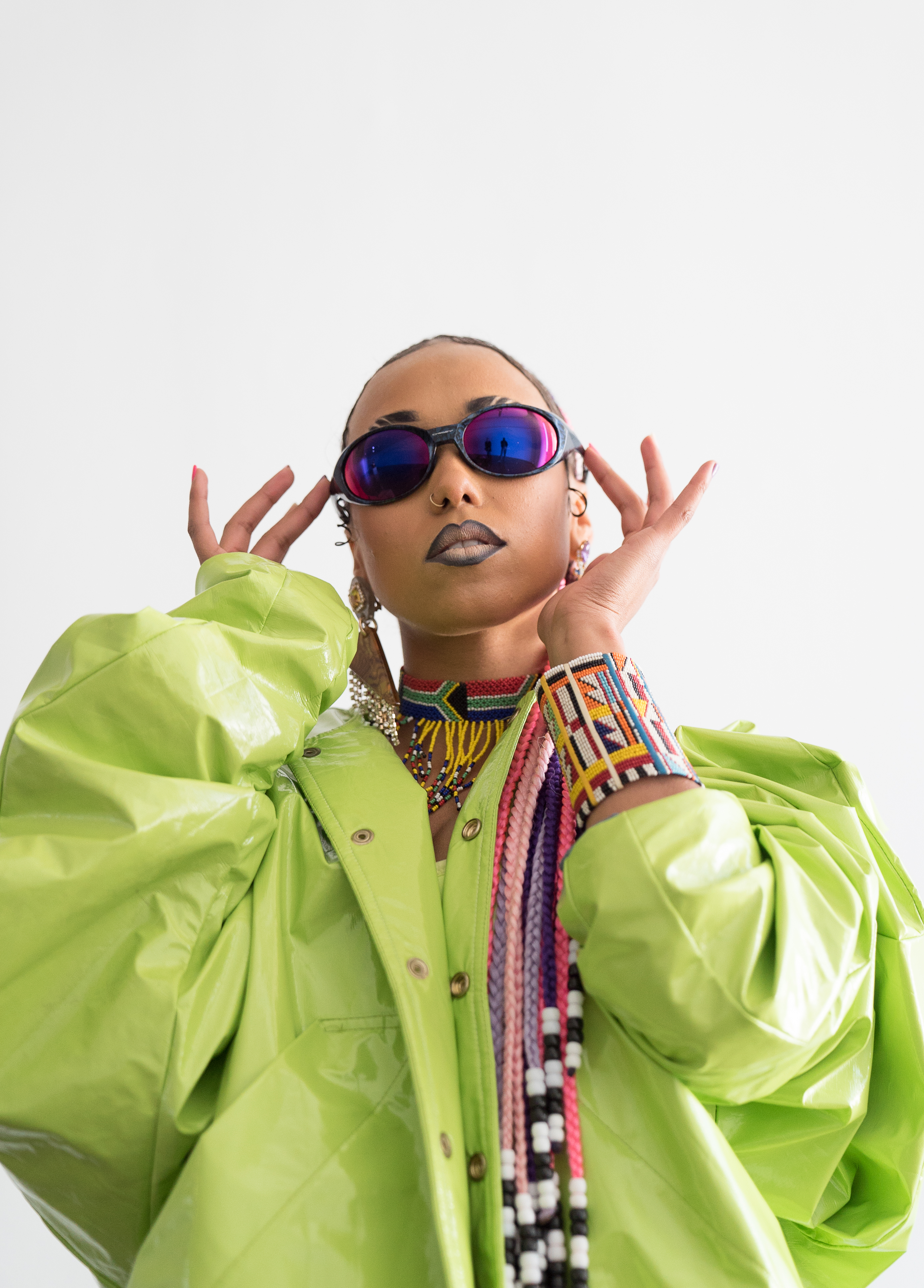 She took up springboard diving as a way to get out of the heavy academic workload – "now that I look back, I really think that was one of the reasons I pushed diving so hard was to not be in school" – but moved to a sports school in Montreal, Canada, where the French tuition came in handy.
I remark that she seems to have a worldly spirit about her, as a result of her travels. "My roots are definitely in Swaziland, that's 1000%. And I was born there. Other than that, I wanna travel as much as possible. The more I travel, the more I find out about myself. It's just so important, and I wish more people could travel. Cause that's definitely made me who I am, so versatile, and not feeling boxed, and just knowing that I can travel." She adds, "And my dad, when I was six, he put me on a plane to England to go visit his parents. And I think that's what unlocked me; because if you're travelling at six years old and the air hostess is looking after you and you love your life travelling… When I got back to Johannesburg I was like "I wanna go again! I'm not coming home!" Yeah it was cool. But that helped with the travel bug, being fearless about it."
Of British and Swati heritage, Khetsiwe Morgan's family is a close-knit one. Her parents attend all her shows and it helps calm her knowing that she can see her mom's killawatt smile in crowd when she feels a bit nervous. "They've always been there. With my diving they were always sitting in the club, watching me just springboard diving. With the shows at school, they were always there. They're definitely both super supportive, and they play their own roles."
The day before her RoseFest performance, she had a guest slot on DJ Fresh's drive-time show doing a set of her own. Fresh later remarked how he remembers seeing her as a child, always at her mom's side, when he was on the come-up in the 90s and how it's been amazing to see her grow into the artist she's become. Nightclub owners, her parents' immersion in the music scene had its influence on her. "I was always there [at her mother's side]. That's definitely a huge factor [in the way she's been inspired with her work]. It's them and their nightclubs and the records that were at home and the microphones. Just, like, the equipment. I always used to play with it, plug it in, figure out how it works, have my own little show, you know? And also, they would always bring artists over to the house – that's a huge factor – like Boom Shaka, Lebo Mathosa…"
As a purveyor of popular culture, her mom always looked good. Khetsiwe's personal style was heavily impacted by that. "My mom is stylish; also, with makeup and stuff. My dad used to always say "You don't understand how lucky you are to have such a stylish mom who knows how to put makeup, that's gonna help and rub off on you" and I was like 'whatever' but now that I've grown up and I see people who don't know how to put makeup on, don't know how to look after their hair, don't know how… it's like 'yho! Those are actually lessons mom, I thought you were just glamming the whole time but you're giving us something here."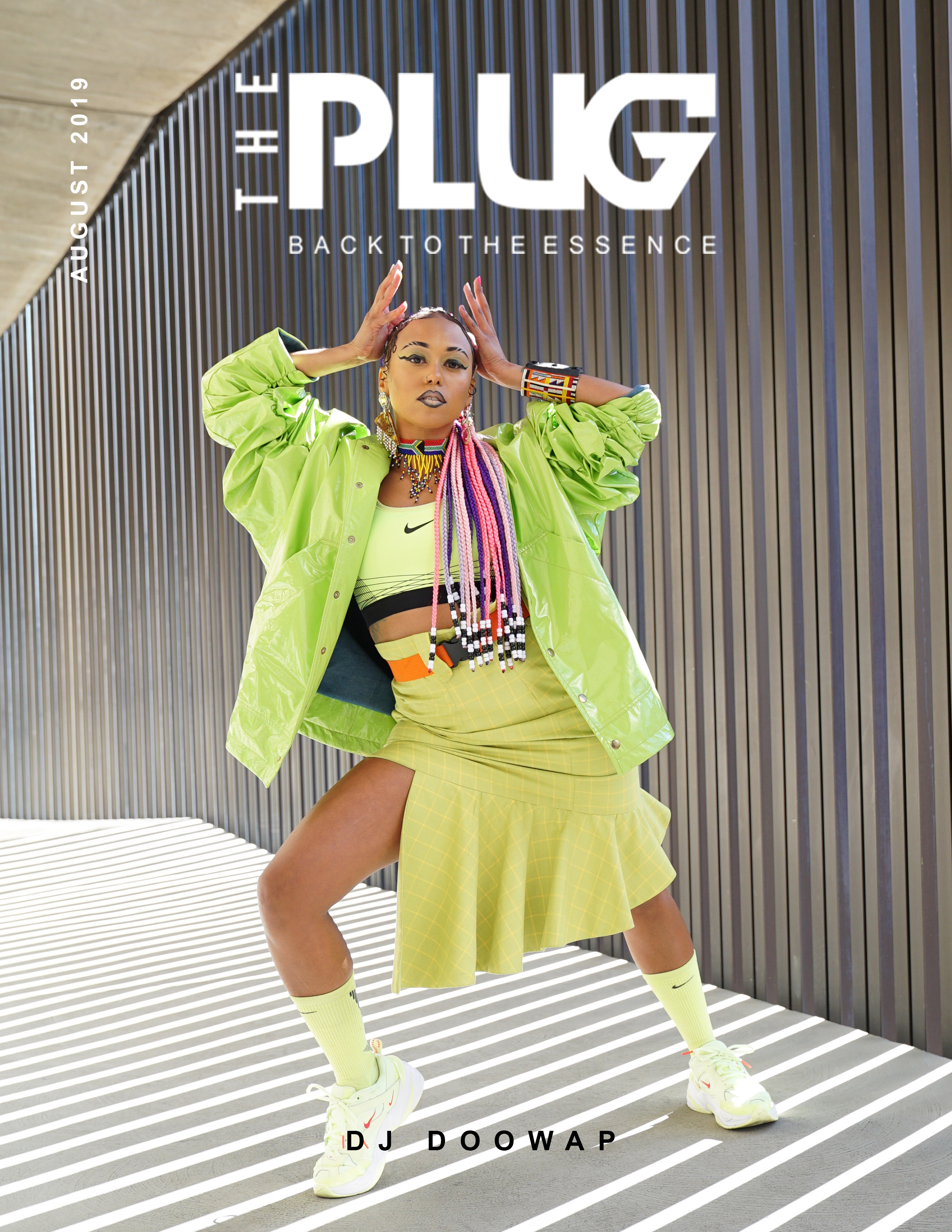 "And then music is a huge style influence. Obviously the braids, Boom Shaka, 1000%. I was braiding since super, super young. My mom used to drive me to Swaziland to braid because my Gogo used to own a hair salon in Swaziland – actually I've never mentioned that, I'm so surprised – so my mom [used to drive me], and I have my favourite lady there who used to do my hair. And what else? Oh, the 90s! I'm just totally a 90s person. From the baby hair, to the high waisted, to everything. I'm so 90s. I always used to say my favourite year is 1995, I feel like that was the best year of all time. When it comes to music, movies, and then my sister was born on my birthday in that year as well. So something really big happened in 1995."
DJ Doowap's signature colourful braids have been a staple with her style. Sho Madjozi has, over the past year or so, popularised a similar hairstyle. Asked if she feels any way about people who overlook her influence, she says "I dunno. Obviously there's a little chest pain. When I first started doing it, people caught onto the style super quick. They'd be like 'where did you get this hair from?' And then artists like Carla [Fonseca] from Batuk, she also started doing it. She was like 'do you mind?' I was like 'I don't mind.' Then she was walking through Braam and people kept saying 'Doowap! Doowap!' This was like now 2013/2014, and she sent me a message, she was like 'I'm never doing these braids again. Everyone kept calling me Doowap, it was stressful.' And I was still new, it was all still new. She was like 'Nah, I can't do it, I felt like I was stealing your style.' And I was like 'No, the reason I do this is I want people to be able to also feel like they can also do it.' This is what I was preaching from way back. Then it started spreading."
"And I guess that when Sho Madjozi did it, I think like not crediting the person is my thing. Like, to run with it and be like 'this is me' every time you do it. I came with it. 'Cause a lot of the time Nomuzi would take some of my style influences, you know? But she would actually credit me every single time. She'd be like, if someone said something cool about her style she'd be like 'Oh this is actually credit to Doowap, I love her style." But I dunno, not to say anything and run with it did hurt me. But then, I went back to that [thinking that] actually, that is what an innovator is about. You can't get upset about people taking your thing. I did it seven years ago, if someone is doing it now that's not gonna bother me. I'm just gonna keep moving forward and going on to something else. I was doing that Africa girl thing ages ago, tryna figure out who I am. Now I'm past that, now it's like being futuristic, being forward but also learning from your past. I'm no more about the beads and stuff anymore. So that's just the thing, I'm always gonna be moving forward and getting my own inspiration. And people will always be… And if I'm the person that influences you, that's super awesome. And I think that brands see it, it's not like hidden, you know. I think brands can easily see who's the influencer and who's the person that kind of copied the vibe. I think I do still get respect on the scene from what I do."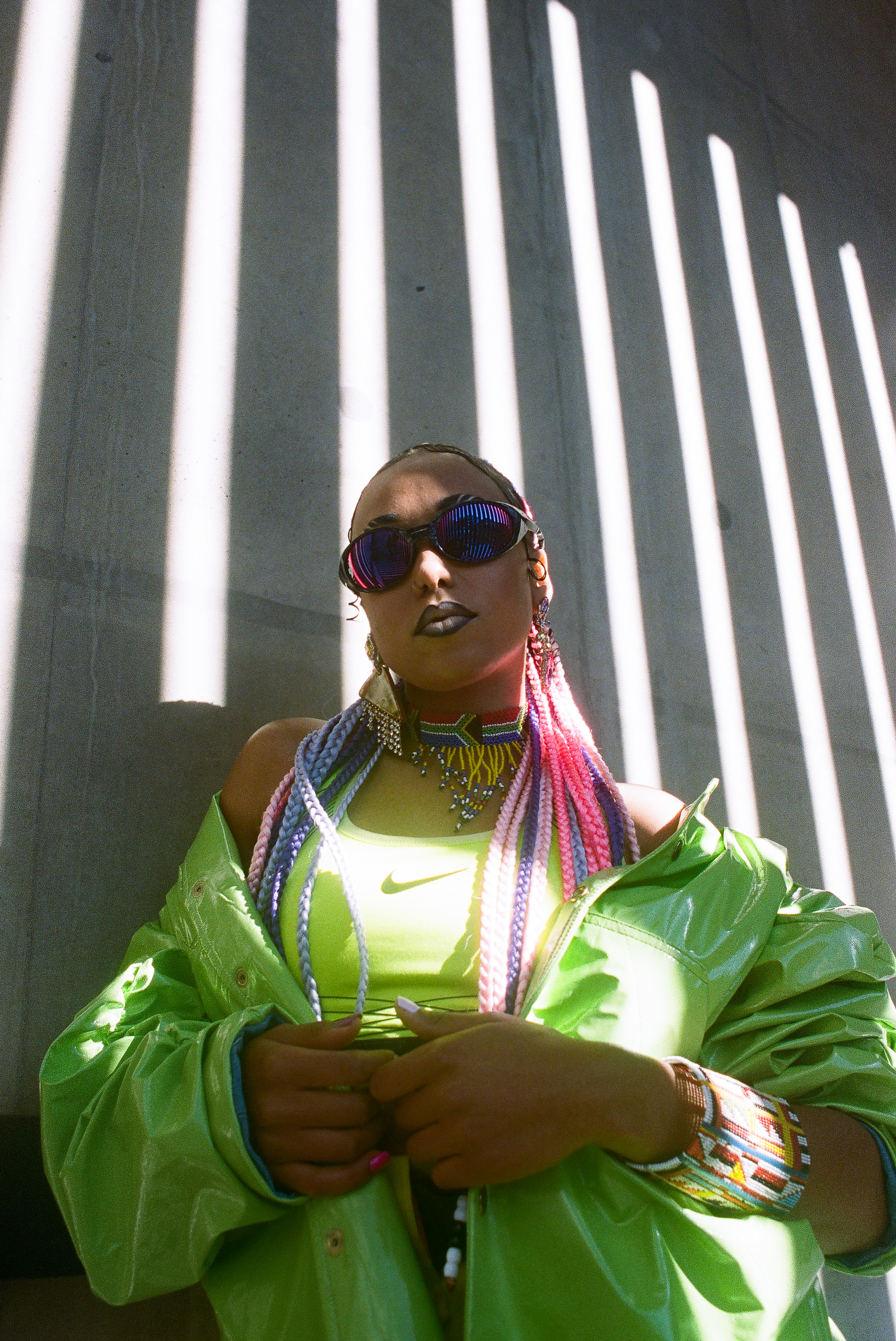 In the company she keeps – with a posse of incredible artists as friends – and the music that she makes, to the way she incorporates dance into her sets, DJ Doowap has always been about bringing something fresh and new to the scene but doing it in the most idiosyncratic of ways.
Asked how important representation is to her, she says "I think it's important. In a way we all have our own purpose, so if you don't know who you are, you can't really contribute to the growth of humanity because you're still kind of in a slumber. I was in it when I lived in the UK, because for four years I think I was asleep. Because when I came back to South Africa in 2012, I was like I had this new awakening in every aspect; like spiritually, the way I looked, everything. I realized I was super dormant, and that's what I'm tryna get people out of, in everything I do. When you're performing you can see people come out of that space.
Also, if someone sees me just being free as a woman, but also as a black woman, that allows them to do that. Find out who your identity is, where you're from, and grow from there.
Because I did that, I came back as a completely blank slate, and I had to build on that. So I know it's completely possible. Because as soon as you know your identity, or you feel an inkling of it, the messages of the universe just start unlocking. It's insane, it literally just starts telling you in your ear what you have to do, or you dream about it, because you're at the source now."
It's difficult not to hear Marianne Williamson's quote "And as we let our own light shine, we unconsciously give other people permission to do the same. As we are liberated from our own fear, our presence automatically liberates others" resonate in the way she speaks.
On the way forward in her career, she says "For a while I've been feeling like I'm doing more of the inspiring than feeling inspired, if that makes sense? Obviously there's a select few people that inspire me but not really. And if you go to Europe it's pretty boring. I think the only place is like Japan and South Korea that would take me to the top. So I feel I need that. I just wanna drop more original music. I wanna kinda be like a Peggy Gou."
"I don't only wanna be an artist right now. But how I see myself later? In a mansion, after touring and using my beauty to the maximum, and with my family and just being a sound engineer, like what I originally wanted to be."
Photography: Haneem Christian
Syling: Amy Zama
Makeup: Caroline Greeff