Today, globally recognised South African Producer / DJ, MUZI drops his much anticipated 4-track EP, Stimela Segolide. A WE.THE.BUNDU release, the EP is a sonic commemoration of the historic gold mine migrations in Apartheid South Africa.
The EP is released in conjunction with a 4-day pop-up store in Braamfontein (02-05 May 2019), Johannesburg and a 4-day mobile pop-up tour around Pretoria & Johannesburg. The DEAD. x MUZI pop-up store, a collaboration between leading SA streetwear label and Muzi, launched last night to a hugely oversubscribed and ecstatic crowd lining up to get an exclusive first listen to the EP performed by MUZI atop a custom DEAD. x MUZI stretch taxi.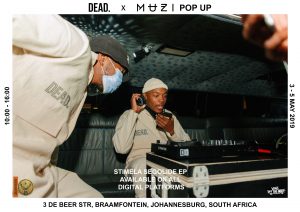 Fans on the night got the opportunity to be the first to purchase items from the never-before-seen and limited-edition collaboration and were also treated to an impromptu in-store MUZI DJ set.
The DEAD. x MUZI pop-up will be open until Sunday 5 May 2019 from 10am – 4pm. Founder of DEAD., Bangy and MUZI will be holding an in-store Question & Answer Session for fans on Saturday, 3pm.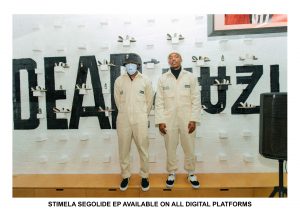 Stimela Segolide video coming soon!
Stimela Segolide EP is now available to stream and download on Apple, Spotify, Deezer .