Words by Mercia Tucker
Photography by Anthony Bila
Cover Designs by Dumaza Ndata
 It's hard not to feel the undercurrent of youthful exuberance when traversing the streets of Braamfontein. It's at the heartbeat of this urban precinct; a silent hum, almost as definitive as an 808 to boom-bap rap or the Ponte tower to the Hillbrow skyline. It's an extraordinary melting pot of youth culture in a space that champions unique identities and celebrates individuality and creativity against the grain.
There's been an urban regeneration that's seen the renovation of many buildings in the area with trendy bars, eateries, and cafes dotted across its landscape. More intriguing is the cultural renaissance that has swept the area as a result. In recent years, we've seen Braamfontein heralding in a new wave of musical influence, particularly in hip hop. A reflection of the social standing of its creators, the Braam musical nucleus wasn't quite the opulence and lavishness associated with that of Northern suburbs' fare but also wasn't the radical decrying of social ills of conscious hip hop. The kids wanted their own voice; a vehicle for carefree, youthful self-expression.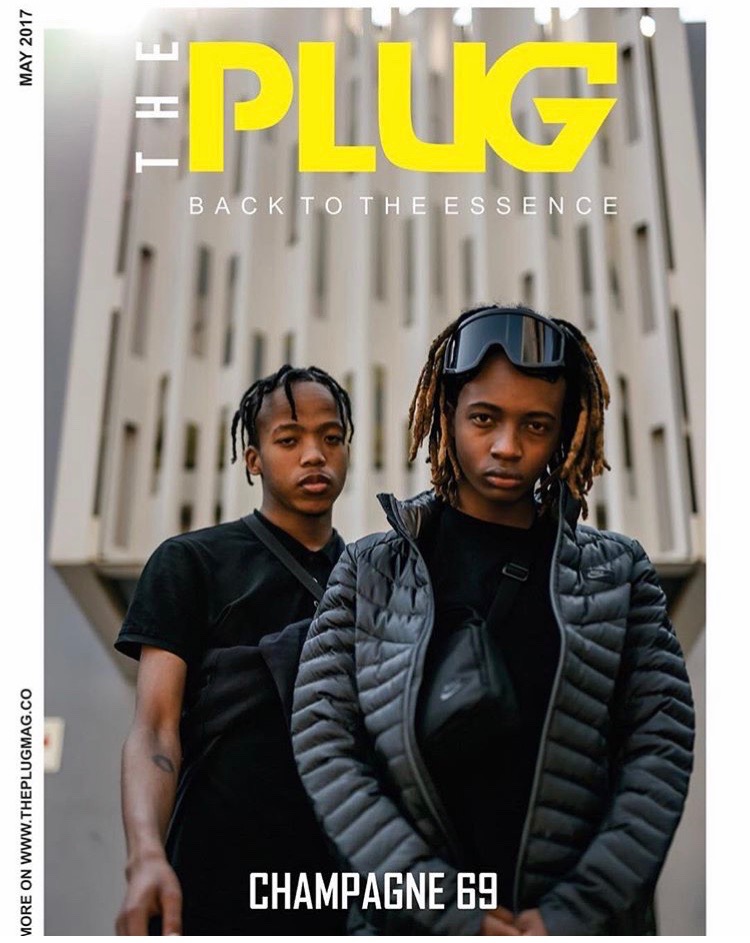 Meet Champagne69, a rap duo comprising of Siyanda Mdledle and William Nkuna, artists who were thrown into the music world by chance but have weathered it, and prospered, by choice.  The two formed a friendship when they attended high school together at the National School of the Arts and after matriculating, both attended tertiary at LISOF (London International School of Fashion). Siya's love for anime and William's interest in clothing design saw William design fashion for Siya's anime characters as a quirky passion project and the friendship between them strengthen.
Not limiting their creativity to their fields of study, the fashion and design students were open to all facets of expression and found themselves a part of Onyx, a hub of creatives – in the fields of photography, cinematography music, fashion, and illustration – whose aim was to showcase and further the street culture in Joburg. The group is "a creative agency and events production organisation" responsible for street market and live music Rage festivals. They've also done a bit of modelling. Asked who Champagne69 were as people, however, Siya simply stated "Some black dudes."
As a generation coming into its own identity, 'some black dudes' exploring their life's meanders in creative exploits will have you straying from the pack or deviating from the old guard. They garnered some ridicule and after being clowned as "Braam kids", they recorded Booty Sweat as a parody, but after seeing how popular the track was and they great reception they received, they decided to take their talents to the studio as a serious pursuit and enlisted PatricKxxLee to feature on their follow-up release, Wrong One.
When explaining how they decided on the name Champagne69, William explains the aspirational connotations to the drink and its association with success. "Champagne is a metaphor for salvation. Champagne is essentially about – at the very end – what we've gone through."
"We started this thing. This whole Braam thing? Ask the kids from back in the day. If they were there in 2013 they'll know," William says of their association to the area and how their inspirations intertwine with it. "We started this thing together. We drew inspiration from the internet, because we were forward-thinking kids, and we brought that vibe this side because we saw Soho and we were like 'We need our own Soho'. We used to chill by Post, where there's a pink wall, they used to call that our corner. We drew inspiration from the internet, and relayed it here and just made it better for ourselves."
They credit part of their popularity to internet savvy. On knowing how to use the internet correctly, "Knowing how to attract people, how to get people to notice what you're doing" says William. Siya adds "It's enough for you to use Twitter or Instagram or Google and read information. But can you read it and use it to better your life? We see stuff and translate it from that culture into our own and use the resources that we have to make it happen. That's using the internet."
Making music was the natural extension of that influence and their style of sound. "A lot of our music is about our life experiences as teenagers because we've gone through a lot together. We picture the music as 'What would be the soundtrack to that situation?' It translates the message that we're tryna get across properly. We're tryna make music seem like a smell. You know when you smell something and it reminds you of [something]? That nostalgia that you get, that's what it's like for us."
As eclectic as their various influences, they try to impart that into their music without being boxed into one particular genre. They're working on an EP and say "It's about to be cinematic! If Quentin Tarantino were to make an EP, it's like that. It's hot!" says Siya. "It takes us a lot of time to build exactly what we want so we have to give it time" he says on when we can expect to hear it.
Their journey into artistry has been an adjustment for them. As fashion students who've taken up another facet of creative exploration, they've come up against some resistance to being in the hip hop industry. As a response, however, these 19 year olds are determined to break boundaries, push their creative limits, and take the music industry by storm. Sharing ideas, experiences, and being surrounded by black creatives in the cultural hub of Braamfontein was just the start that they needed.