Words by Caron Williams
Photography by Anthony Bila
Nestled in Johannesburg's central business district, Braamfontein has risen to become a melting pot of cultures and has served as a microcosm of black South African creativity. It's ushered in a new breed of independent and ferociously talented millennials, who have become some of the most influential curators of cool within the spheres of music and fashion.
Braam's influence has been immense; permeating countless fields, and being the catalyst for one of the most powerful cultural resurgences we've witnessed in South Africa.  Its streets are perpetually alive; with an electric energy pulsating each day through this creative mecca. There's a spellbinding romanticism about Braamfontein, a thrilling vibrancy inspired by the knowledge that at any given moment, you're surrounded by some of the most incredible creative minds in the country, if not the world. There's a resolute confidence carried by Braam's patrons, one which suggests that they're well aware that they are some of the most influential early adopters, tastemakers and trendsetters in the game. Simply put, they are culture.
One of the most pronounced areas we've witnessed Braam's widespread influence has been in the field of streetwear. We've seen the rise of what has been infamously labelled as the 'Braam aesthetic' and 'Braam lords', as well as the influx of local and international streetwear brands and a growing sneaker culture. At the centre of this phenomenon has been one of the most respected leaders of local streetwear and sneaker culture, Tusa Mamba.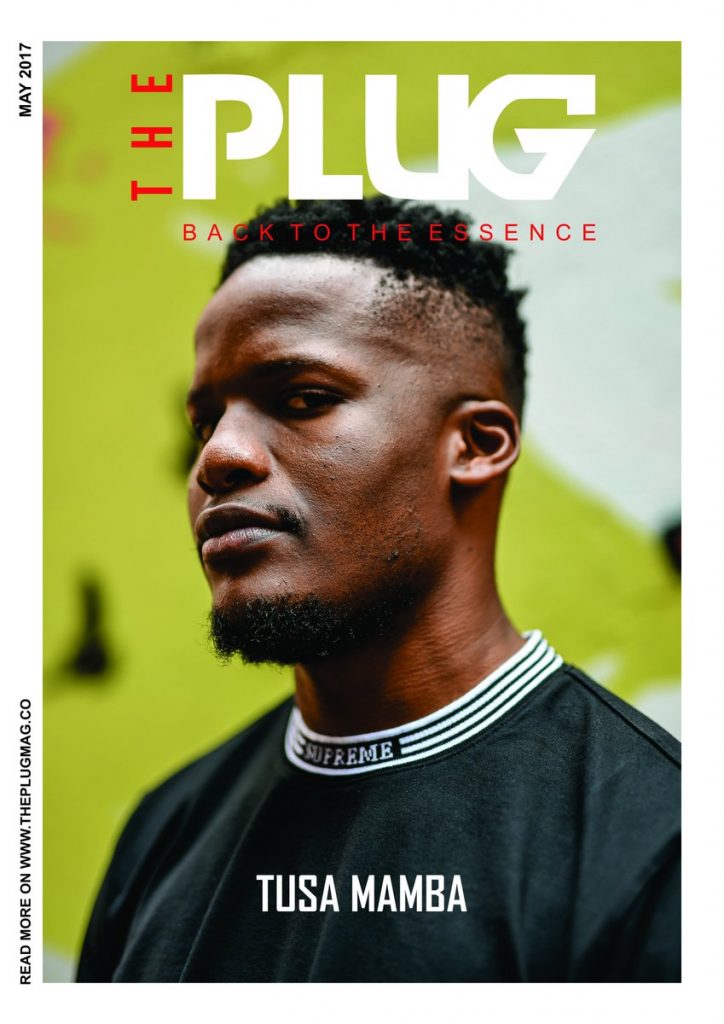 Tusa is the founder of leading sneaker store, Dipstreet, located on Braamfontein's famed Juta Street. His affinity for streetwear and sneaker culture transcends that of the average devotee, with an intrinsic passion so profound, it led him to realise his vision of a store on par with some of the most revered independent streetwear and sneaker retail outlets in the world.
With an immaculate modern store adorned with coveted kicks, select streetwear brands and streetwear bibles such as Hiroshi Fujiwara's Fragment, each element of Dipstreet is meticulously curated to bring Tusa's pristine vision to life. He's tangible love for sneaker culture emerged at a very age in the small town of Piet Retief in Mpumalanga, through the nurturing of his parents. His father was an avid formal shoe collector and his mom introduced him to the world of sneakers and the powerful street equity they possessed when she purchased his first pair of white Nike Cortez's. This was the catalyst of his lifelong relationship with sneakers and the culture as a whole.
Tusa's love affair with sneakers endured throughout his teens and years at varsity, which gradually evolved into an alluring fascination with the business of sneakers. Whilst working at Shesha when he was at varsity, Tusa realised that there was an opportunity to cater to local sneaker aficionados who had difficulty accessing brands they sought after. That, coupled with his own frustration and after studying the international sneaker game extensively, resulted in the birth of Dipstreet and solidified the next chapter of his bond with sneakers as an astute entrepreneur. "I've always been a big fan of business. This is not the only business I see myself in, it was just a lot easier to start than the other ones because it came naturally."
Having frequented Braam extensively, it was the natural choice for Tusa as the location for Dipstreet. The store, which is currently located at 82 Juta Street, opened on the 13th of October 2016, and the first Dipstreet store, also located in Braam, opened on the 10th of October of 2013. Among the challenges Tusa has faced was Dipstreet being robbed twice in the space of five weeks. "The lows have made me a better person," he explains.
Some of the most striking characteristics of Tusa are his profound passion, ambition, tenacity and incredible sense of self, which are essential to the make-up of any impactful entrepreneur. Being a young entrepreneur in an industry where not many exist has meant a great deal of sacrifices in order to ensure the success of his thriving outlet. "What you think it's going to be and what it actually is are two completely different things," says Tusa. "Retail is fucking hard. A lot of people look at retail and think it's easy but it's fucking hard. Cash flow is king and we're up against some of the biggest companies in the market."
Having overcome tremendous challenges and cemented a notable impact on the local sneaker market, Tusa's colossal love for the culture compels him to be frank about the current state of the game. "I love local brands. I love wearing local brands, but there's a difference between having a label and dropping merch. I feel like people are dropping merch right now because they're not dropping consistently enough to call it a brand." Among he's favourite local streetwear brands are Sol Sol, Young & Lazy, GalxBoy, StylaGang, Bush Koppies and Didi. "The one thing I Iike about Didi is that he doesn't care. That's one thing I can relate to about him and I think that's one of the reasons we get along so well. We have our ideas and we know where we want to be. My most favourite streetwear brand right now is Dipstreet, not to be biased," says Tusa as he roars with infectious laughter. Whilst Tusa's adoration for local streetwear brands is palpable, he has also been inspired by international streetwear designers and pioneers such as Ronnie Fieg, Hiroshi Fujiwara and to an extent, Kanye West. "If there's a person who knows how to change the game, its Kanye."
Fundamentally a purist, watching streetwear become adopted by masses has been a disconcerting experience. "Streetwear culture has grown drastically. The whole point of streetwear is that you don't shop at a mall and that you want to be different to the person who sits next to you, or when you're on campus you want to stand out. That's why you'll never ever find Dipstreet at a mall; that will never happen because it's not mainstream."
Having been a student of the game for years and intimately watched how streetwear has risen to become mainstream, his relationship with streetwear is complex at times. "Streetwear is very commercial these days. Your favourite rappers didn't know what all this steez was and now every second person is wearing a VLONE hoody, which is cool but that comes with an influx of fakes. From a retail owner perspective, I'm not complaining because that means my product is selling more because there's a bigger market that I'm targeting."
Whilst traversing the thrilling challenges of being a retail owner and being immersed in an ever-evolving streetwear culture, Tusa's appreciation for Braam's contribution to the local game is vast. "People are always dissing Braam people and 'Braam lords', but its lowkey a dap because everything comes from here. As much as they're always trolling Braam, they're copying what's happening here and learning from us. We're setting the trends, so they can have their laugh but at the end of the day they're still our sons."
Tusa represents the untold story of many young, brilliant Braam devotees. He encapsulates the relentless drive and passion which many carry to bring their dreams to fruition. It's an aura that say's I'm young, black, driven and fucking unapologetic. "I'm thinking globally. I want the store to be at a global level of product, a global level of service, experience and delivery. I want you to be able to go to Undefeated in LA and still think Dipstreet is the shit," explains Tusa. As one of the local curators of cool, Tusa's remarkable spirit is what truly distinguishes Dipstreet from other retail stores. It has character, identity and over and above the aim of driving sales, remains profoundly invested in growing the culture. "When I was in high school, Dip was slang for anything that was cool. Dip is a feeling, it's a culture, it's a perception of yourself and the world, and how you want to be perceived by the world." Dipstreet, much like Braam, is an ethos, a celebration of individuality and a rebellion against the naysayers. Dipstreet is culture.