Words by Joey Drumz
Anyone familiar with competition as a concept would understand that history tends to favour those who come out on top. Darwinian Theory celebrates the strongest and most capable, while relegating those who remain behind to a regressive oblivion, never to be heard or seen from again. Grim as it may sound, it is often the truth but, fortunately, every theory has its anomalies and one such example has been, Rabie Ridge native, Shane Eagle.
Elimination from 2015's THE HUSTLE as part of the final quartet proved to be the ideal "loss" and has since seen him snowball opportunity after opportunity into an impressive musical catalogue and amass a strong and loyal legion of fans in the process. The 2017 release of his debut offering, Yellow, saw him enjoy critical and commercial success bagging 2 million streams, a Gold plaque and a "Best Rap Album" SAMA for his efforts.
Fast-forward to present day and following a successful tour, the release of a YELLOWVERSE short film as well as some loose singles, Shane returns with the follow-up EP, NEVER GROW UP. 
Right out the gate, Shane opens by touching on familiar themes of love and existential uncertainty giving us a sense of where his head's been since YELLOW. In a pensive opening monologue, he muses over his success, finding himself and how he'd define happiness at this point in his career, setting the kind of reflective and honest tone that has come to be a hallmark of his music. The lucid lo-fi instrumental on Homework As$Ignment is also a quick indicator of the foundation upon which the project sits with an easy-on-the-ear Jazz-Hop sound that carries throughout and allows him the opportunity to maintain a consistent mood and tell stories without the hindrance of background clutter.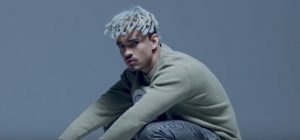 Shane's iconoclastic approach to the music industry has formed the blueprint to his success and on Ap3x he delivers a short, but scathing, attack on fellow music peers who've looked to trace his methods. The lively record stands out for its infectious hook and cheeky lyrics but ends way too soon for you to fully immerse yourself in it. Although this leaves you with the faintest hint of disappointment, it doesn't really take much else away from an otherwise impressive and anthemic tune.
Chocolate Milk and Ronnie Hughes offer the most intimate look into Shane's life with both helping the project's nostalgic theme carry weight. Whether by coincidence or design, Shane uses each track to individually detail the memories he has of his parents growing up and the disparity between each from the perspective of a kid who grew up biracial and exposed to two different worlds in his lifetime. He spends most of the former taking an introspective look at how quickly he's achieved his success while reassuring a mother who's always been in his corner. While on the latter, we're given a brief idea of the complicated nature of his relationship with his Irish father. Although not overly elaborating on the personal details of each, his fans are given the kind of access that might be a doorway to more extensive stories in the future. 
The tail-end of the project is a cocktail of somber emotion with Shane lamenting over everything from the importance of his music, religion to the fragility of life. He does, however, salvage his own slice of happiness on the endearing Ride Dolo-What You Wanna Be as he details the some of the best moments between himself and his longtime girl.
Overall, NEVER GROW UP sees Shane again challenge himself both sonically and lyrically through experimental instrumentation and intense lyrics, offering both high replay value as well as some insight into what the future holds for the young Johannesburg recluse.